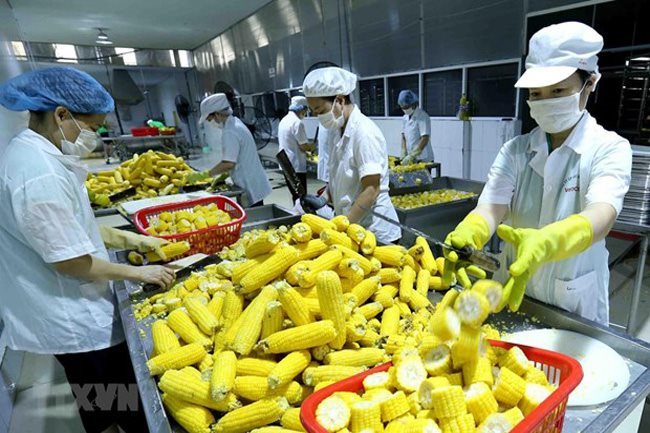 Employees process corn for export. The Ministry of Agriculture and Rural Development is determined to obtain total agro-forestry-fishery exports of US$45 billion in 2021 – PHOTO: VNA
HCMC - Despite the impact of the Covid-19 pandemic, the Ministry of Agriculture and Rural Development is determined to beat the agro-forestry-fishery export target for 2021 by US$3 billion, reaching US$45 billion.
The ministry is upbeat about the new target given the positive results in the first half of the year. Between January and June, the country's agro-forestry-fishery exports reached US$24.2 billion, a year-on-year rise of 28.2%, with agricultural, fishery and forestry products gaining respective export growth of 13%, 12.5% and 61.1%.
Minister of Agriculture and Rural Development Le Minh Hoan asked the relevant units to enhance their efforts to implement the dual task of fighting Covid-19 and ensuring economic growth in the second half of the year to fulfill the target of farm exports.
It is necessary to adopt effective solutions focusing on key products to ramp up their exports, said Minister Hoan.
In 2021, the ministry set a target for the agriculture sector's gross domestic product growth rate at 3%-3.2%. Besides, the sector's production value is projected to rise by 3.2%-3.5%, of which cultivation, husbandry, forestry and aquaculture will advance by 1.55%, 5.9%, 4% and 3.8%, respectively.
Over the past six months, Vietnam saw an impressive performance in the cultivation, husbandry, forestry and aquaculture sectors. Specifically, the total area under perennial plant cultivation was over 3.6 million hectares, up by 46,100 hectares year-on-year, while the fruit tree area reached 1.1 million hectares, a 3.2% year-on-year rise.
As for the husbandry sector, cattle and poultry farming recovered. The total meat output reached some 3.2 million tons over the six-month period, up 22.6% year-on-year.
Apart from this, the total output of fishery products was 4.1 million tons between January and June, up 2.8% year-on-year, the local media reported.
You might be interested in