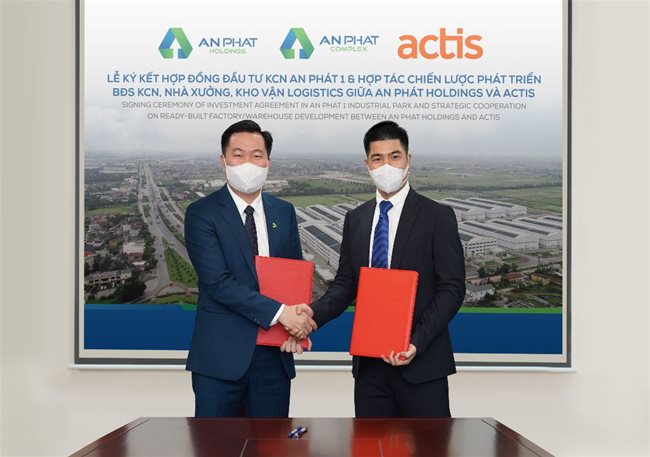 Pham Van Tuan (L), deputy CEO of An Phat Holdings, shakes hands with a representative of Actis after signing a cooperation agreement - PHOTO: AN PHAT HOLDINGS
HANOI - Actis, a leading global investor in sustainable infrastructure, on June 28 cut a deal with the An Phat High-Technology Industrial Park Company (An Phat Complex), a member of An Phat Holdings, to invest more than US$20 million in the An Phat 1 Industrial Park project in Hai Duong Province, equivalent to a stake of 49%.
Besides, the two firms signed a memorandum of understanding to deploy a ready-built-factory and warehouse development joint venture program worth US$250 million.
Brian Chinappi, Actis' head of Asia Real Estate, said, "The industrial and logistics sector is consistent with our strategy to invest in sustainable infrastructure in growth markets in Asia and globally. Vietnam's industrial and logistics real estate market is poised for outsized growth, given the sustained relocation of the manufacturing base from markets, strong growth in domestic exports and imports and an accelerating shift to e-commerce retailing.
"An Phat Holdings has a strong track record in this space, a clear development strategy and like Actis, is fully committed to sustainable development. An Phat 1 Industrial Park will be the beginning of our strategic partnership with An Phat Holdings and we are excited to jointly pursue industrial park and ready-built factory/warehouse development opportunities on a large scale."
Dinh Xuan Cuong, vice chairman, chief executive officer of An Phat Holdings, said, "The long-term cooperation between An Phat Holdings and Actis is aimed at developing the An Phat 1 Industrial Park into a leading, green industrial park in the northern region."
The representative of An Phat Holdings also said that the cooperation not only provides funds but also helps An Phat Holdings with more resources to deploy new projects and unlock the potential of the industrial real estate segment. In addition, the firm can improve its reputation and product and service quality, and maximize the operating capacity of the An Phat 1 Industrial Park project.
An Phat 1 Industrial Park is one of four new industrial parks in Hai Duong Province, covering an area of 180 hectares in the first phase, with charter capital of VND375 billion. When it comes into operation, An Phat 1 Industrial Park aims to attract 50-70 manufacturing plants, create jobs for some 12,000 workers and reach a 100% occupancy rate by 2024.
The An Phat 1 Industrial Park project is at the site clearance stage in preparation for construction to begin in July this year. The industrial park is expected to come into operation and start commercial activities in the fourth quarter of 2021.
You might be interested in