Hanoi and Ho Chi Minh City respectively rank 139 and 143 in Mercer's 2021 Cost of Living. The list helps employers navigate expatriate packages, essential due to uncertainty from pandemics.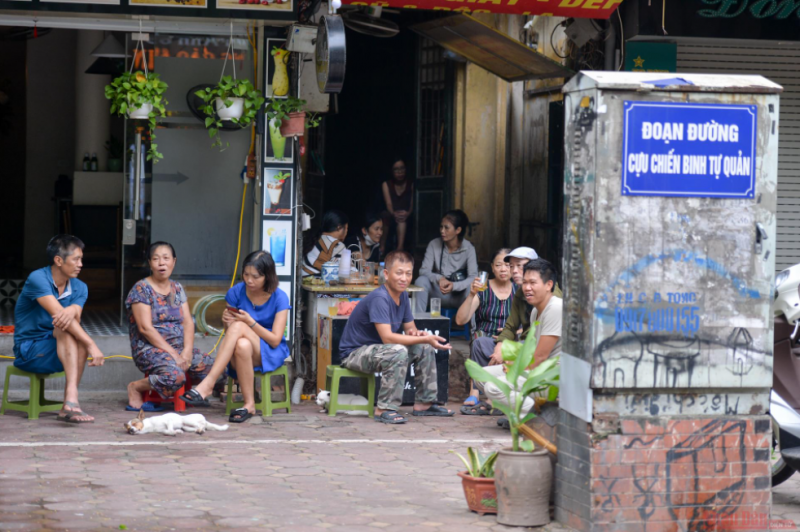 Photo: Nhan Dan
Hanoi & Ho Chi Minh City in top 150
Hanoi ranks 139 in the list, down 23 positions compared to last year. According to Numbeo, the monthly living cost for a single person is estimated at US$ 438 without rent. When compared with New York, Hanoi is 63.74% less expensive. Rent in Hanoi is, on average, 87.56% lower than in New York.
Ho Chi Minh City is named at the 143rd position, 32 rankings lower than last year. However, due to Numbeo, rent in Ho Chi Minh City is, on average, 48.26% higher than in Hanoi.
According to International Living, Vietnam is an inexpensive country to live in. Most items cost less than half of what expats would have to pay in the West, and anywhere from 5% to 25% less than what they would cost in many other Southeast Asian countries.

Photo: Mercer
Ashgabat, Hong Kong and Beirut top the list
Ashgabat tops this year's list of most expensive cities for international employees, followed by Hong Kong and Beirut. Ashgabat beats Hong Kong to become this year's city with the highest living cost for expats. The capital of Turkmenistan owes its ranking "primarily due to a continuing socio-economic crisis which has led to food shortages and hyperinflation," said Mercer's Asia Pacific global mobility leader Julia Radchenko in a statement.
The others in the top 10 costliest cities to live in should come as no surprise, with Hong Kong, Tokyo, Zurich, and Shanghai coming in at second, fourth, fifth, and sixth place, respectively. New York City is the most expensive place to live in the United States, coming in 14th in the global ranking, falling eight places from last year. Los Angeles and San Francisco are next, ranking 20th and 25th globally. according to Business Insider.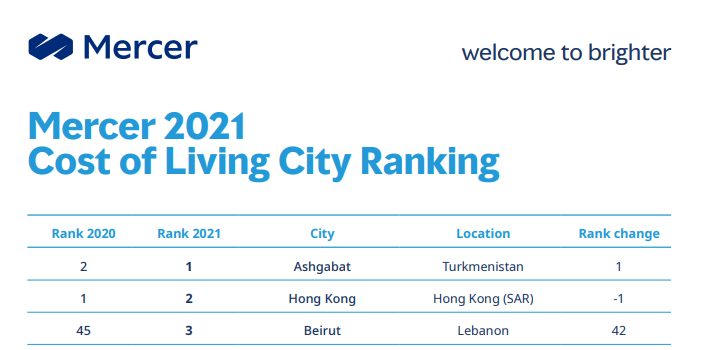 Photo: Mercer
As one of the most densely populated places in the world, with an amazing seven million people in just 1,098 square kilometers of territory, Hong Kong has always been rated as the most expensive place in Asia to live. A single person estimated monthly costs in Hong Kong are US$ 1,077, according to Numbeo.
The Lebanese capital city, Beirut climbed 42 positions in the ranking as a result of the political turmoil of the last few years. The Covid-19 pandemic and the Port of Beirut explosion have all amplified the economic effects, causing record-high inflation.
Mercer's Cost of Living data and research
Mercer's annual Cost of Living city ranking is based on its Cost of Living survey - one of the most recognized and comprehensive of its kind, with more than 400 cities included. Carried twice per year, the survey is designed to help multinational companies and governments around the world determine compensation strategies for their expatriate employees.
In the wake of the ongoing coronavirus pandemic, Mercer noted how moving overseas for work was evolving from "long-term assignments" to other kinds of moves. This included short-term assignees, international foreign hires, permanent transferees, commuters, international remote workers, and international freelancers.
Which factors determine the cost of living?
In addition to evaluating more than 200 goods and services, Mercer's Cost of Living Survey highlights essential factors - such as currency fluctuations, cost inflation, and accommodation price instability - in determining the cost of expatriate packages.
The overall Cost of Living Index reflects the prices of over 200 items from the following categories:
Housing - Food - Personal care - Alcohol and tobacco - Transportation - Domestic supplies - Clothing and footwear - Utilities - Home services - Recreation and entertainment
Valerie Mai
You might be interested in