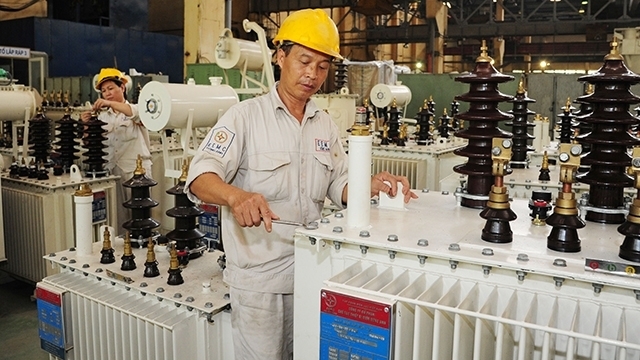 Manufacturing sector has taken the lead in attracting foreign direct investment capital. (Photo: THANH LAM)   
NDO – The manufacturing sector has taken the lead in attracting foreign direct investment (FDI) capital since early this year, accounting for over 43% of total new FDI capital in Vietnam.
Vietnam has licensed 613 new FDI projects since early this year with investment poured into 18 sectors including US$6.1 billion in the manufacturing sector, making up over 43% of the total.
The production and distribution of electricity came in second, attracting over US$5.4 billion in FDI capital, accounting for over 38% of total registered FDI capital. The real estate sector ranked third with over US$1 billion worth of FDI capital.
"FDI inflows in manufacturing and electricity production and supply will contribute to creating the driving force for the economy in the future," said Pham Dinh Thu, director of the Industrial and Construction Statistics Department under the General Statistics Office.
A number of large FDI projects were licensed so far this year including the approval of the LNG Long An I & II power project with registered capital of US$3.1 billion in March, the capital expansion of LG Display project in Hai Phong by US$750 million, the approval of Jinko Solar PV Vietnam with registered capital of US$498 million, and others.
According to the Director of Foreign Investment Agency (Ministry of Planning and Investment) Do Nhat Hoang, the expansion of large FDI projects applying high technology in important areas such as energy, manufacturing and processing is a demonstration of Vietnam's stability and solid reputation in terms of attracting global investment.
You might be interested in