The Indonesian-based Gojek will launch car-hailing and e-payments in Vietnam this year, which Grab and the Be Group have offered for a couple of years already.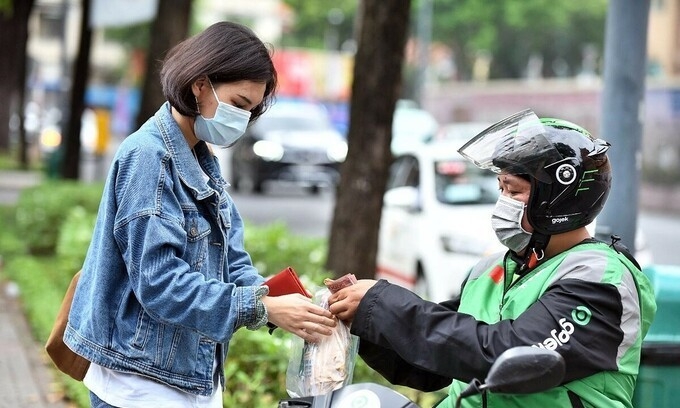 A Gojek driver hands a delivery package to a customer. Photo Gojek Vietnam
Gojek Vietnam Director Phung Tuan Duc said "We have obtained a licence for the passenger transport business by motor car under contract in Ho Chi Minh City, and we are rushing to add our car-hailing service, called GoCar, in Vietnam."
The GoCar service will be conducted in HCM City initially and then in Hanoi, and will become available in many other cities once Gojek has posted strong development in the two cities.
It is a suitable time for Gojek to introduce its car-hailing service, Duc said, having laid a solid foundation and developed its ecosystem.
For Gojek Vietnam, e-payments will be available just for rides in the near term, Duc said, with more options to follow.
Duc said that although Gojek is a latecomer for its GoCar service, "the ride-hailing market and on-demand services will continue to flourish, with lots of space for other ride-hailing players to develop. So we have confidence in expanding the business".
"Instead of going after the next shiny technology, we focus on what the market needs the most," Duc told Nikkei in a recent video call, sporting a green Gojek jacket typically donned by drivers. "We feel confident to start expanding, and four-wheel [transportation] and payment are the two most requested [services] from our consumer base."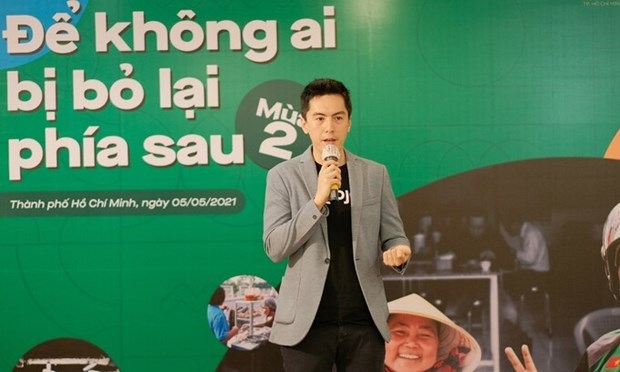 Gojek Vietnam Director Phung Tuan Duc. Photo Gojek Vietnam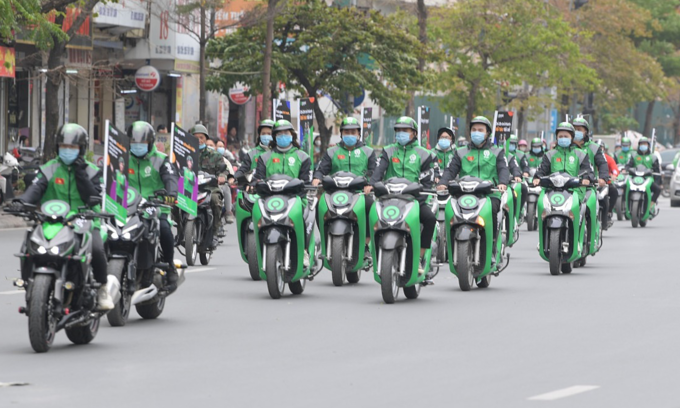 Gojek drivers seen on the street. Photo Gojek Vietnam
With car-hailing, Gojek would add a service already offered by Grab and Vietnam's Be Group. All three startups are rooted in ride-hailing, but have since expanded into a variety of other services, such as delivery and bill payments, Nikkei Asia reported.
"Preeminent technology is the key to GoJek's success in the past ten years, and will drive the company's achievements in the future," Duc stressed.
When asked if Gojek would be a super-app in Vietnam, as it is in its home country of Indonesia, Duc said that is the plan. "Vietnam has definitely the highest priority in terms of all the external markets that Gojek is operating in, and it's a super-fast-growing market," he said.
Gojek entered Vietnam in August 2018 as GoViet. The company became Gojek Vietnam last year. It offers three services at present - motorbike rides (Gojek), delivery of goods (GoSend) and food delivery (GoFood). Other ride-hailing companies like Singapore's Grab and Vietnam's Be have all these three services plus car rides.
Recent research by global market advisory firm ABI Research found that Grab remains the dominant player in Vietnam's ride-hailing market, with a 74.6 percent market share. Competitors Be accounted for 12.4 percent and Gojek 12.3 percent, with the remainder held by FastGo, MGo, Vato, viApp, and GV Taxi.
Analysts said the ride-hailing playground now belongs to Grab, GoJek, and Be, who compete in finance and technology.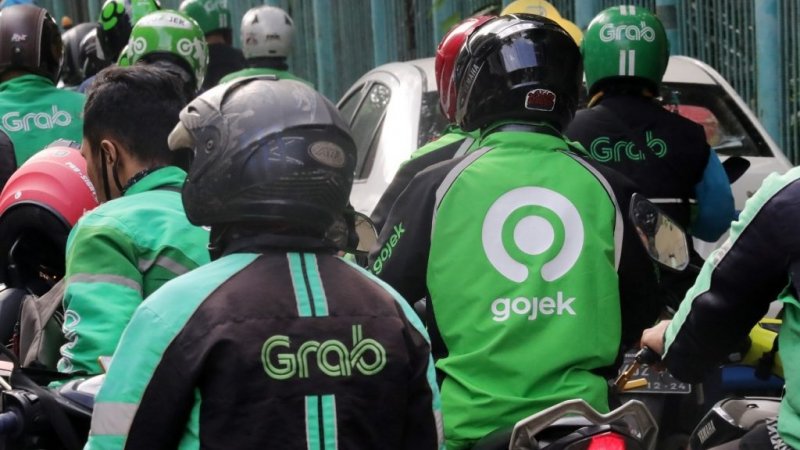 Grab remains the dominant player in Vietnam's ride-hailing market. Photo Designveloper
Grab made waves in April when it announced plans to go public in the US via a SPAC, seeking a valuation of $39.6 billion in what would be the biggest-ever deal of its kind. That piled pressure on Gojek to pursue a merger with fellow Indonesian startup Tokopedia, an online retailer. The two companies sought shareholder approval in April and the deal is expected by end of June at the latest, with a planned U.S. listing to follow. Earlier merger talks between Gojek and Grab fizzled after the latter sought key powers in a theoretical tie-up.
As the battle for customers rages across Southeast Asia, Vietnam's market of nearly 100 million people has opened up further under new regulations. Decree 10, enacted by the government in 2020, lets ride-hailing companies expand beyond a handful of key cities and operate nationwide.
FastGo, Aber and inDriver also run ride-hailing apps in Vietnam, while the biggest domestic player is Be./.
Rosemary Nguyen
You might be interested in