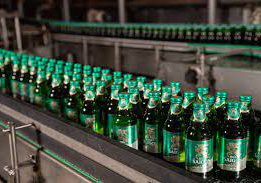 Sabeco's beer production line. SCIC will divest the Government's 36% stake in Sabeco this year – PHOTO: VNA
HCMC - The State Capital Investment Corporation (SCIC) will divest the Government's 36% stake in the Saigon Beer-Alcohol-Beverage Corporation (Sabeco) this year, following Decision No. 908 signed by the prime minister in 2020.
In August 2020, 230 million shares of Sabeco, equivalent to 36% of the brewer's shares, were transferred from the Ministry of Industry and Trade to SCIC.
At present, each share of Sabeco is priced at around VND153,000. The divestment of the State stake in the beer giant would add more than VND35.3 trillion to the State budget.
Thailand's Thai Beverage Public Co. Ltd. spent some VND110 trillion (over US$4.8 billion) to buy 53.59% of Sabeco's shares from the Ministry of Industry and Trade in 2017.
Sabeco is among the 88 enterprises from which the SCIC plans to withdraw the Government's capital this year.
According to the Ministry of Finance, in the first quarter of 2021, SCIC withdrew the Government's capital from nine enterprises under the Vietnam Rubber Group, the Viettel Group, the Vietnam Education Publishing House, the Vietnam Posts and Telecommunications Group and the Thaison Group, adding VND2,081 billion to the State budget.
Last year, SCIC's revenue reached over VND7,909 billion, rising 21% year-on-year, while after-tax profit soared 43.7% to VND6,227 billion.
The corporation expects VND6,498 billion in revenue and VND3,300 billion in after-tax profit this year. It also plans to disburse VND9,895 billion.
You might be interested in