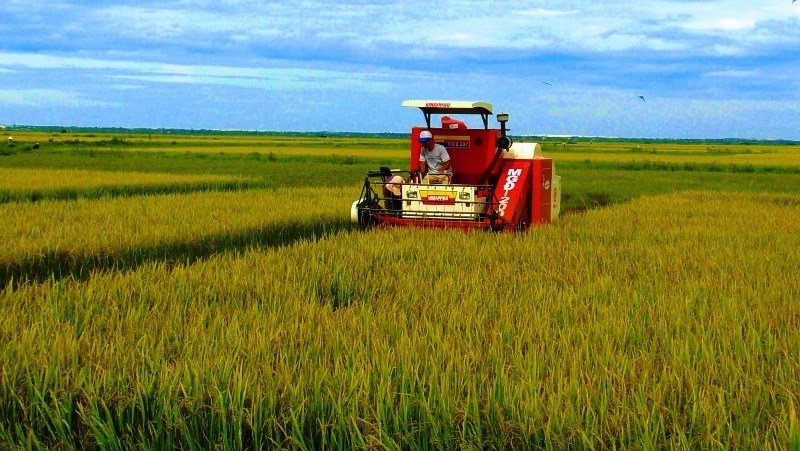 Farmers in Quang Binh harvest winter-spring rice   
NDO – Local farmers in the central province of Quang Binh have harvested about 50% of the winter-spring rice area in the joy of having a good crop with good selling prices, the Quang Binh Plant Protection and Cultivation Department shared on May 13.
The average yield of winter-spring rice reaches nearly 63 quintals per ha, the highest yield in the past 10 years.
The province was seriously damaged by the historic flood in late 2020, particularly regarding irrigation works, rice seed, and resources for agricultural production.
With the support from the Government and the Ministry of Agriculture and Rural Development, Quang Binh Province deducted its budget and the relief fund to buy new and high-quality rice varieties to provide for its people to conduct production on a nearly 30,000 ha area of rice.
According to the initial assessment, the average rice yield of the province is nearly 63 quintals per ha, five quintals per ha higher than the previous winter-spring crop.
In particular, the most severely flood hit district in Quang Binh posted an average yield of 70.08 quintals per ha thanks to the use of many high-quality rice varieties and the application of improved rice farming methods.
Thong Nhat Agricultural Services Cooperative in An Ninh Commune reported the highest yield of 76 quintals per ha. Local farmers said that rice has never before witnessed such a good season with a high yield as this one.
In the southern districts of Quang Binh Province, the price of fresh rice after harvested and sold in the field is about VND6,000 per kg while the price of finished rice is about VND7,000-7,500 per kg, much higher than the same period last year.
You might be interested in