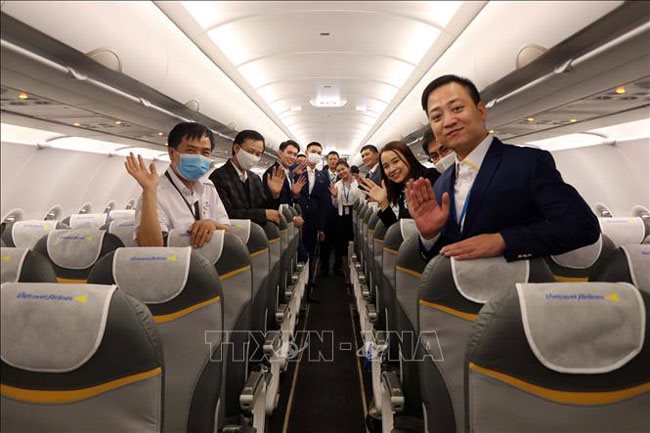 A flight crew of Vietravel Airlines. The airline will be separated from Vietravel - PHOTO: VNA
HCMC - Vietnam Travel and Marketing Transports JSC (Vietravel) will seek its shareholders' approval to separate Vietravel Airlines from the parent company so that the air carrier's losses will not be consolidated with that of Vietravel.
According to a report by Vietravel's board of directors, its travel business line has been affected heavily by the Covid-19 pandemic. Since last year, it has closed many branches in Bac Lieu, Soc Trang, Dong Thap, Vinh Long, Hai Duong and Long An to reduce costs, Thanh Nien Online newspaper reported.
Vietravel's revenue plunged over 73% last year, while its losses reached VND90 billion. As of March 31 this year, the accumulative losses were over VND102.2 billion, exceeding the equity.
As for the aviation business line, Vietravel Airlines started operating domestic commercial flights since January this year and was prepared for losses in the first years of operations. However, Vietravel has incurred losses in travel activities and could not compensate for the losses of Vietravel Airlines.
At present, Vietravel is the parent company to own 100% of Vietravel Airlines' charter capital of VND700 billion and all the losses of the airline will be consolidated with Vietravel's financial reports, affecting the performance of the company.
Therefore, Vietravel's board of directors came up with a plan to restructure the company under the holdings form and separate Vietravel Airlines from Vietravel.
At an annual general meeting on May 25, the board will seek the approval of Vietravel's shareholders for the transfer of its charter capital at Vietravel Airlines
After the restructuring, Vietravel Airlines will no longer be under the direct ownership of Vietravel.
Meanwhile, Vietravel Holdings will be the parent company, owning both Vietravel and Vietravel Airlines.
You might be interested in