Vietnamese stocks are forecast to stay on a downward trend this week due to caution among investors and accelerated selling pressure from foreigners, analysts said.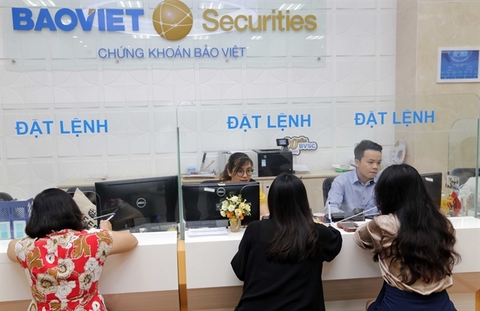 Investors make transaction orders at Bao Viet Securities Co's transaction floor. It is forecast that the market will see corrections at the beginning of this week.
The market benchmark VN-Index on the Ho Chi Minh Stock Exchange (HoSE) lost 0.7 per cent to close Friday at 1,241.81 points.
It gained 0.2 per cent last week.
An average of 763.6 million shares were traded on the southern exchange during each session last week, worth VND21.35 trillion (US$932.9 million).
"This week, it is forecast that the market will see corrections at the beginning of the week, and possibly recover towards the end of the week," said Bao Viet Securities Company's stock analyst Tran Xuan Bach.
"The VN-Index is likely to continue seeing cumulative sideways movements to create a new base above 1,200 in the short term. The 1,268-1,275 zone remains a strong resistance zone that the index needs to break through to reclaim its gaining trend in the short term," he said.
Experts from KIS Securities Vietnam Joint Stock Company (KIS) said the COVID-19 pandemic would dampen market sentiment in the short term. Traders should be careful and wait for the next signals. The level of 1,200 points had become the most important short-term support level.
The 1,300 point zone is expected to be a resistance level this week, the company said.
According to Saigon-Hanoi Securities Joint Stock Company (SHS), this week, the market may drop to lower thresholds to find a bottom-fishing force.
Regarding the movements of stock groups, banking stocks rose the most last week, with gainers like Techcombank (TCB), increasing by 14.8 per cent, Vietinbank (CTG), rising by 7.4 per cent, VIBank (VIB) rising by 5.6 per cent, VPB gaining by 5.1 per cent and Asia Commercial Bank (ACB) rising by 1.6 per cent.
They were followed by construction materials stocks, such as Hoa Phat Group (HPG), rising 4.6 per cent, Nam Kim Group (NKG) soaring 15.4 per cent and Hoa Sen Group (HSG) up 15.6 per cent.
On the other side, consumer goods were the strongest losers, with Sabeco (SAB), down 8.4 per cent, Vinamilk (VNM), down 7 per cent and Masan Group (MSN) losing 3.1 per cent.
On the Ha Noi Stock Exchange (HNX), the HNX-Index declined 0.44 per cent to close Friday at 279.86 points.
The northern market index had lost 0.67 per cent last week.
An average of 118.6 million shares were traded on the northern exchange during each session, worth VND2.3 trillion.
April liquidity
The liquidity of the HoSE in April stood at the highest level from the outset of the year, with a total of more than 14.51 billion stocks traded at a value of more than VND366.94 trillion ($15.94 billion), according to the Ho Chi Minh Stock Exchange (HOSE).
The average transaction value per session was in excess of VND18.34 trillion, up 18.68 per cent from March, and 47.41 per cent from the same time last year.
HOSE also said that trading of covered warrants (CWs) also heated up in the month, with more than 506.38 million items sold at the value of VND2.32 trillion.
The market also saw the benchmark VN-Index set a 20-year record high of 1,268.28 points on April 20, with a total value of market transactions on the day topping VND22.46 trillion.
The index in April edged up 4.02 per cent from the previous month to end at 1,239.39 points and surged 12.28 per cent year-on-year.
Material, finance and real estate stocks performed well in the month, with VNMAT stocks rising 16.2 per cent, VNFIN surging 10.55 per cent and VNREAL up 10.47 per cent.
Meanwhile, energy, utility, and consumer goods stocks suffered respective declines of 10.03 per cent, 5.04 per cent, and 2.95 per cent.
Net sales of foreign investors fell 93.87 per cent from March to VND751 billion.
HOSE saw no newly-listed stocks in the month, while five codes of Long An Food Processing Export Joint Stock Company (LAF), Tri Viet Securities Joint Stock Corporation (TVB), PAN GROUP JSC (PAN), Bank for Investment & Development of Vietnam Securities Company (BSI) and ASG Corporation (ASG) moved to the Hanoi Stock Exchange.
As of April 29, 511 security codes were being traded on HOSE, including 391 stocks, three close fund certificates, seven exchange-traded funds (ETF), 79 CWs, and 31 bonds.
The stock market capitalisation on HOSE topped VND4.46 quadrillion, increasing 4.12 per cent from March, and accounting for about 73.87 per cent of the country's gross domestic product in 2020. — VNS
You might be interested in