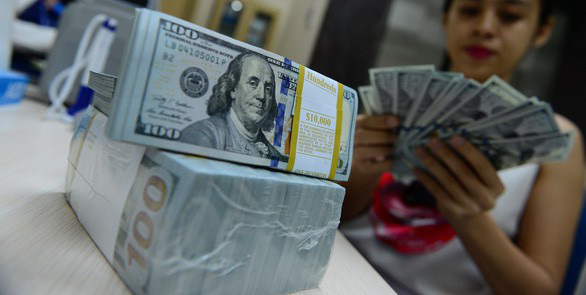 Hanoi welcomes Washington's decision to remove Vietnam from the list of currency manipulators and will maintain dialogue and consultancy with the U.S. over this issue, Le Thi Thu Hang, the Vietnamese Ministry of Foreign Affairs' spokesperson said on Saturday.
Hang's statement followed the U.S. Treasury Department's move to stop branding Vietnam as a currency manipulator on Friday.
The department on April 16 delivered to the U.S. Congress its semiannual report entitled 'Macroeconomic and Foreign Exchange Policy of Major Trading Partners of the U.S., April 2021,' in which Vietnam and Switzerland had been removed from the list of currency manipulation countries.
Such removal came after the department confirmed that they did not have enough evidence to prove that the Vietnamese dong and the Swiss franc were being manipulated.
But the two countries will be under enhanced monitoring, the U.S. Treasury Department warned.
Asked by reporters about Vietnam's response to this move, Hang said Hanoi highly appreciates the U.S. Treasury Department's positive adjustment in relation to its currency manipulation judgment.
In recent times, relevant Vietnamese agencies have shared information and discussed with its American counterparts to clarify that Vietnam's exchange rate policy has been applied in a uniform and flexible manner that matches the country's actual conditions for macroeconomic stabilization, not to create any unfair competitive edges in international trade, Hang underlined.
"In the spirit of attaching importance to economic and trade relations with the U.S., a pillar of the comprehensive partnership between the two countries, Vietnam will maintain a constructive dialogue and consultation with the U.S. on this issue," the spokeswoman added.
In a statement on Saturday, the State Bank of Vietnam (SBV) said it will continue to pursue a flexible exchange rate policy aimed at containing inflation and ensuring macro-economic stability, while not creating any unfair trade advantage.
The SBV elaborated that it has applied solutions to gradually improve the exchange rate flexibility while maintaining stable and smooth operation of the foreign currency market.
Recent positive developments in the foreign currency market as well as in the SBV's operations have been recognized by the U.S. Treasury Department, the central bank said.
The SBV said it will continue to coordinate with relevant ministries and agencies to discuss and work on issues of Washington's concerns in the spirit of cooperation and mutual benefits, toward a harmonious and sustainable commercial relationship between the two sides.
In its similar report released in December, the U.S. Treasury Department labeled Vietnam and Switzerland as currency manipulators, alleging that the two economies violated the three criteria on trade and currencies.
You might be interested in