Vietnam's stock market edged lower on Tuesday as selling pressure reappeared in many sectors.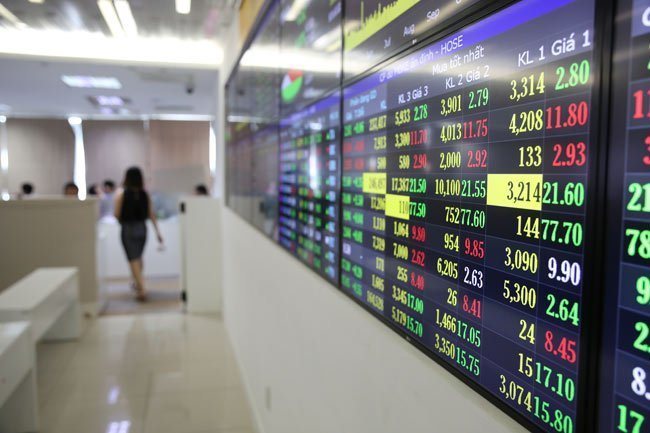 Viet Nam's stock market edged lower on Tuesday as selling pressure reappeared in many sectors.
The VN-Index on the Ho Chi Minh Stock Exchange (HoSE), fell 4.12 points, or 0.33 per cent, to 1,248.33 points.
Despite the market breadth turning negative with 113 stocks increasing while 312 stocks declined, the market's liquidity was higher than yesterday. Domestic investor poured VND23.47 trillion into the southern bourse, equivalent to a trading volume of nearly 1.03 billion shares.
Analysts from Bao Viet Securities Company remain optimistic about the market's bullish trend.
"The VN-Index is expected to continue to gain points and head towards the resistance territory of 1,275 - 1,300 points in the short-term," Tran Xuan Bach, a senior stock analyst from Bao Viet, said.
"The market will witness a strong division between stock lines, as well as fluctuations and corrections when the index is approaching the resistance levels to the next highs.
"Local cash inflows are still the main driving force for the market during this period. Large-cap stocks, especially leading stocks, will alternately rise to support the market."
The 30 large-cap tracker VN30-Index also closed lower, down 0.07 per cent to 1,277.35 points. Seven of the 30 biggest stocks in market capitalisation climbed, while twenty stocks declined and three stayed unchanged.
Big stocks from most sectors including banking, materials, utilities, information technology, transportation and logistics posted poor performance.
Of the top five stocks weighing the market's trend, three were from banking sectors, one from materials and one from utilities.
These stocks were Vietcombank (VCB), JSC Bank For Investment And Development of Viet Nam (BID), Vietinbank (CTG), Hoa Phat Group (HPG) and PetroVietnam Gas JSC (GAS).
However, the losses were capped by gains in the real estate and construction sector. Of which, Vingroup JSC (VIC) was still the biggest gainer in market capitalisation, up 6.59 per cent.
On the Ha Noi Stock Exchange (HNX), the HNX-Index lost 1.13 per cent to close Tuesday at 292.19 points. The index was weighed by large-cap stocks as the HNX30-Index, which tracks the 30 biggest stocks on the northern market, slid 2.26 per cent to 441.71 points.
During the session, nearly 232.6 million shares were traded on HNX, worth over VND4.03 billion.
Foreign investors returned to be net buyers on both exchanges, as they net bought a value of VND126.79 billion on HoSE and a value of VND59.26 billion on HNX.
New stock trading accounts hit record high in March
Securities companies registered 113,875 new domestic trading accounts in March, breaking the record set in January of 86,107, according to the Viet Nam Securities Depository (VSD).
As of the end of March, there were more than 3 million trading accounts in the stock market, including more than 2.98 million opened by individual investors and 11,630 by organisational players.
The stock market saw nearly 258,000 new trading accounts opened in the first quarter, accounting for 65 per cent of the figure recorded in all of 2020.
SSI Securities Corporation said Viet Nam's stock market experienced a special quarter, reaching the 1,200-point threshold three times.
The market suffered its sharpest decline in history on January 28 as a result of panic selling after new community transmissions of the coronavirus were reported.
The benchmark VN-Index on the Ho Chi Minh Stock Exchange (HoSE) fell 73.23 points, or 6.67 per cent, to close at 1,023.94 points. It quickly recovered to 1,191.44 points by the end of the March 31 trading session, increasing 7.93 per cent from the beginning of the year.
VNS
You might be interested in