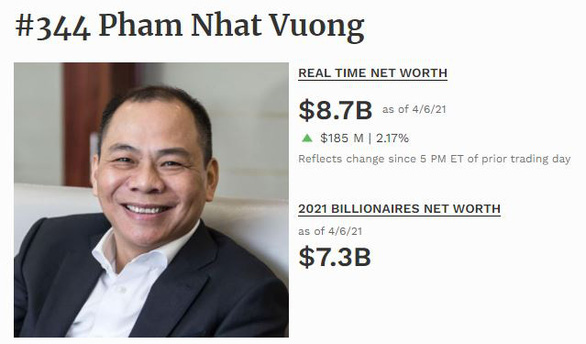 Pham Nhat Vuong, chairman of Vietnam's largest private conglomerate Vingroup, remains the wealthiest person in the Southeast Asian country with a US$7.3 billion fortune, according to Forbes' annual list of the world's richest unveiled on Tuesday.
Despite the COVID-19 pandemic, the number of billionaires worldwide jumped to an unprecedented 2,755 in 2021, up 660 compared with last year.
Their assets are worth $13.1 trillion, up from $8 trillion on the 2020 list.
This year marks a record high of 463 newcomers to the list, equivalent to one new billionaire for every 17 hours, including 210 from mainland China and Hong Kong and 98 from the U.S.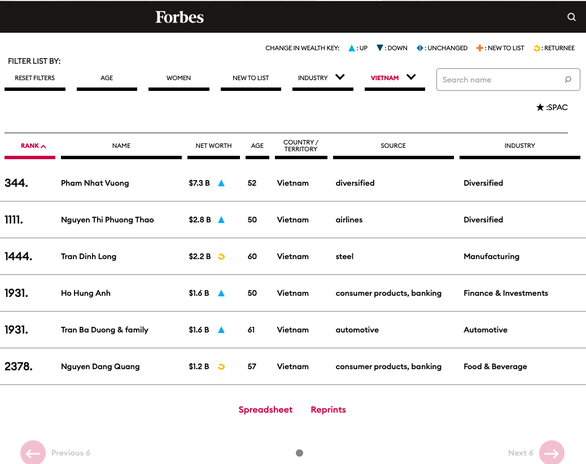 A list of the richest dollar billionaires in Vietnam in 2021, as announced by Forbes
Vietnam has six billionaires on the Forbes list with five men and one woman.
Pham Nhat Vuong, chairman of Vingroup, is the country's richest billionaire with a net worth of $7.3 billion and ranks 344th in the world.
CEO of Vietjet Air Nguyen Thi Phuong Thao is Vietnam's first self-made female billionaire with a net worth of $2.8 billion, ranking 1,111th.
On the magazine's list, Tran Dinh Long, chairman of Hoa Phat Group, becomes the third-richest man in Vietnam with $2.2 billion in net worth.
Ho Hung Anh, chairman of Techcombank, and Tran Ba Duong, chairman and founder of Truong Hai Auto Company, round up the top six wealthiest people in the country, both with $1.6 billion.
Masan Chairman Nguyen Dang Quang has also been on the Forbes list with the current net worth of $1.2 billion.
The world's richest person is still the founder and CEO of e-commerce company Amazon, Jeff Bezos, with assets of $177 billion for the fourth year in a row, up $64 billion from a year ago due to surging Amazon shares.
Elon Musk rocketed into the second spot with a $151 billion fortune, a whopping $126.4 billion more than a year ago, followed by Bernard Arnault, Bill Gates, and Mark Zuckerberg.
The top ten richest own a combined $1.15 trillion, up two-thirds from last year.
The U.S. still has the most billionaires in the world with 724, followed by China with 698 billionaires and India with 140 billionaires.
In the Asia-Pacific region, 1,149 billionaires are represented with total assets worth $4.7 trillion.
You might be interested in