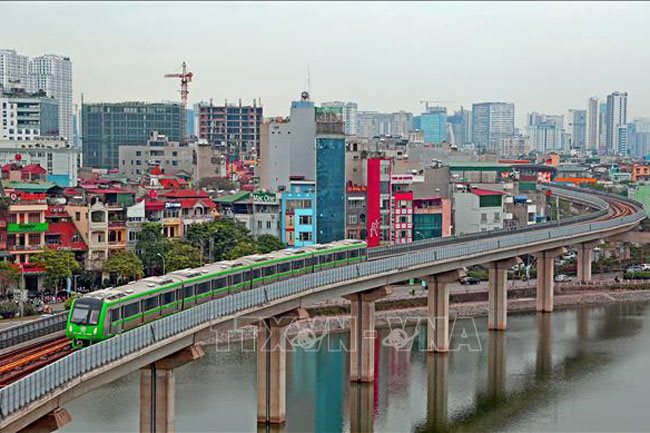 A train runs on the Cat Linh-Ha Dong urban railway. The project is expected to be put into commercial operation on April 30 – PHOTO: VNA
HCMC – The Cat Linh-Ha Dong metro line project in Hanoi is expected to be put into commercial operation on April 30, said a representative of the Ministry of Transport.
According to the representative, the obstacles facing the project have been eliminated and the safety certification has been completed. The Ministry of Transport, the investor of the project, is completing procedures to report the results to the State Council for Acceptance of Construction Works, the local media reported.
As for French consulting firm ACT's recommendation to add a device to prevent the drowsiness of train drivers, the representative said the device was not included in the design of the project. Therefore, an additional employee will be deployed in the cabin of each train instead of an automatic device.
The project was earlier planned to be put into commercial operation in 2020. However, due to the impact of Covid-19, Chinese experts could not arrive in Vietnam, so the trial operation of the system was not conducted until the end of 2020.
The Ministry of Transport has coordinated with the Hanoi government and other relevant agencies to test the project and hand it over to the Hanoi government.
The Cat Linh-Ha Dong urban railway was put into trial operation for 20 days, starting December 12, 2020.
In September last year, Vietnam Register issued technical safety and environmental protection certificates for 13 trains and other related components of the project.
The Hanoi government has prepared human resources, techniques and exploitation solutions to put the project into operation right after it is handed over.
Vu Hong Truong, general director of Metro Hanoi Co., Ltd, said the city would be supported by a consortium of contractors of the project to operate the system for a year.
During the first 15 days, passengers of the metro line will be exempted from tickets. They will later have to pay VND15,000 per ticket.
The 13-kilometer Cat Linh-Ha Dong urban railway has 12 stations and 13 trains with four carriages each. The project cost was US$886 million.
You might be interested in