Hanoi FC have appointed a former coach of Vietnam's national football team as the club's acting manager after their former manager had resigned amidst his side's lackluster performance in the top-flight V-League 1.
Hoang Van Phuc, 57, has taken over the helm at the Capital Team from Chu Dinh Nghiem, 49, since Sunday.
Phuc also work as the club's technical director. He has been the director of Hanoi FC's youth training center so far.
He will lead the team in their derby against Viettel FC in the eighth round of the 2021 V-League 1 on Wednesday, pending a search for a new manager.
Phuc coached the junior team of Hanoi T&T – Hanoi FC's predecessors – in 2011-13.
He was the manager of the junior and senior national teams in 2012-14 before winning the 2017 V-League 1 title with Quang Nam FC.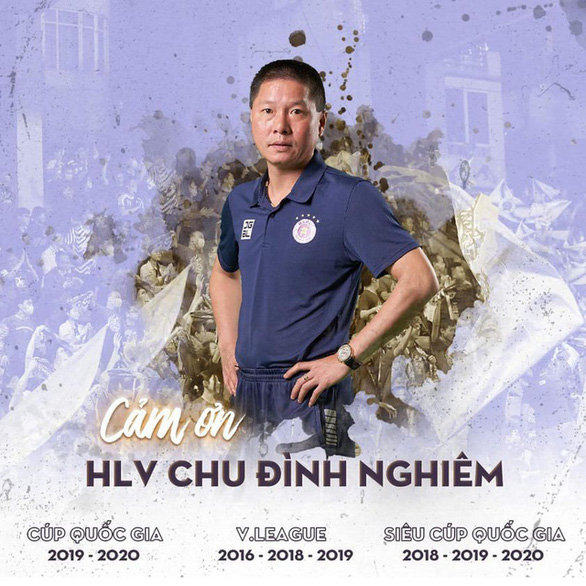 Hanoi FC honor Chu Dinh Nghiem in this banner following his departure from his role as the club's manager.
On Saturday, Nghiem bid farewell to Hanoi FC, citing personal reasons, after five bright seasons.
He had managed Hanoi FC since 2016, having 106 wins, 43 draws, and 27 losses under his belt.
Hanoi FC won the league trophy in 2016, 2018, and 2019, as well as the Super Cup in 2018, 2019, and 2020.
The team also reached the inter-zonal finals of the 2019 AFC Cup, where they were eliminated by North Korea's April 25 on away goals.
But title favorites Hanoi FC are struggling with 10 points from seven games in the V-League 1 this season, ranking seventh on the table.
They lost 0-2 to SHB Da Nang in their latest league game on Friday.
You might be interested in