After Masan Group's acquisition of Vingroup's retail chain, Masan's Nguyen Dang Quang took great steps to master the $7 billion system and form an ecosystem for Vietnamese people.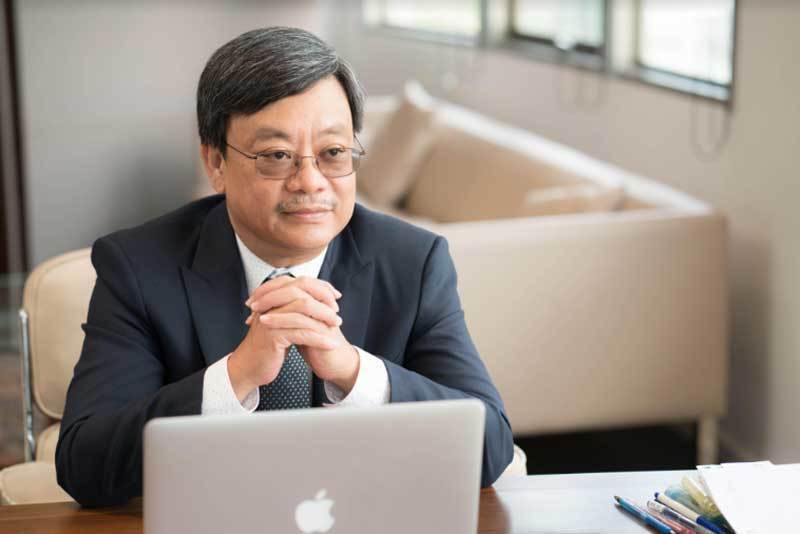 Masan Group's Chairman - billionaire Nguyen Dang Quang.
Masan Group (MSN) has released its audited financial statement of 2020 with a notable feature: the deal worth $1 billion with Vingroup, owned by billionaire Pham Nhat Vuong.
In June and August 2020, Masan paid VND23.7 trillion to buy additional 14.8% equity of The CrownX from Vingroup, increasing its ownership to 84.8%. Previously, Masan spent a lot of money to build a retail - consumer empire, which inlcuded its own businesses and M&A deals and its acquisition of Vingroup's Vinmart system.
In 2020, Masan used up to VND25.2 trillion of undistributed net profit to pay for the Vincommerce merger. The CrownX is a company founded by Masan and Vingroup to hold capital at VinCommerce – VCM, the company that owns VinMart and VinMart+ systems and Masan Consumer Holdings –MCH, the firm that owns Masan's consumer goods segment.
With its most recent transactions, The CrownX is valued at $7 billion, higher than the value of many local corporations such as Hoa Phat ($6.7 billion) of billionaire Tran Dinh Long, or even higher than Masan itself ($4.5 billio). VCM is the leading retail system in terms of number of points of sale in Vietnam and is the local retail system that can compete with foreign competitors in the domestic market.
In the first year run by Masan, the giant retail system began to make a profit from a loss of $100 million when Masan acquired it. In 2020, The CrownX recorded an 18.1% growth in net sales to nearly VND54.3 trillion, becoming the second largest domestic consumer goods trading firms in terms of revenues.
By the end of 2020, VinCommerce officially completed the first phase of the transition, recording EBITDA (Earnings Before Interest, Taxes, Depreciation, and Amortization) of 0.2% with an absolute value of VND16 billion. This was the starting point for Masan to enter a new stage with the ambition of becoming an online - offline integrated consumer retail group.
Expanding into modern retail has increased Masan's market access from just 1% of the consumption budget to nearly 25%. In the next five years, Masan will focus on building a Point of Life (POL) platform through modernizing traditional retail channels and promoting integrated commerce from offline to online (O2O) between modern retail and e-commerce platforms, while promoting financial services across Vietnam.
Masan aims to serve 30-50 million consumers on a one-stop platform, fully meeting daily essential needs with retail (VCM), consumer goods (MCH), meat (MML) and financial services (Techcombank) ... integrated into the "Point of Life" model.
In late 2020 and early 2021, the price for MSN share has nearly doubled, sometimes up to VND95,000-100,000 per share. This is an unexpected development and it helped Quang quickly return to the list of world billionaires. Quang's assets increased by hundreds of millions of US dollars in a short time and other shareholders of Masan gained about $2 billion.
The CrownX aims to achieve net sales of $8 billion by 2025, of which Masan Consumer is expected to contribute $3 billion and VinCommerce $5 billion. For the financial plan of 2021, Masan Group aims to obtain net revenue of VND92 trillion to VND102 trillion (19% to 32% up compared to 2that 020), and net profit for shareholders from VND2.5 to VND4 trillion (an increase of 103% to 224% compared to 2020).
According to Forbes magazine's 2020 list of the world's richest people, with an estimated net worth of US$5.9 billion, Pham Nhat Vuong is the wealthiest person in Vietnam and is ranked 385th among the world's richest people.
Vuong is the owner of Vingroup, one of the largest real estate conglomerates in Vietnam, which has been expanding rapidly into hospitality, retail, logistics, agriculture, education, and healthcare sectors.
Nguyen Dang Quang, the owner of Masan Group, is among the top six wealthiest people in Vietnam with US$1.2 billion.
V. Ha
You might be interested in