Lam Dong authorities have recalled several projects as it was discovered that 1,900 ha of forest land have been destroyed by incompetent firms.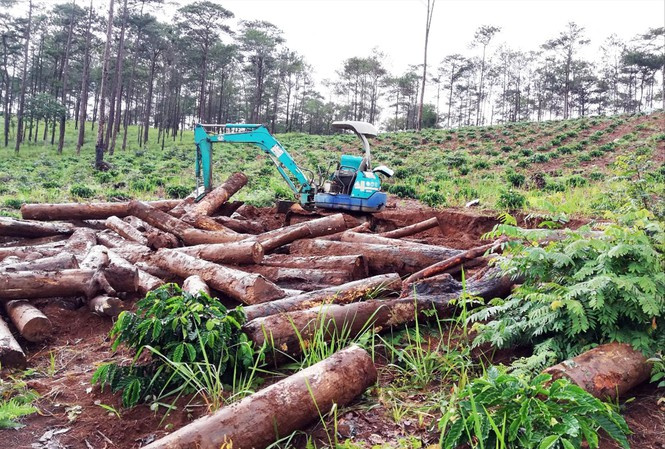 Thousands of hectares of forest destroyed in Lam Dong Province.

In the past years, Lam Dong authorities allocated 58,000ha of forest land to 489 projects from ecotourism to rubber plantations. However, hundreds of projects were behind schedule, ineffective or had different purposes compared to their original intent. Statistics from the Department of Natural Resources and Environment show that 1,900ha of forest land of 116 projects have been stolen.
Dai Ninh Commercial, Tourist, Resort, Ecological Urban Area Project in Duc Trong District let 258ha of natural forest be destroyed and over 118 hectares of forestry land were encroached upon. According to Duc Trong Forest Protection Unit, in most cases, the investors didn't inspect or prevent the destruction or encroachment at all. There are signs that the investors deliberately ignored the destructive activities.
The investors also failed to detect the case in which 86 pine trees were poisoned or when outsiders illegally planted industrial trees in their area. In 2020, the government inspectorate proposed to recall Dai Ninh Project.
An Phu Company which is responsible for the afforestation and forest management project was also shamed after 15.4 cubic metres of timber was found under three holes in their forest areas. The police launched an investigation into deforestation and Lam Dong People's Committee fined the company VND251m (USD10,800) for illegally building 14 houses and illegally converting 28ha of forest land for other usage.
As of now, Lam Dong authorities have recalled 160 projects and a part of the forest lands of 35 projects. The investors were asked to pay compensation of up to VND311bn. However, they have only paid VND40bn.
Vo Danh Tuyen, deputy director of the Department of Natural Resources and Environment said they were assigned the task to collect the compensation in August 2020. It's extremely hard to collect compensation money from investors whose projects have been recalled. They also lack detailed legal regulations to deal with stubborn investors.
"If investors try to delay or fail to obey, we'll propose to recall their projects or transfer the case to the police," he said.
You might be interested in