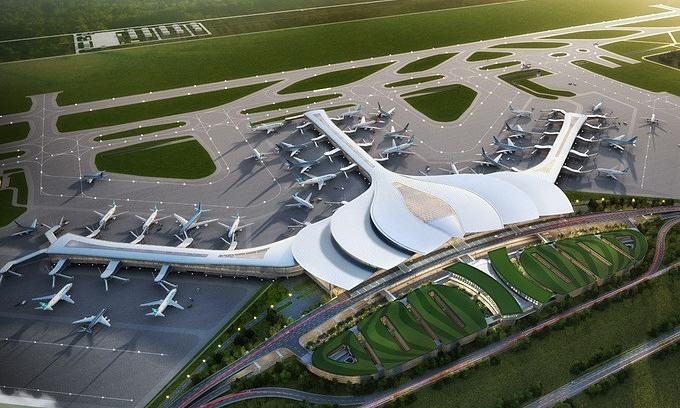 The Long Thanh International Airport is among most anticipated 16 airports in the world and a key project in streamlining the country's transport infrastructure network which will serve to attract more multinationals to Vietnam, Prime Minister Nguyen Xuan Phuc said at the groundbreaking ceremony in the southern province of Dong Nai.
The $4.6 billion first phase of the airport in Dong Nai Province is set to be completed by 2025 when it will be able to handle 25 million passengers and 1.2 million tons of cargo a year.
It will include a four-kilometer runway, taxiways, aprons, and a 373,000-square-meter terminal with a capacity of 25 million passengers and 1.2 million tons of cargo a year.
Phuc said that the airport was an urgent need that would, apart from meeting aviation demand, boost economic growth and increase national security.
The new airport is strategically located just three hours flight away from South Korea, Japan and China, and it will be able to receive the largest commercial aircraft. It is also well linked to all southern localities by a network of highways.
The Airports Corporation of Vietnam (ACV), which will oversee the construction and operate the airport starting 2025, will start by checking and clearing the land of unexploded ordnances and building fences.
Work on major constructions like the terminal and runways will begin construction in the third quarter next year.
This will be the first of three phases of the airport that is expected to be completed by 2040. By then, it will have four runways, four passenger terminals and auxiliaries to accommodate 100 million passengers and 5 million tons of cargo every year.
Lying 40 kilometers east of HCMC, the airport is expected to take up the overflow from the Tan Son Nhat International Airport, which is the largest existing airport in the country.
Upon completion, it is planned 80 percent of passengers handled by the new airport will be international. The Tan Son Nhat airport will then serve domestic flights, mosty.
You might be interested in