This "gold mine" can bring Vietnam 34,000-40,000 billion VND each year.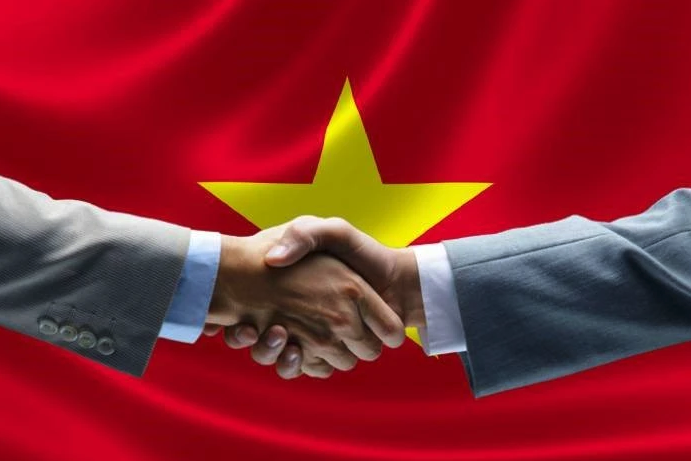 MSC 'targets' Can Gio superport
CNBC news agency said that MSC - the world's largest shipping corporation - is actively investing in building ports at seaports in Vietnam - one of the countries that is an attractive destination for domestic businesses in the trend of shifting production out of China.
Last year, MSC proposed investing in transferring the seaport area from Singapore - an international transshipment port - to Vietnam, expecting to choose the Can Gio location, located in the city. HCM, with a huge investment. This information was said by Ms. La Hong Hanh, Deputy Director of the Department of Planning and Investment (Ministry of Transport) at the Workshop "Creating Momentum for Recovery of the Southern Real Estate Market", organized by Investors Magazine.
Once completed, Can Gio port will play a major role in developing the marine economy for the southern key economic region and the whole country, while helping Ho Chi Minh City maintain its position as a regional logistics center and become the top in marine transportation.
According to CNBC, shipping companies will not invest in port construction unless they see the development potential. The Can Gio port project will be implemented in 7 phases. The first phase begins in 2024 and the port will be fully operational in 2040.
MSC CEO Soren Toft emphasized: "Vietnam is a very important market for us. It's clear that Southeast Asia is becoming increasingly important in the supply chain."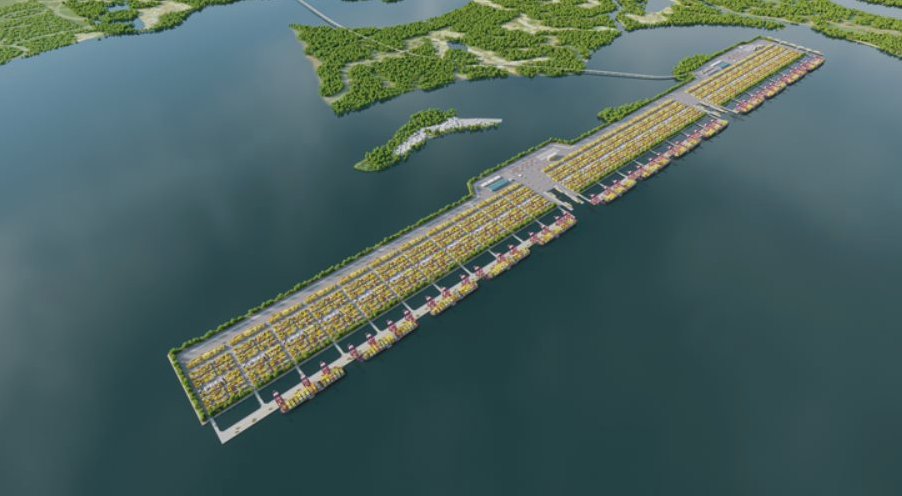 MSC Group (Mediterranean Shipping Company S.A) is an international shipping company founded by Gianluigi Aponte in Italy in 1970, with headquarters in Switzerland since 1978. Currently, MSC is still owned by the Aponte family.
According to statistics from Alphaliner Shipping Analysis company, as of November 2022, MSC operates a fleet of 712 ships, with a total transport capacity of up to 4,568,765 TEU and accounts for 17.4% of the market share in the international container shipping market. Currently, this is the largest shipping corporation in the world.
Every year, MSC visits 500 ports on more than 230 trade routes on 6 continents, carrying approximately 23 million TEUs with a modern fleet equipped with the most advanced green technologies. The company has 675 local offices in 155 countries, with a workforce of up to 150,000 people.
Gianluigi Aponte - president of MSC - used to be a captain. According to Forbes data, as of April 18, 2022, the MSC Chairman's total assets are estimated at 17.3 billion USD, making him the 102nd richest person in the world.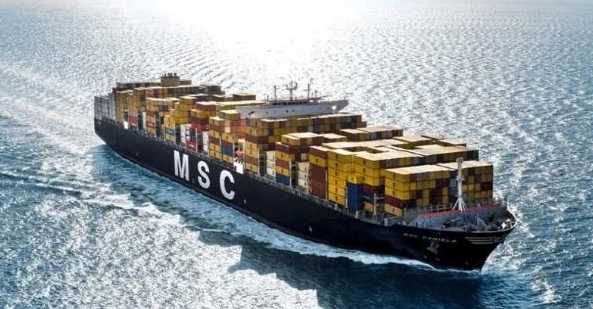 Many large seaport investors come to Vietnam
Not only MSC, but many other seaport investors also come to Vietnam. The Financial Times said that the world's largest transportation and logistics corporations are in an increasingly fierce race to buy logistics facilities in Asia, thereby helping their customers expand their supply chains applied outside of China.
Businesses, such as container shipping lines Hapag-Lloyd (Germany) and AP Møller-Maersk (Denmark), have begun investing in seaports, warehouses, and other logistics infrastructure. These facilities support the development of increasingly complex supply chains between Vietnam, India, and Malaysia.
Last year, Maersk Group completed the acquisition of LF Logistics - a logistics company in Hong Kong (China) that owns 198 warehouses across Asia - for 3.6 billion USD. This year, this Danish corporation plans to cooperate with Vietnam's Hateco Group to develop two new wharves at Lach Huyen port in Hai Phong.
Meanwhile, according to statistics from the Vietnam Maritime Administration, several other investors specializing in port operation can be listed in Vietnam, including PSA Group (Singapore), which is investing in and exploiting ports. SP-PSA port; APMT Group (Denmark) is investing in and operating CMIT Port; Hutchison Port Holding Group (Hong Kong, China) is investing in SITV port. All of the above ports are located in Ba Ria - Vung Tau province.
In addition, large shipping companies also participate in investing and exploiting many ports. For example, Mitsui O.S.K line (Japan), and Wanhai Lines (Taiwan, China) invested in and operated the Tan Cang - Cai Mep international container port. Or like shipping lines MOL and NYK investing in Lach Huyen port (Hai Phong)...
Vietnam's 'gold mine'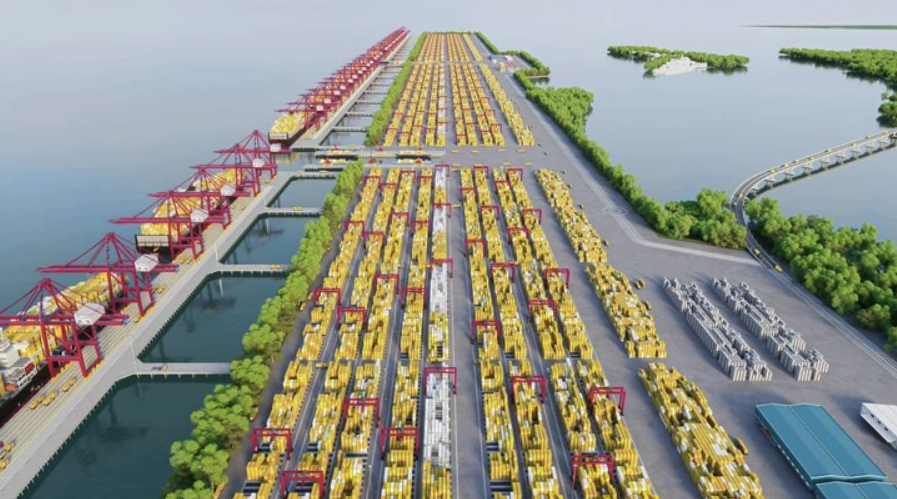 Maritime magazine Lloyd's List (UK) once commented that Vietnam can develop Ho Chi Minh City seaport to enter the strategic supply chain. Currently, great expectations are placed on the Can Gio International Transshipment Port project.
On August 23 this year, the People's Committee of Ho Chi Minh City officially sent a report to the Prime Minister on the Can Gio International Transshipment Port research project, with a total investment of 129,000 billion VND (equivalent to nearly 5 USD). .5 billion USD).
According to the report, Can Gio port is expected to be built in the Con Cho island area, Thanh An commune, Can Gio district, with a total area of 571 hectares, the total length of the main wharf is about 7km, and the barge wharf is about 2km?
Once completed, this "super port" can receive the world's largest container ship today of 250,000 DWT (equivalent to 24,000 TEU), transshipment ships with a tonnage of 10,000 - 65,000 tons, and barges with a tonnage of 8,000 tons.
Referring to MSC's investment participation, the Ho Chi Minh City People's Committee said: "When a large shipping company like MSC participates, it will ensure goods for the port with the shipping company's existing source of goods, which is a favorable opportunity to Forming and effectively developing the international transshipment port in Can Gio. Having the world's largest shipping company as an investor interested in investing and cooperating proves the attractiveness of the Can Gio international transshipment port location.".
Notably, as stated by the report on the research project to build Can Gio international transshipment port previously sent to the Ho Chi Minh City People's Committee, the Ho Chi Minh City Department of Transport estimated that Can Gio Port's contribution to the budget can be up to 34,000-40,000 billion VND/year, through tax collection from loading, unloading and storage activities of port enterprises; Corporate income tax; maritime fees and charges from ships entering and leaving ports; Water surface rental fees and taxes on import and export of goods.
Thus, Vietnam in general and the southern key economic region will greatly benefit from this 'super port'.
Besides, Can Gio port will also create 6,000-8,000 jobs for employees, workers working at the port, and tens of thousands of other workers working in logistics services, logistics centers, and non-tariff zones.
Sputnik news agency (Russia) commented that thanks to the convergence of all factors to become a regional destination and a driving force for the development of the entire Southeast region, Can Gio super port is considered a "gold mine" for Ho Chi Minh City competing with Singapore.
Can Gio Port is expected to be able to handle 10-15 million TEUs a year and become the fourth super port in Southeast Asia, after Singapore (output of 37.47 million TEUs) and two Malaysian ports, Port Klang (13.72 million TEU) and Tanjung Pelepas (11.20 million TEU).
Experts assess that Can Gio international transshipment port is expected to help Ho Chi Minh City continue to maintain its role as a regional and Asian logistics center, bringing Vietnam to the top position in transportation.
You might be interested in