According to the Prime Minister, Apple should make Vietnam a key hub and link in its supply and production network.
Also read: Apple's MacBook, iMac, Mac Mini, iPhone all concurrently decreased costs in Vietnam
On the afternoon of September 21 (local time), Prime Minister Pham Minh Chinh received many leading US and world businesses, including Apple Inc., Boeing, Google, and Siemens Healthineers.
According to Mr. Nick Ammann, Vice President of Apple Corporation responsible for international government relations, Vietnam is a significant market and a hub for production. He was grateful for the support provided by the Vietnamese Government for Apple, especially during the Covid-19 era.
Mr. Nick Ammann claims this Group is highly interested in boosting clean energy access for Apple manufacturers in Vietnam and developing sustainable energy strategies. The Group intends to help train and develop Vietnamese human resources, particularly teams working on software.
Prime Minister Pham Minh Chinh acknowledged the suggestions and welcomed this Group to increase the use of clean energy and train human resources for Vietnam in high technology.
The Prime Minister urged his audience to "recommend that Apple continue to investigate and broaden investment cooperation, act as a conduit for American companies and partners to increase capital investment in Vietnam, and support Vietnamese businesses to improve production capacity to increase competitiveness and participation in the global supply chain."
He wants Apple to advise establishing a research and development (R&D) centre at the National Innovation Center (NIC) to increase the ability to research and develop technology products, support and develop the innovation ecosystem, digital transformation, and transfer of new technology.
Apple currently has a capitalization value of 2,860 billion USD, revenue of more than 394 billion USD, with about 164,000 employees. Apple primarily uses 32 original equipment manufacturing partner companies in Vietnam, with product exports expected to reach USD 30 billion in 2022.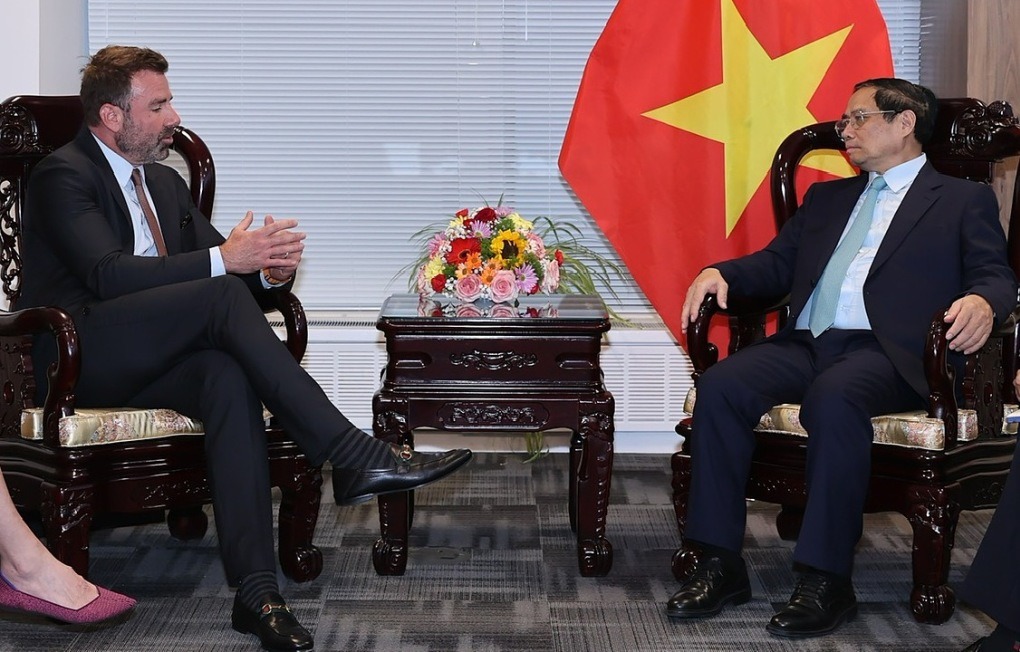 Prime Minister Pham Minh Chinh received Mr. Nick Ammann, Vice President in charge of global government relations of Apple Corporation.
Photo: Nhat Bac
Mr Karan Bhatia, Vice President of Google's Government Relations and Public Policy, also appreciated the major directions in the Vietnam-US joint statement on establishing a comprehensive Strategic Partnership. He suggested that the two parties work together and invest in cloud computing-related fields, supporting Vietnam's online teaching and learning efforts.
Read more: Google announces top 10 search trends 2021 in Vietnam
The Prime Minister announced that he would designate research and collaboration organizations for this Group to deploy in the spirit of harmonious advantages and shared risks, and he welcomed Google's decision to increase manufacturing investment in Vietnam.
He also asked Google to continue supporting the National Innovation Center and cooperate to ensure information safety and security, digital skills training, promoting digital transformation support programs, and Developing human resources to meet Google's production and value chain in Vietnam. Google is the world's leading multinational technology corporation, with revenue of 282.8 billion USD in 2022.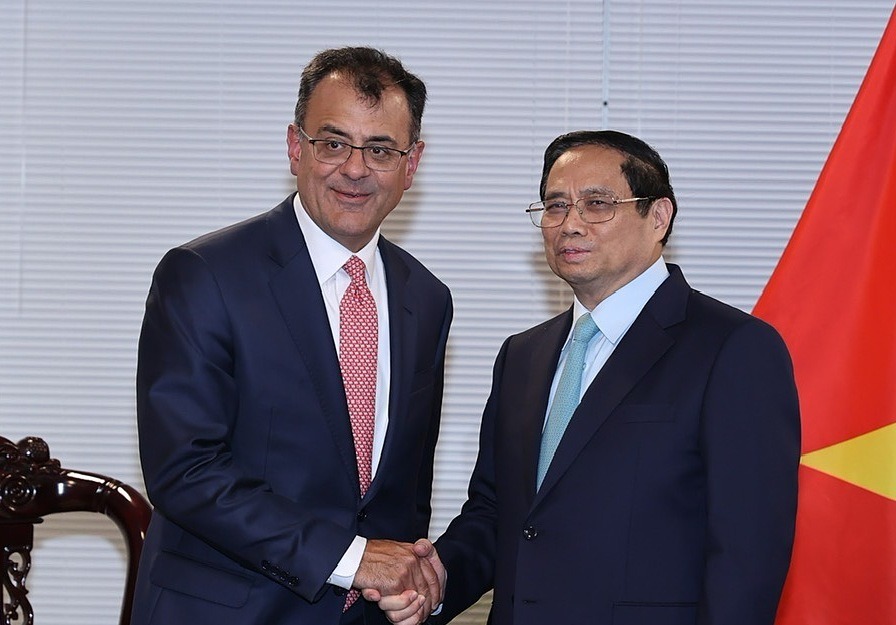 The Prime Minister received Mr. Karan Bhatia, Vice President in charge of Government Relations and Public Policy of Google. Photo: Nhat Bac
Similarly, Boeing Group leaders highly appreciated the Vietnamese Government leaders' vision and viewpoints on the aviation economy's importance.
Meanwhile, the Prime Minister said Boeing has been a reliable partner providing aircraft and aviation services to Vietnamese airlines for many years. He suggested that Boeing expand its production and supply chain in Vietnam, soon build a large-scale aircraft machinery and equipment maintenance centre and support airlines in this regard. Additionally, he wants the business to provide more funding for technology transfer human resource training and fully integrate Vietnamese partners into Boeing's supply chain.The head of the Government also wants Boeing to continue to coordinate closely with Vietnamese partners to complete and deliver aircraft purchase orders signed recently and support them in choosing suitable aircraft at reasonable costs.
Boeing is a leading manufacturer of commercial jet aircraft, defence, aerospace and security systems. To date, Boeing has more than 140,000 employees operating in 65 countries worldwide and, in 2020, achieved revenue of more than 94.5 billion USD.
In addition, under the witness of the Prime Minister, the ceremony of awarding investment cooperation agreements between agencies, organizations and businesses of the two countries was carried out in the fields of industrial park development, seaport construction, support green growth, production and distribution of pharmaceuticals; training human resources in the field of semiconductors (FPT signed with Silvaco to cooperate in developing semiconductor chips).
Read more: Airlines ready to resume regular international flights
The Prime Minister requested global corporations and investment funds to share experiences, policy advice, and priority order in mobilizing financial resources, participating in the process of building, co-investing, and developing the financial centre in Ho Chi Minh City after having a working dinner with executives of major multinational corporations and leading US financial investment funds.
From September 17 to September 23, Prime Minister Pham Minh Chinh will travel to the US for business. He will stop in San Francisco, Washington, and New York City and attend meetings at the UN General Assembly while combining bilateral engagements.
You might be interested in