1. Gia Lai - Mountain town in the middle of the Central Highlands
Gia Lai
is the third largest city in the
Central Highlands 
after Da Lat and Buon Ma Thuot. If Da Lat has a dreamy and romantic beauty, Buon Ma Thuot is full of flavor, Gia Lai is as liberal and wild as a young girl in the highlands. Referring to Gia Lai, people often immediately think of the immense and majestic nature and beautiful landscapes that captivate people's hearts.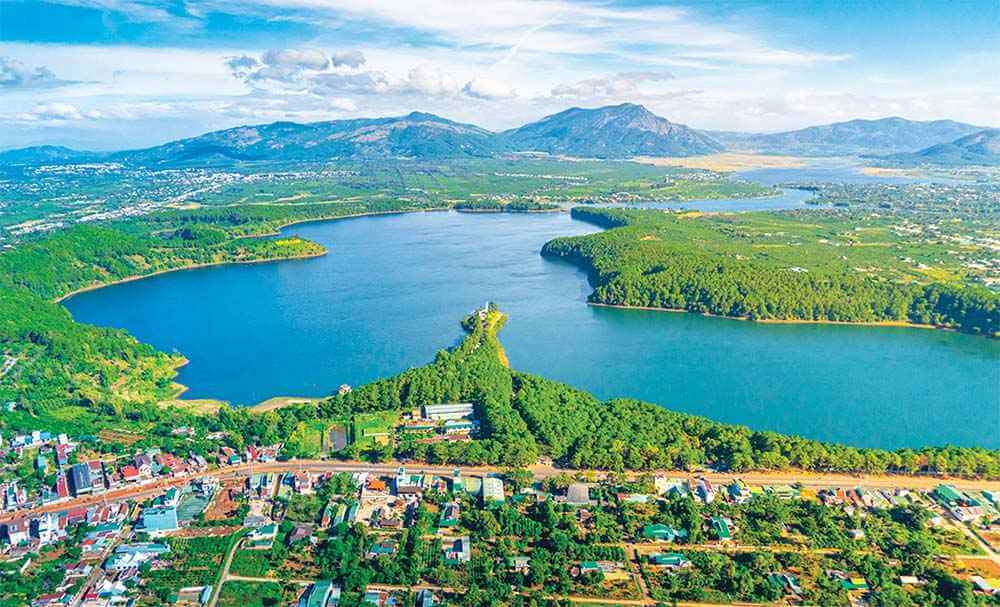 The name "Gia Lai" is derived from the word "Jarai", which is the name of the indigenous people living here. Experiencing many ups and downs of history, people still retain their distinctive traditional culture, with the
gong cultural space recognized by UNESCO
as "the oral masterpiece and the intangible cultural heritage of mankind" and a huge treasure trove of epics.
With rich resources, a mild climate, unique indigenous culture, and friendly and hospitable people, Gia Lai has become one of the localities with great potential for tourism development. Finding out about Gia Lai's travel experiences in advance will help you have a complete experience when going to the wilds of the Central Highlands.
Read more: Gia Lai to develop 100-ha hi-tech agricultural zone
2. Ideal time to travel to Gia Lai
From November last year to April next year is the dry season in Gia Lai, which is also the ideal time to travel. November and December is the time when it is sunny and sunny; Gia Lai is filled with the yellow color of ripe rice, blooming wild sunflowers, and brilliant yellow cassia flowers. From February to April, the mountain town is covered with a pure white color of thousands of coffee flowers.
Also read: Gia Lai wild sunflower season
The end of the year is the time for traditional festivals of ethnic minorities such as the new rice festival; new meal ceremony; Gong festival; village worshiping festival; Buffalo stabbing festival...If you want to experience the culture of the indigenous people, you can also travel on the occasion of these festivals.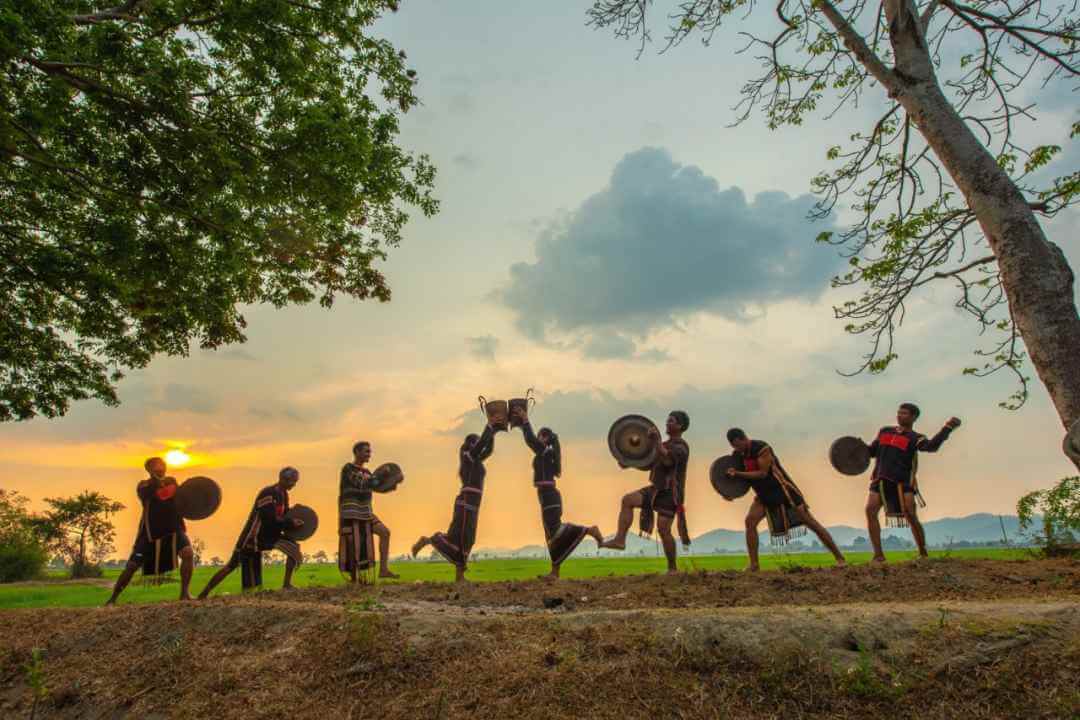 From May to October is the rainy season in Gia Lai. Gia Lai belongs to the tropical monsoon climate region, so the humidity and rainfall are high. Gia Lai's travel experience is that you wait to go because moving and visiting the landscape is very difficult.
3. Means to Gia Lai
The fastest way to get to Gia Lai is by plane. The route Hanoi - Pleiku and the route Ho Chi Minh City - Pleiku have flights on all days of the week. The route Da Nang - Pleiku has flights on all days except Mondays and Wednesdays. Pleiku Airport is about 3km from the center. When you land, you can reserve an airport shuttle or a motorbike taxi to move into the city center.
In addition, you can travel to Gia Lai by bus if you want to save money. Most provinces have bus routes to Gia Lai. If you are ready to conquer all challenges, you can form a motorbike group to Gia Lai if traveling from neighboring provinces. This way, you will have experiences worth more than regular travel.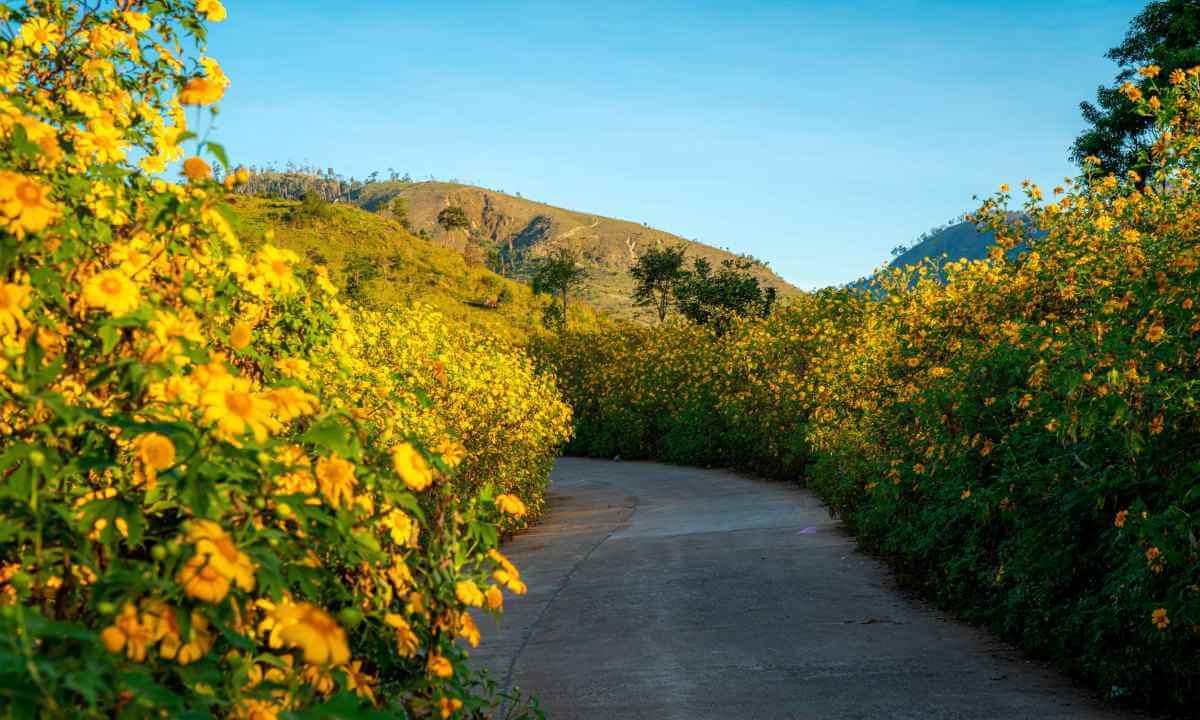 To go to the attractions in Gia Lai, you can take a taxi, rent a self-drive car, a tourist car, or a motorbike. Those with Gia Lai travel experience revealed that taxi prices in Gia Lai are quite high. So if traveling with a family or a group with children, or older adults, the best option is to rent a tourist car. Groups of young people can rent motorbikes to take the initiative in their schedule and freely explore the beautiful scenery in the middle of the Central Highlands.
4. Stay in Gia Lai
Most tourist spots in Gia Lai are just a short distance from the city, so you can go sightseeing during the day and return to Pleiku City at night to rest. There are many hotels in Gia Lai province with good service quality, such as: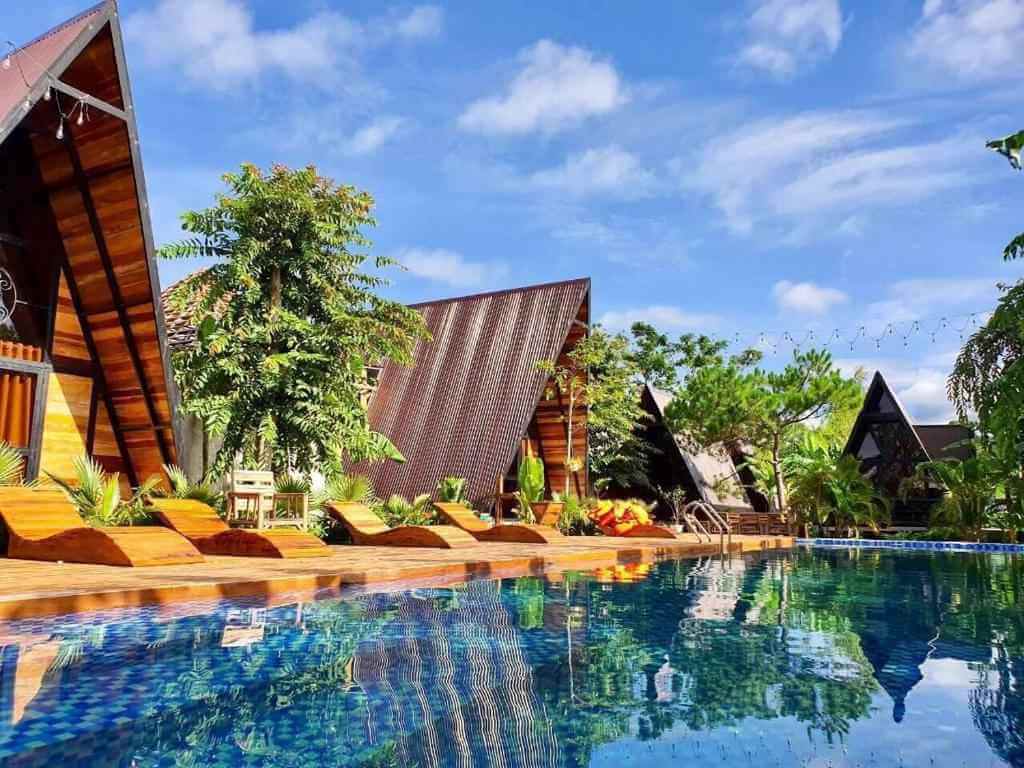 Tien Son Pleiku Homestay (100 Dao Duy Tu Street, Pleiku)
Hoang Anh Gia Lai Pleiku Hotel (01 Phu Dong, Phu Dong Ward, Pleiku)
Mekong Gia Lai Hotel (114/2 Le Duan, Phu Dong Ward, Pleiku)
Bee Gia Lai Hotel (264 Phan Dinh Phung, Yen Do Ward, Pleiku)
In addition to hotels, you can also stay at homestays. Some homestays are highly rated by travelers, such as:
Tithonia Homestay (580 Truong Chinh, Iakring, Chi Lang Ward, Pleiku)
Homestay Ngoi Que Gia Lai (Village 5, Tra Da Commune, Cach Mang Thang 8 Street, Tra Da Commune, Pleiku)
Hani House (49/2 Phu Dong, Phu Dong Ward, Pleiku)
5. Delicious dishes to try when traveling to Gia Lai
Gia Lai's travel experience shows that the trip will be much less interesting if you do not experience the unique cuisine here. Let's see; if you come to Gia Lai mountain town, you have to find the address to enjoy what dishes!
Wild vegetable leaf hotpot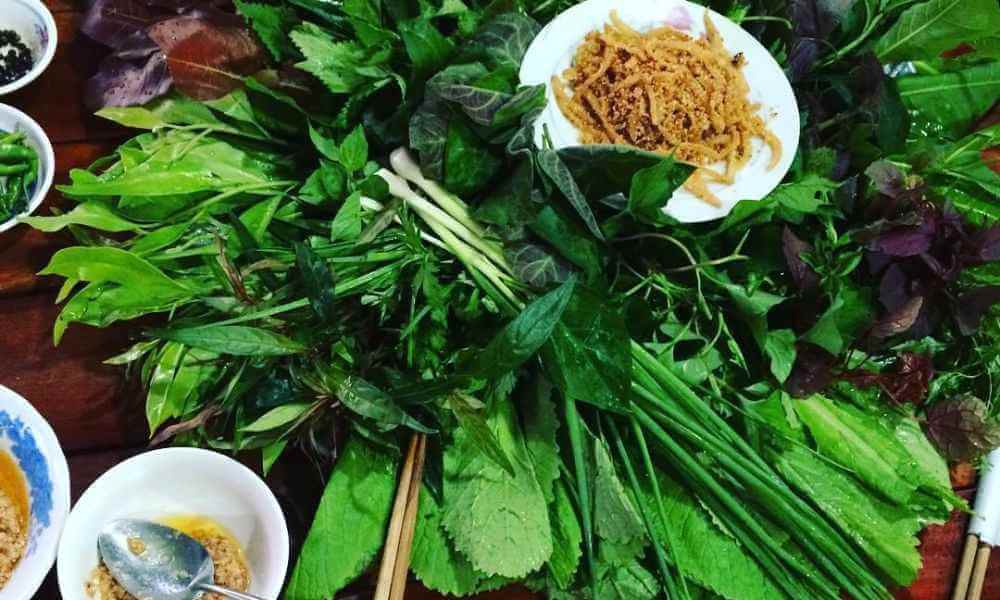 Wild vegetable leaf hot pot is a special gift that the Gia Lai mountains and forests give to the people here. Gia Lai people cleverly combine this vegetable leaf hot pot dish. Each type of forest vegetable has good effects on human health. When eating hot pot with wild vegetable leaves, the best thing to do is to use delicious spring rolls wrapped in forest leaves and dip them into meat sauce.
Crab noodles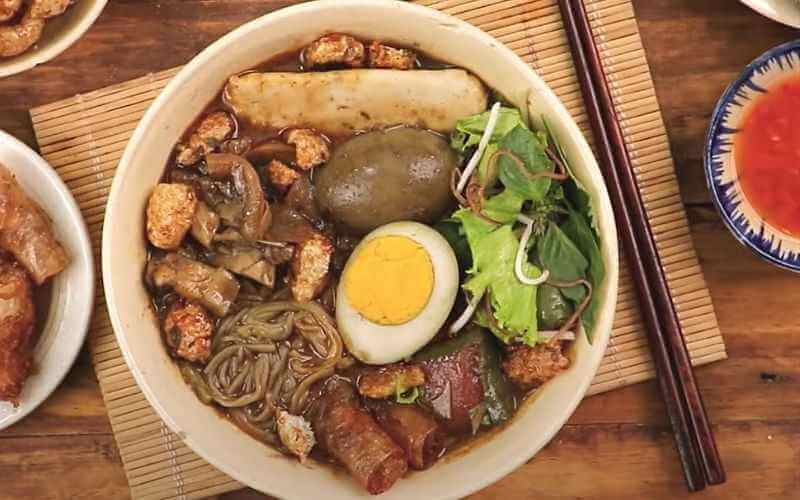 Rotten crab noodle soup is a dish that follows the footsteps of Binh Dinh people who migrated to Gia Lai. The most important ingredient of this dish is crab sauce. People will choose very fat crabs, clean them, pound them, filter the juice and brew them into fish sauce. Crab sauce smells slightly unpleasant, so it is quite picky to eat. Rotten crab noodles are served with pork belly, vermicelli, bamboo shoots, spring rolls, shrimp puffs, crispy pork skin and fresh vegetables.
Fire chicken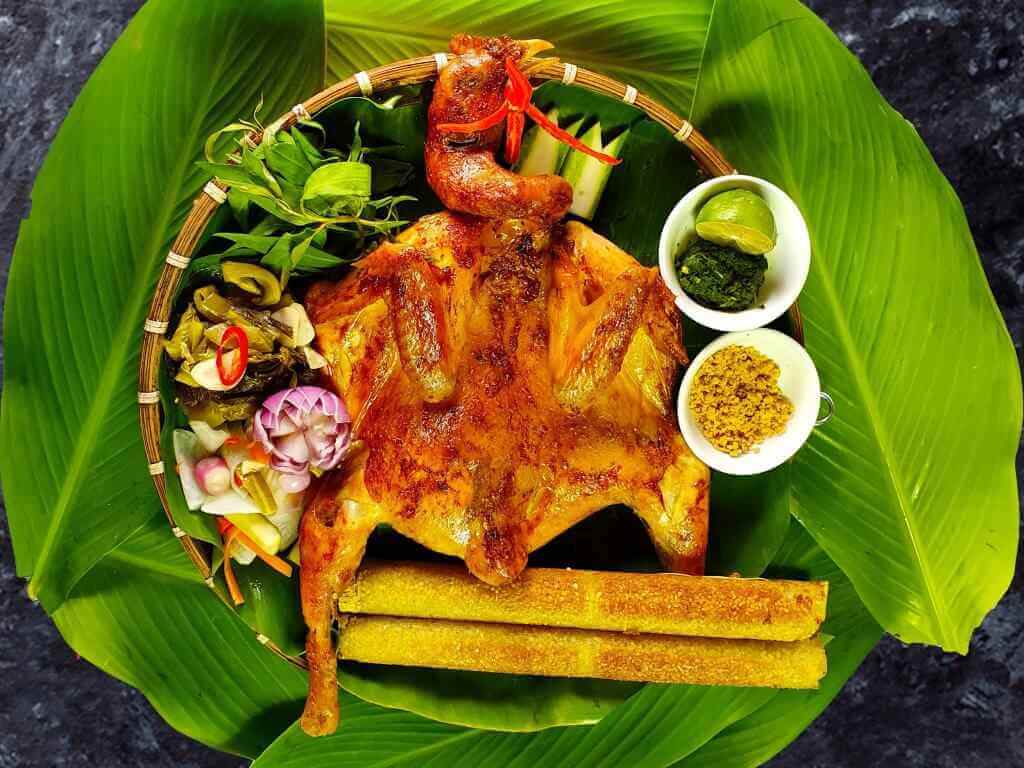 In the past, chicken satay was a dish that Gia Lai people only used to treat guests or when there was a wedding, an anniversary, or a new home. Today, this dish has become a specialty of the mountain town. People who have experience in Gia Lai travel know that this dish always has the menus of restaurants. Chicken is grilled on embers until golden brown and eaten with lemongrass salt, green chili and crushed basil leaves.
Papaya and yellow ant salad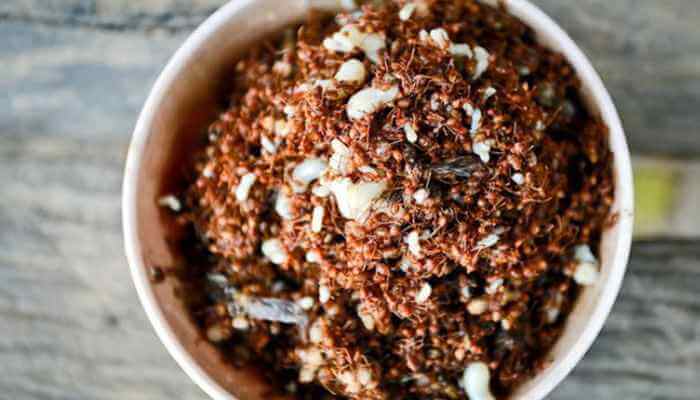 Yellow ants are Ayun Pa, Krong Pa (Gia Lai) forest ants. The dry season is the hunting season for weaver ants because the ants in this season are very fat. At first, weaver ants have a sour taste, then gradually dissolve into a sweet taste in the throat. Gia Lai people can process dishes from weaver ants, especially papaya and yellow ant salad.
Green papaya is peeled, grated, washed, put in a mortar and pounded with chili and e leaves. Then it is mixed with weaver ant salt. When enjoying, you will feel very clearly the bitter taste of papaya mixed with the sour taste of weaver ants, the spicy taste of wild peppers and the fragrant aroma of e leaves. If you eat one, you will want to eat two again.
Melon striped pig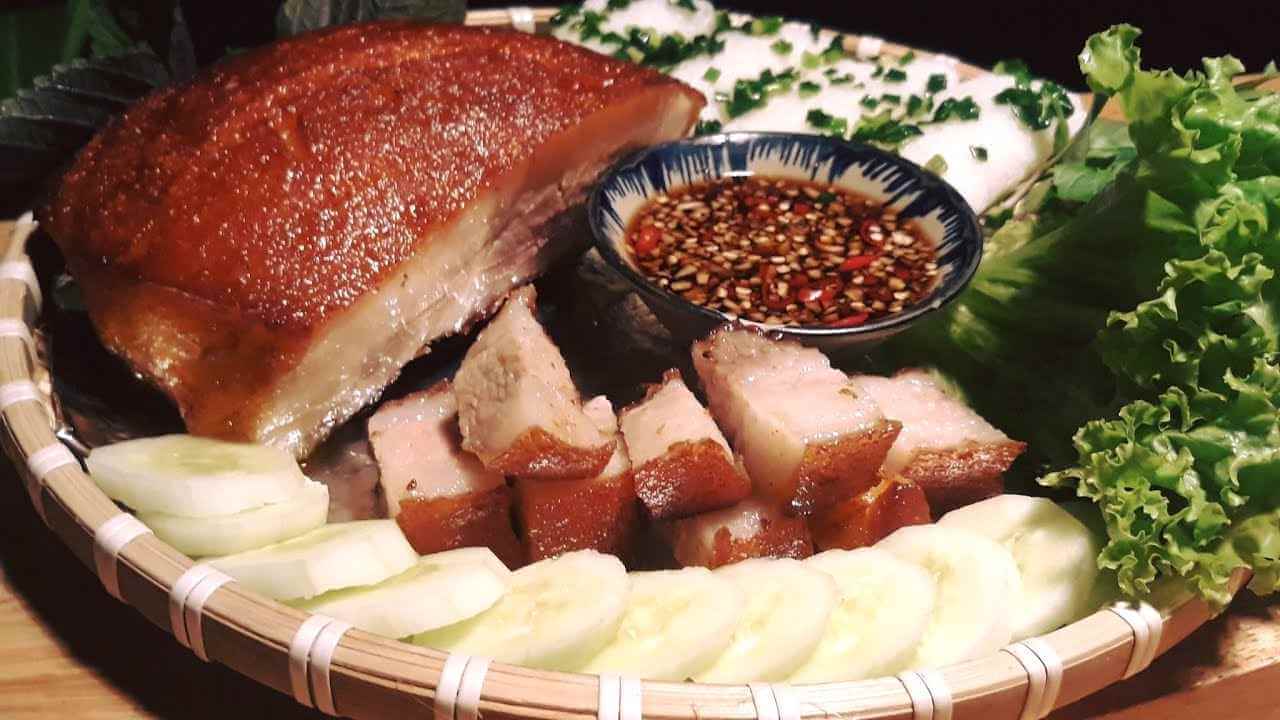 The melon-striped pig is derived from wild boar domesticated by indigenous people. But because of the Bahnar ethnic group, Jrai still raises freely like wild boar, so the meat is hunted, fragrant and sweet like wild boar. Each pig weighs from 6-7 kg, suitable for ten diners. The chef can process 7 dishes, including batch-cooked civets; fried pork with fish sauce; steamed pork; crispy bacon; bitter heart: bones cooked bamboo shoots.
Read more: ​Strange and unique specialty in the Central Highlands, customers dare to try it with their eyes closed​​​
You might be interested in