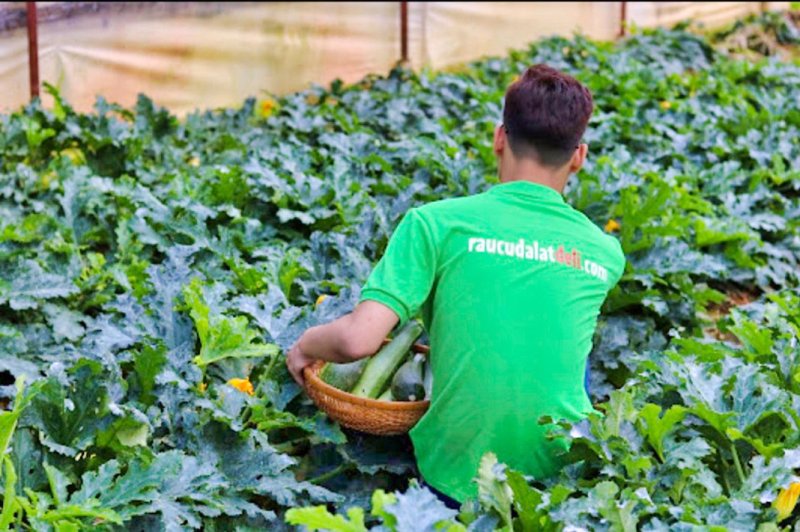 Local businesses have increasingly promoted multi-channel selling to boost revenues, particularly by combining digital and conventional operations. For small and medium-sized enterprises (SMEs), prioritizing digital transformation appears to be at the pinnacle of the efforts to maximize profits from e-commerce in the years to come.
The more, the better
Nguyen Huu Du, the founder of Dalat Deli, has been providing fresh veggies in the Central Highlands to Hanoi for five years. The company has only opened one store, with sales mostly completed via websites or social platforms such as Facebook and Zalo, given the high cost of leasing office space, Du told The Saigon Times.
Monthly, Du uses software to process some 6,000 orders from the firm's different sales channels. Du said companies should invest in online channels, which saves resources and boosts sales. Taking care of a customer's purchase for 10 items typically takes 9-10 minutes, but it only takes 1-2 minutes online. For local firms, time savings undoubtedly improve productivity and client acquisition.
Tictac247, an HCMC-based retailer, has also deployed business management software in multi-selling platforms. The HCMC University of Technology alums who started the company believed that technology would help them save time, improve efficiency and increase productivity in the early days.
Tictac247 currently manages its business of selling smartphones, electronics and imported perfumes mostly via software. The app-based initiative provides the firm with comprehensive operations governance, including stockpile status and financial analysis. It manages and integrates day-to-day business activities on various channels, namely its e-commerce exchange, website and social network account, into a single user-friendly mobile application. The service, based on enterprise back office functions, eliminates the challenging parts of database paperwork, including customer information and product categories.
Similarly, multi-channel marketing plays an essential role in the operations of Lien Sanh Food Company Limited, an agriculture firm that grows tens of tons of cashews on 50 hectares in the southern province of Binh Phuoc monthly. The business's revenues have soared from hundreds of millions of Vietnamese dong, generated mostly via conventional sales or website operations, to several billion dong, given the surge in digital trade exchange activities.
Multi-channel marketing has eventually spread beyond large corporations into the market of SMEs, with the role of support software in streamlining internal processes and increasing sales, both online and offline.
Pham Van Viet, chairman of VitaJean (Viet Thang Jean Company Limited), told The Saigon Times that the company had previously expanded operations by building stores in the downtown or center malls of cities but that it has reinforced online channels since Covid-19. Last year, VitaJean's digital platform activities grew by a staggering 300% over 2021.
As for the firm, fostering online operations, broadcasting live-stream promotions and launching KOL, or key opinion leader, marketing initiatives are among the top priorities for the coming years.
Viet said investing in brick-and-mortar stores is a high-stakes venture that requires a costly setup and a long-term commitment of three to five years. Nevertheless, the company will consider opening additional shops in major cities to improve the in-store experience for customers following their online product research.
Since 2022, multi-channel retailing has gained traction in the marketplace, according to data from Sapo's research of 15,000 local retailers. Accordingly, some 60% of businesses run at least two outlets in tandem, one offline and one online. And roughly 70% of companies using multi-channel selling reported an increase in revenue, compared to 17% looking to expand to online markets and 15% sticking with sales at stores.
Meanwhile, half of the enterprises favored e-commerce platforms, followed by 40% who run their business via Facebook accounts and 10% that choose website operations. TikTok Shop, a newcomer among digital platforms in 2022, represented just 1.24% of all businesses surveyed but is expected to spearhead the industry's developments soon.
Despite the 2023 bleak economic outlook, multi-channel selling remains on-trend, with merchants expanding their sales sites and using internet platforms as major operation activities, according to Sapo.
As a result, dozens of domestic companies now provide business management solutions, demonstrating the sector's rapid expansion in recent years. Given the thriving marketplace with competitive prices, small businesses may afford to pay for necessary supporting software, which only costs around VND200,000 per month.
E-commerce in tune with digital economy
The idea of multi-channel selling appeals to businesses seeking to maximize profits, but getting products included on leading e-commerce sites is not easy. The top quality of the product, a valid business license and hygienic food standards are among the mandatory criteria that enterprises must follow.
The Ministry of Industry and Trade has started programs to encourage companies to sell products on online exchanges. In particular, the ministry's Vietnam E-commerce and Digital Economy Agency and provincial departments of Industry and Trade have implemented various activities to enhance domestic businesses' capabilities and promote local specialties on digital platforms. The authorities have collaborated to bring consumers and businesses closer together domestically and internationally, notably on top sites such as Alibaba and Amazon.
As part of the effort, the ministry has worked to diversify the enterprises' distribution channels by leveraging new operational methods and cultivating e-commerce marketing expertise.
In 2022, Vietnam's e-commerce grew strongly, with its significance rising in the domestic economy. The revenues generated by e-commerce activities reached US$16.4 billion, expanding by 20% over 2021. The figure made up 7.5% of the nation's total retail and service earnings.
In September 2022, Lazada's report titled "Changing shopping journeys in Southeast Asia: Search demand to delivery experience" found that 76% of Vietnamese customers use digital platforms to purchase at least once per month, and 83% often search for items via online services.
E-commerce is expected to play a pivotal role in the growth of the digital economy, as stated in the national e-commerce development strategy for 2021-2025. However, there is a long way to go, given its current 7.5% of total retail sales.
The Ministry of Information and Communications has recently launched initiatives to strengthen digitization for SMEs. The effort has proven to be a strategic instrument for stimulating growth in the country's e-commerce sector. Since 2021, the Government has been pushing the SMEdx program to identify the appropriate platforms for local businesses. As of 2022, there were over 670,000 firms engaging in SMEdx, with 77,000 businesses, or 12%, using its assessment results. The ministry consistently advised relevant authorities and ministries to help domestic enterprises benefit from the SMEdx assistance, contributing to the endeavor's growth rate of 8% monthly.
Prime Minister Pham Minh Chinh has called for the establishment of 45,000 cooperatives by 2030, with over 5,000 employing digital technologies in production and operations, as part of Resolution No. 20 of the 13th Party Central Committee in June 2022.
By 2045, Vietnam plans for all collective economic sectors to adopt cutting-edge technologies, focusing on digital transformation.
According to Nguyen Ngoc Bao, president of the Vietnam Cooperative Alliance, the country has about 28,000 cooperatives, including 1,700 co-ops using high-tech applications. However, only 240 of those have run smart business management software.
Bao suggested that the Government build a digital ecosystem for local co-op operations. The plan would help cover the high costs of system development in the first phase and bring local efforts in line with the national direction of digitalization.
For local firms, incentives of up to 50% of rental fees for digitization solutions and half of the contract fees for such an initiative's consultancy services are available according to the Law on Provision of Assistance for Small and Medium-Sized Enterprises.
Yet hurdles remain as local cooperatives are ineligible for the benefits, said Pham Ngoc Thach, chairman of the Sunfood Dalat Co.op Thach recommended that the Government enact policies that help co-ops, as local SMEs, become more digitally advanced. For example, the authorities could provide basic equipment and free software in the accounting, manufacturing, quality control and sales activities.
Consequently, the prime minister directed the Ministry of Planning and Investment to develop blueprints to support the country's business segments in digital transformation, including individuals, cooperatives and households.
The Government will create mechanisms favoring co-ops, particularly with financial support, in developing database systems and boosting human resources in digitalization strategies, both at the management and membership levels.
You might be interested in