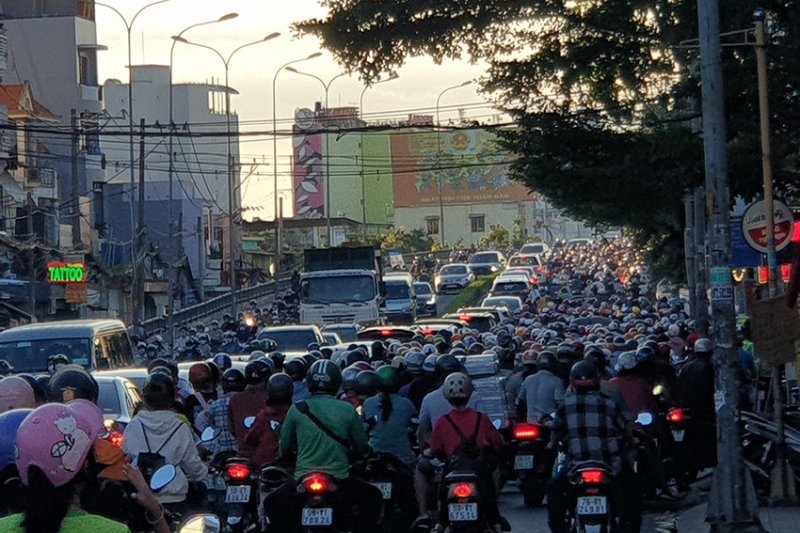 HCMC – Four major roads in HCMC's Go Vap District that are deteriorating, frequently flooded and overwhelmed by a huge traffic volume could be expanded at a total cost of nearly VND5.9 trillion.
The government of Go Vap District proposed the road expansion plan to the HCMC People's Committee at a meeting with the city's vice chairman Vo Van Hoan yesterday, February 3, the local media reported.
The district proposed widening the 2.8-kilometer-long Thong Nhat Street from 4-9 meters to 25 meters. The expansion would affect 826 local households and need roughly VND3.25 trillion in investment. It is slated for completion in the 2025-2027 period.
The district also sought the HCMC government's nod to upgrade Road No. 6 and rebuild a bridge leading to Doi hamlet in Ward 15, at a total cost of some VND885 billion. This road upgrade is expected to help the Doi hamlet residents reach Go Vap faster, instead of traveling to neighboring District 12 and then driving along the Ben Phan Bridge or the An Loc Bridge to enter Go Vap.
Besides, Nguyen Van Khoi Street, with a length of 850 meters and a width of 20 meters, needs expanding as well, the district said. The expansion would cost more than VND900 billion and affect nearly 200 households. The district also plans to widen this road in the 2025-2027 period.
In addition, a project to widen a Le Duc Tho Street section was approved in 2015 with a VND859-billion investment. As the investment is no longer appropriate, the district wants to adjust the project's scale and increase its cost. The district proposed the municipal government add the project to the city's 2021-2025 medium investment plan and allocate more funding to the project.
Speaking at the meeting, vice chairman Vo Van Hoan said it was urgent to widen Road No. 6 and rebuild the bridge to Doi hamlet. He also urged the district to implement the Le Duc Tho expansion project in 2023.
You might be interested in