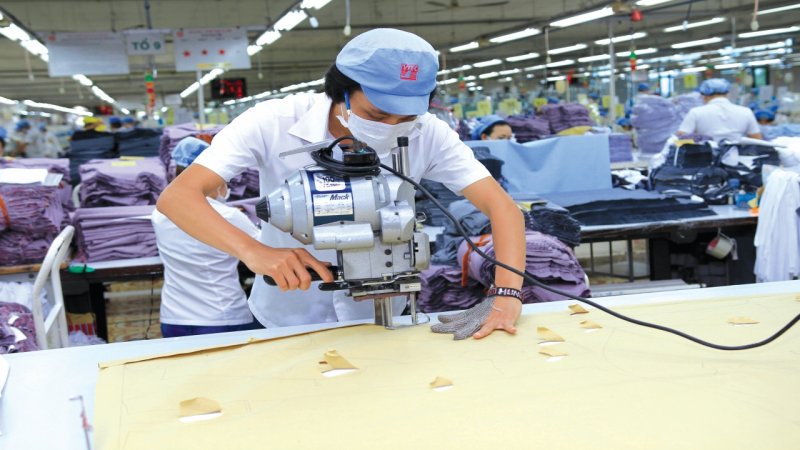 The Government has set a gross domestic product (GDP) growth target of 6.5% for 2023 although most developed economies are on the verge of recession, especially the U.S. and the European Union. Businesses and households should prepare for the worst-case scenario.
Revenue dives
Vietnam has a high level of trade openness, with the import and export turnover in 2022 totaling more than US$700 billion, doubling the nation's GDP.
However, its import sector depends heavily on the performance of export and major markets such as the U.S., China, the EU, and the Southeast Asian market. As of November 2022, the trailing 12-month export revenue from the said markets amounted to US$104.3 billion, US$.54.5 billion, US$45.7 billion and US$32.4 billion.
An International Monetary Fund report pointed out that an economic downturn is coming for Vietnam's key import partners this year. It also predicted annual growth of developed nations in 2023 to average out merely 1.1%, saying the U.S. and the EU would expand below 1%, while China and the Southeast Asian countries may see a better result, growing around 4-5%. Chinese economic expansion in 2023 is forecast to improve over 2022. Meanwhile, growth in other economies would slow down, and a recession is set to occur in the U.S. and the EU.
A sluggish economy would lead to a drop in consumer spending and demand in a range of fields from resort tourism to consumer goods, many of which originate from Vietnam. The country's export strengths lie in clothing, footwear, mobile phones and wood products, all of which have high price sensitivity. It infers that consumers will lower budgets for these commodities when economic woes occur, or their income falls.
For example, American and European consumers may try to extend the lifespan of mobile phones or wood products.
In an economic chain, supporting and industry-relevant companies will be dragged down if exporters are fraught with difficulties. Reality has shown that a steep fall in new orders would lead to a drop in workers' salaries and consumer spending. Besides, when an enterprise posted an income plunge, its partners would also see their revenues dip.
Vietnam has been known as a country with rapid digital economic growth, and the digital economy is increasingly gaining more influence. However, a global economic contraction would force enterprises to run on a shoestring and cut investment, thereby hindering partnerships with foreign-invested companies operating in Vietnam. Technology firms and advertisers will also start to feel the pinch.
A sharp decrease in revenue would be a critical strike for unprepared enterprises as cash outflows rely on income. When business is good, they can boost manpower and investment in projects without prudence. However, those expenses will exert massive pressure on them once they face economic distress, not to mention that interest rates often stay high during these times.
The global economy has faced recessions and economic crises. To that end, companies must opt for a tight budget, cut expenses, and prioritize projects making money or showing real potential. In addition, some enterprises resorted to firing staff and minimizing their business operations, waiting for the worst to pass.
Shifting to safer investments
As investing during an economic downturn often sees higher risk, investors tend to seek safer channels, such as debt instruments in the financial market or stocks of businesses that paid high dividends over the years. Investors with experience in investment in tough times usually prioritize safeguarding their assets and thus only buy assets that ensure a rate of return higher than the inflation rate.
Those assets include government bonds, investment-grade corporate bonds, short-term debt instruments and bank deposits, as they provide a stable source of income without reliance on lenders' or issuers' performance.
On the other hand, an economic recession presents opportunities for long-term investors or those that follow a Systematic Investment Plan as most assets are undervalued amid high interest rates. High interest rates are also one of the causes of exhaustion in the financial market, which results in investors cutting losses and selling their assets at a deep discount. Investors with ample cash would be at an advantage on those occasions. The economic cycle has always continued and repeated itself, but it is tough to predict how long its stages will last, meaning the recession may end in one year or even longer. Hence, making an investment during a recession needs a long-term vision, with accumulation taking priority over rates of return.
Expenditure pressure
For laborers and households, a recession threatens their jobs and income. Enterprises may downsize or reduce working hours to cut expenses. In this period, they need to tap into provisions for emergencies. Thus, their top priority should be spending management, wherein they cut all non-essential expenses or seek replacement products at a lower cost.
Making a meal at home rather than dining out would be a good example. Besides, consumers could try using domestic products instead of imported ones or extending the lifespan of durable products while limiting tourism and recreation activities during economic distress.
Adaptability is a practical skill to help workers and their families overcome difficulties, helping them balance spending in ways that ensure monthly expenses are lower than their incomes. Additionally, planning and tracking monthly expenses have become more critical than ever, otherwise they may get trapped in debt or financial distress.
Though Vietnam's economy is expected to be in the spotlight amid the global economic downturn, financial contagion remains unavoidable. It may happen sooner than expected. Perhaps, the phrase "Hoping for the best but expecting the worst" may guide businesses, employees, and households through the gloomy year ahead.
You might be interested in