Festivals of Hoa Ban, Long Tong, Muong Cam, and Ba Den mountain are suggestions for the spring trip.
According to a survey by VnExpress with leading travel agencies in Vietnam, this year's Tet tourism recorded the return of short-term spiritual tours, with groups of tourists traveling in family groups. After 2 years of Covid-19, festivals have started to be reorganized on a large scale.
If you are planning to do a spring trip but have not yet chosen a place, you can refer to suggestions from travel agencies and booking applications such as Vietravel and Booking. The 10 choices below are based on the following criteria: are traditional festivals, bearing their own cultural imprints of each locality, taking place in the 1st and 2nd lunar months, the highest number of tour bookings in recent years. this.
Giong Temple Festival, Hanoi
Giong Temple Festival is started on January 6 every year in Phu Linh commune, Soc Son district. According to legend, this is the last stop of Saint Giong before taking off his armor and flying to the sky. The festival takes place in three days with rituals: clearing, procession, incense offering, and offering bamboo flowers to Thuong Temple, where Saint Giong is worshiped.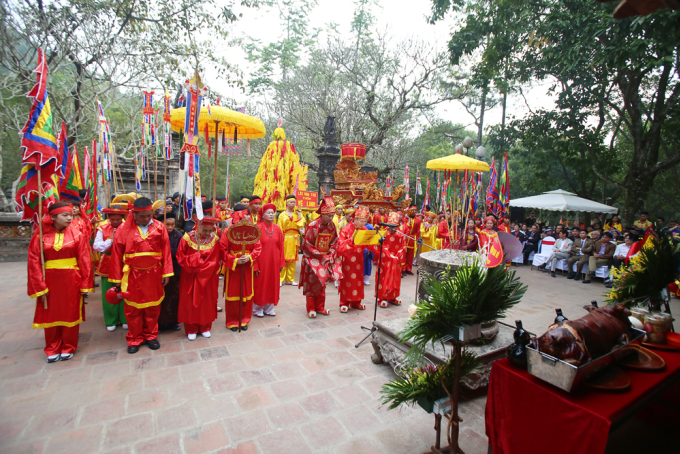 Giong Temple Festival in Soc Son. Photo: Ngoc Thanh
Long Tong Festival, Bac Kan
This is a typical festival of the Tay people , held annually in early January (about the 6th to the 10th). The festival is an opportunity for people to pray for good luck, good weather, and a peaceful and prosperous life. Many folk games are held on this occasion such as blindfolded catching goats, singing gliders.
Cam Muong Festival, Lai Chau
The Lu people in Lai Chau carry in their mind beliefs about the gods of rivers, mountains and streams. They believe that these gods protect them to have a prosperous life and a bountiful harvest. Therefore, every year, they organize the Cam Muong festival to give thanks and pray. The festival usually takes place on the 3rd day of the third lunar month.
Flower Festival, Dien Bien
This is a festival of the Thai people, also known by other names as Xen Ban, Xen Muong, usually held in the second lunar month, when Ban flowers bloom in the Northwest. The festival has the meaning of praying for favorable weather, good luck and good luck and is also considered a festival of love. This is also an opportunity for locals and tourists to participate in games, love songs, and talent competitions on moonlit nights. This year, Dien Bien Flower Festival takes place from March 10 to 13.
Bai Dinh and Tam Chuc Pagoda Festival
This is a spring festival, for pilgrims to the ancient capital of Hoa Lu, Ninh Binh, taking place from the 6th of Tet to the end of March, in Sinh Duoc village, Gia Sinh commune, Gia Vien district.
About 30 km from Bai Dinh pagoda is Tam Chuc tourist complex, a spiritual area located in Ha Nam. On the 4th day of the Lunar New Year this year, this place opened Tam Chuc old town, in order to recreate the old space with traditional Vietnamese food stalls. Besides, visitors can also participate in folk games, watch art performances, ask for words.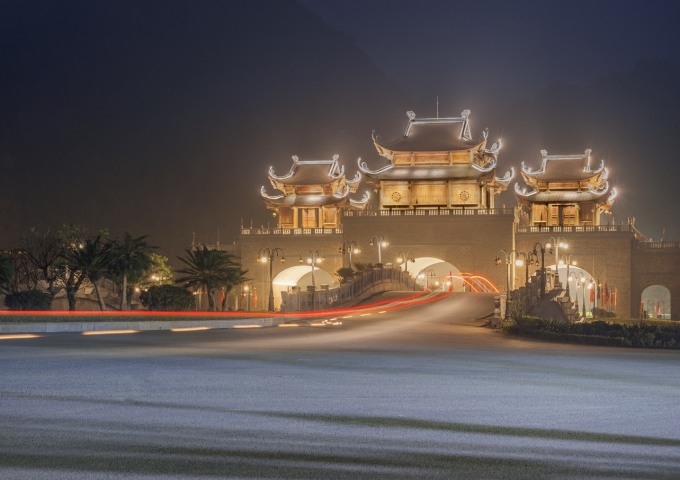 Tam Chuc tourist area, Ha Nam. Photo: Tam Chuc KDL
Cau Ngu Festival, Thua Thien Hue
This is the festival of the people of Thai Duong Ha village, in Thuan An town, Phu Vang district. The ceremony is held on January 12 every year. Every three years, the village holds a solemn ceremony once.
Dinh Co Festival, Ba Ria – Vung Tau
This is a large temple complex located on both sides of Long Hai beach, which worships a compassionate woman who was in trouble after a trip to the sea. The event takes place over two days, from the 10th to the 12th of the second lunar month. The celebrant wears a dignified dress, prays for favorable weather and starts the ritual at sea with boats decorated with flowers.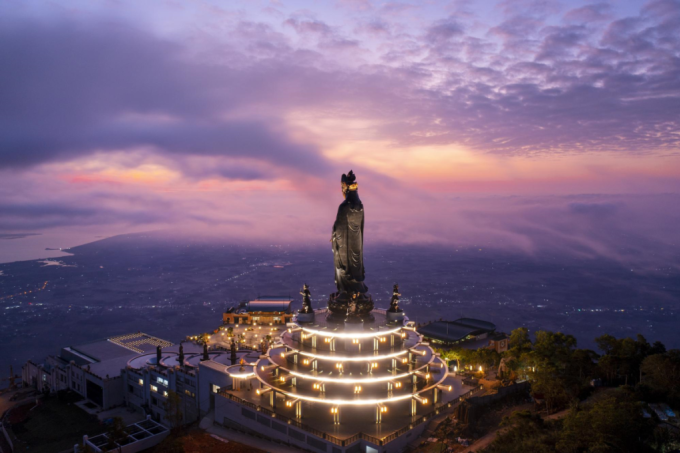 Tay Bo Da Son Buddha statue on top of Ba Den mountain. Photo: Sun
Photo: Internet (vinlove.net)
You might be interested in