People in the highlands of Binh Thuan make dried bamboo shoots and sell them for Tet thanks to the market's preference for clean, natural foods.
Huynh Thi Van, 62 years old, in the highland commune of My Thanh, the phone rings continuously for a few days. Many people in the lowland called to ask to buy dried bamboo shoots, but she had to report out of stock because the supply was not enough.
The nearly 50 kg bag of dried bamboo shoots she made in the season has already emptied by almost half because it has been gradually sold since last month. The remaining half of the bag was already pre-ordered, so she could not sell it to anyone. "A few years ago, she only sold for 200-250 thousand. This year, there are a few people downstairs who directly buy at a high price of 300 thousand to help the family's income better," said Mrs. Van and said that this season also earns money. more than ten million dong.($1=24,000 VND)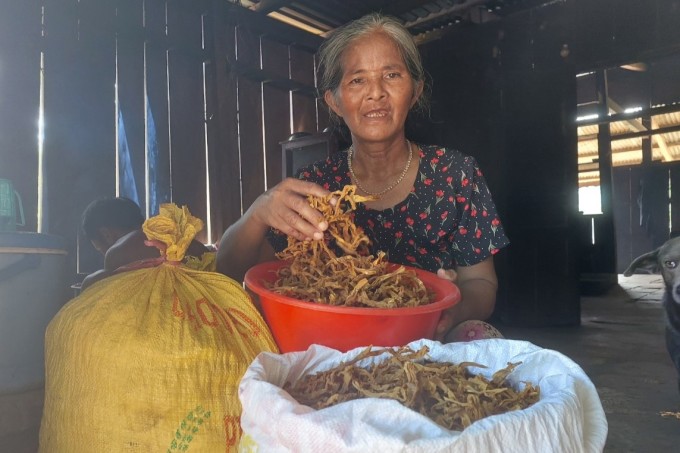 Ms. Huynh Thi Van, a Raglai in My Thanh commune, specializes in making dried bamboo shoots for sale during Tet. Photo: Viet Quoc
In the village, there are more than a dozen people who go to the forest to take bamboo shoots to sell Tet goods, usually elderly women, not busy with farming work. In the rainy season, from July to September when bamboo shoots are in full bloom, every two days, they take a machete and carry a basket to bring back cassava and bamboo shoots to make Tet goods. The Tortoise and Rai Vo mountain ranges adjacent to the village have many bamboo shoots full of young bamboo shoots. The villagers took the cassava machete and put it in the basket. When the bamboo shoots were full, they went down the mountain to the village.
According to Ms. Van, instead of selling fresh bamboo shoots to small traders, she and other people who make dried bamboo shoots often bring them home. The number of bamboo shoots she cut the head and tail was very white. After boiling, she took out the bamboo shoots to cool, used a sharp knife to strip them into fibers, then brought them out to dry in front of a bamboo bed in the front yard.
About 3 sunny days, the bamboo shoots dry beautifully, the owner brings them in and stores them in bags or in bags to sell gradually during the Tet holiday. Each year, each person can do 30-60 kg, depending on health and efforts.
In addition to traditional small businesses like Mrs. Van, there are 3 large-scale bamboo shoot kilns in the village. These kiln owners do not go to the forest to get bamboo shoots but buy raw materials from local people. Every afternoon, people who go to cassava and bamboo shoots come back to sell fresh bamboo shoots. The owner of the kiln burns wood, boils bamboo shoots in large saucepans, then leaves them to dry.
On rainy days, it is not possible to dry immediately, the workers in the oven place each piece of boiled bamboo shoots upside down in the oven to dry by charcoal fire, waiting for the sun to rise before continuing to dry. "If dried bamboo shoots are not exposed to enough sunlight, they will lose their natural aroma," said Kim Phuc, owner of a bamboo shoot kiln in My Thanh village.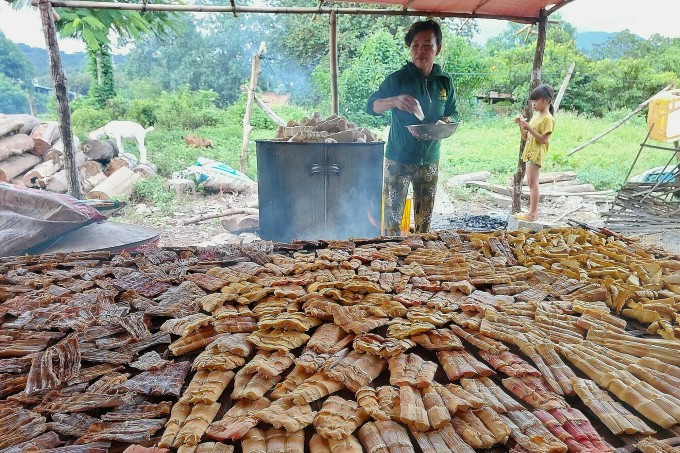 Ms. Kim Phuc, commonly known as Ms. Nam, is boiling fresh bamboo shoots to dry to make dried bamboo shoots for Tet, in August. Photo: Viet Quoc
This year, Kim Phuc's bamboo kiln made more than 10 tons, but by the beginning of December, it had sold out to traders from Saigon and Nha Trang to buy. Cars run to the place to pick up goods for 250,000-300,000 VND. A few days ago, many acquaintances in Phan Thiet called up, and even went up to ask to buy Tet bamboo shoots, but no more.($1=24,000 VND)
Ms. Phuc said that there was no need to wait until December, but even when her kiln was making bamboo shoots, many customers in the provinces had also called to order in advance. "More than ten tons of bamboo shoots made in batches have been sold out, now only 5 kg are left to give to relatives and friends for the Tet holiday," said Phuc.
According to Ms. Phuc, the market is very interested in dried bamboo shoots of this region recently because this food comes from natural mountains and forests. The four types of bamboo shoot she usually dry for sale during Tet are: le, cork, lo o and stone bamboo. In particular, the most delicious is bamboo shoots because this type is reheated many times and is still delicious. "The other day, a few people went by car to hunt and buy bamboo shoots for 350-400 thousand a kilogram, but there was no stock," Phuc said.
Not only My Thanh, many other ethnic minority villages in Binh Thuan province all maintain the profession of making dried bamboo shoots for Tet, such as La Ngau (Tanh Linh), Dong Tien, Dong Giang, La Da (Ham Thuan Bac), Phan Lam, etc. Phan Son (Bac Binh), Phan Dung (Tuy Phong)… The bamboo shoots in these areas are of good quality because the surrounding forests are well protected, helping the bamboo to thrive, the bamboo shoots growing in abundance and young.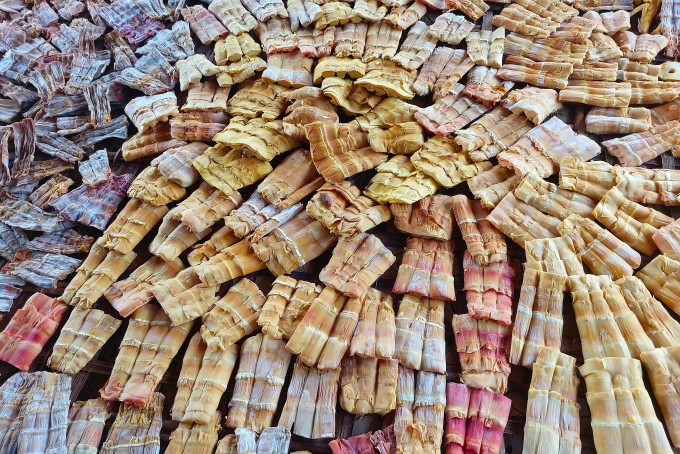 Bamboo shoots in the highlands of Binh Thuan have natural color after boiling and drying. Photo: Viet Quoc
Ms. Nguyen Thi Ly, a trader specializing in dried bamboo shoots in Binh Thuan, said that bamboo shoots in the highlands of the province have a natural color, sweet and fragrant, so Tet every year attracts goods. Every year, she buys tens of tons of bamboo shoots for Tet, leaving the termites in many places, the most are Ho Chi Minh City and Vung Tau.
On Tet holiday, dried bamboo shoots are an indispensable dish in the kitchen of Vietnamese people. After soaking in water and stripping, this food is used to cook traditional dishes such as: bamboo shoots with meat and eggs, duck bamboo shoots… Bamboo shoots have a lot of fiber to help balance the intestines during Tet due to eating a lot of meat and fish. , fat…
 ( According to vnexpress )
You might be interested in