Tet gifts with essential products such as beer, and rice, … are neatly arranged on the saddles of thousands of workers at an enterprise in Thai Binh province recently causing a "fever" online.
The parking lot of thousands of cars "carrying" gifts
Recently, a business in Thai Binh province caused a "fever" on social networks because it organized early Tet gifts for workers in a way "unlike anyone else". Accordingly, instead of hand-delivering, businesses carefully packed and arranged Tet gifts neatly on the saddles of thousands of workers so that they could bring them home immediately after work.
Most netizens expressed their interest and felt warm at the company's concern for the material and spiritual life of its workers.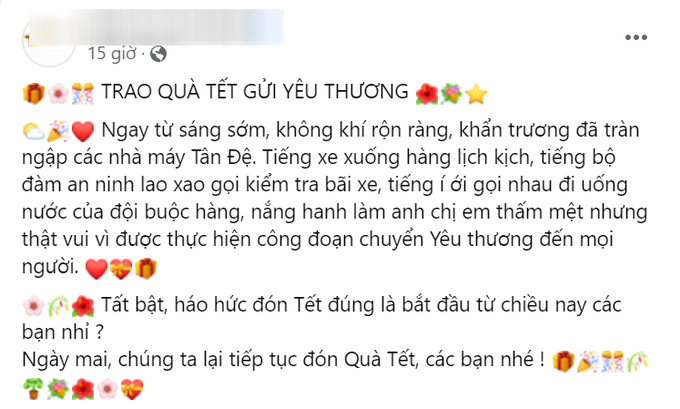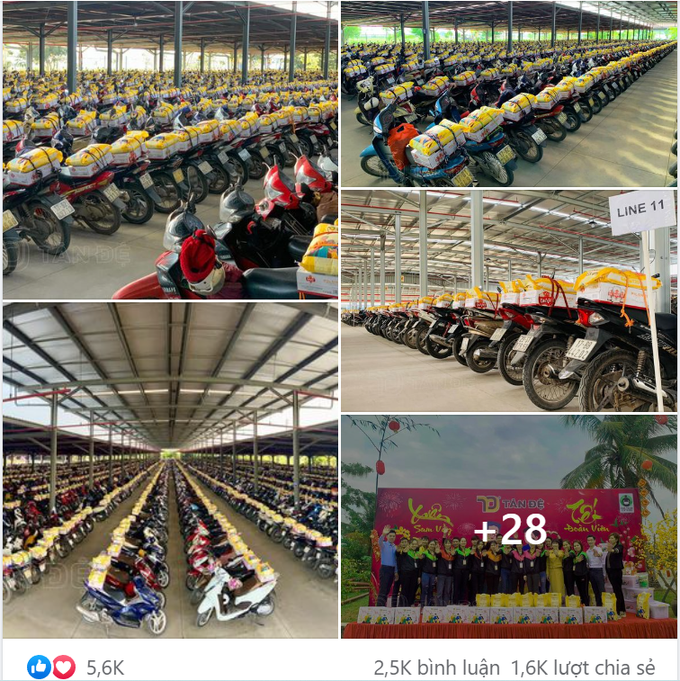 The way of giving and arranging special gifts of a business in Thai Binh province caused a "storm" of the network (Screenshot).
Sharing with PV Dan Tri , Mr. Trinh Thanh Dinh, Chairman of the Trade Union of Sports Goods Production Joint Stock Company, Thai Binh branch of Tan De Company confirmed, the images shared online are from his company. .
Mr. Dinh said that giving Tet gifts and arranging them in the car for employees has become the company's culture for many years. Even from September, the company's board of directors, party committee, trade union executive committee and youth union held a meeting to discuss the plan to give Tet gifts to employees.
"The above pictures are only the first gifting round of the company, with the gift including a carton of beer and 10kg of ST25 rice. This weekend, the company continues to give the second gift of a box of 10 essential items such as: fish sauce, main noodles, 3kg of sticky rice in Keo village, confectionery, coffee, red envelopes… All are packed securely and placed on each worker's car," Mr. Dinh said.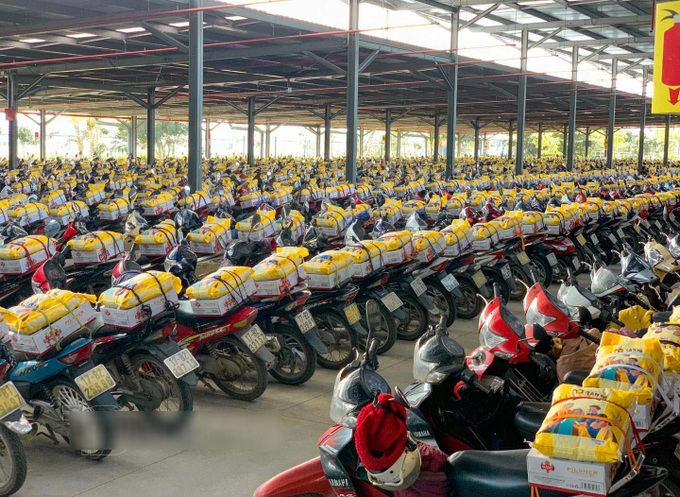 The company's parking lot was full of cars tied up with Tet gifts (Photo: Tan De House).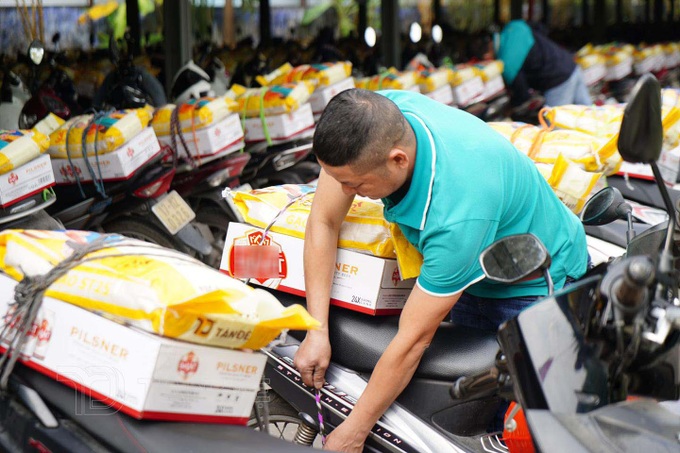 The gifts were carefully packed, tied neatly and securely on the saddles of thousands of workers (Photo: Tan De House).
Use the preparation of Tet gifts to connect employees
A representative of Tan De Company also said that this year, this business spent about 32 billion VND to give Tet gifts to 18,300 workers working at 9 factories of the company.
Accordingly, Tet gifts are selected and ordered by the company based on the process of collecting and recording feedback from employees.
"We consulted employees about last year's Tet gifts to see if they were satisfied and what they would like to receive this year. For example, last year, employees found soft drinks no longer suitable. Or this year, if they want to use a better type of rice for Tet, the company's board of directors met and proposed to change to ST25 rice, the best rice in Vietnam, "said Mr. Dinh.
In addition to the above two gifts, each employee of the company also receives the 13th month's salary. Not to mention, before the Tet holiday, the company's board of directors will also give each worker 500,000 VND, including 10 new 50,000 bills for them. You can put them in previously received envelopes and bring them home to celebrate the birthday of your loved ones.($1=24,000 VND)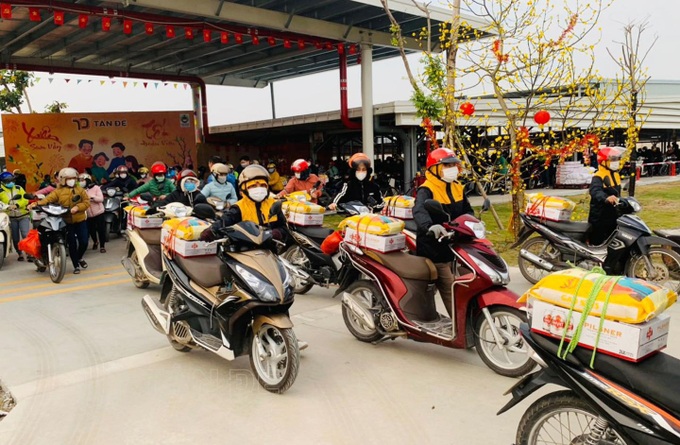 The workers left work, excited with Tet gifts filled with saddles (Photo: Tan De House).
Taking care of Tet early, the company actively buys gifts for a long time to ensure the price and quality of goods, so as to best meet the needs of employees.
Ms. Nguyen Dung, a worker with 3 years working here shared: "On social networks, many people think that the company tying gifts in the car like this can make it difficult for workers to come home from work to get things in the trunk. However, we were informed about this in advance, so everyone took the initiative to leave their hats outside for convenience."
Ms. Dung expressed her joy and appreciation for the company's attention and care to all employees. The gifts, though simple but extremely warm and meaningful, make anyone who receives them happy and more joyful during the coming of the New Year.
Another worker, Mr. Hoang Tuan also said that he himself was really touched by the company's Tet gift-giving culture. "Giving nothing by giving. From the way of giving gifts, the thoughtful preparation, the ready-to-carry items have shown the concern of the company's leaders to the employees. It also makes us see the working environment. By being closer and more united, everyone has the motivation to stick together and strive for more work."
Talking about how to give unique and warm Tet gifts, Mr. Trinh Thanh Dinh also shared and acknowledged the contribution of thousands of employees to the company's development.
Mr. Dinh said that the value of each gift may not be large, but it means "a bunch of wages is not equal to a bonus".
"We always appreciate the employees, so we try to use the effort, take the time to prepare each gift carefully so that the workers have more joy, welcome the warm New Year and stick with the company for a longer time."
According (Dan Tri) 
You might be interested in