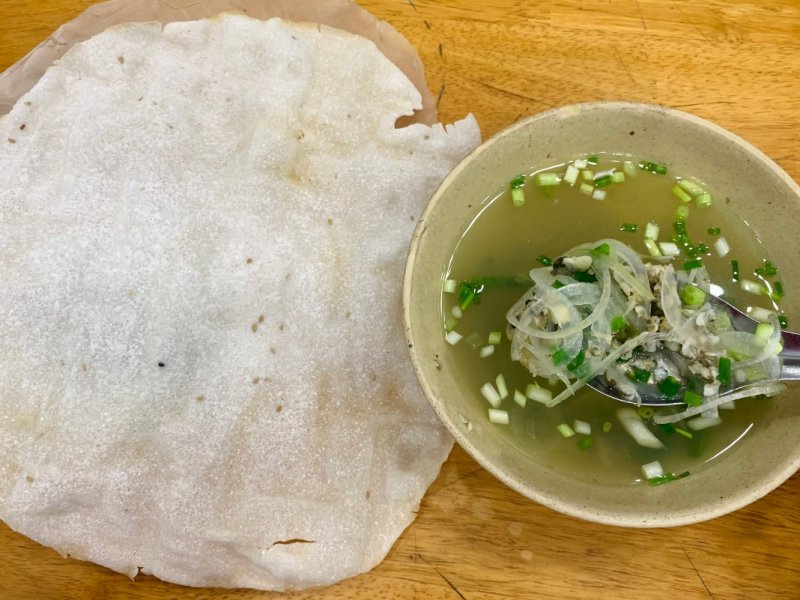 Don is a specialty of Quang Ngai that cannot be found elsewhere in Vietnam. When in Quang Ngai, diners should not miss an opportunity to enjoy don whose reputation precedes it.
In Vietnam, don is only available in the Tra and Ve rivers. In the dry season, around April and May, don starts to appear, when people can harvest it.
The shell of the don is round, thin, dark yellow and about two centimeters long. For a dish that is not fishy, don is carefully washed in water several times and soaked to remove the dirt inside. It is boiled in salt water until it is well done, using chopsticks to remove the meat from the shell and adding seasoning to the flesh and the broth.
A bowl of don has a light green broth, a lot of don meat, shredded white onions and sprinkled chopped green onions and pepper on the top.
The baked rice cracker gradually melts after being soaked in the broth. Diners can use either a spoon to enjoy the dish or break the rice paper into small pieces to scoop out the don flesh.
The taste of the broth mixed with crunchy rice paper and the fresh taste of the don meat will leave diners wanting more.
You might be interested in