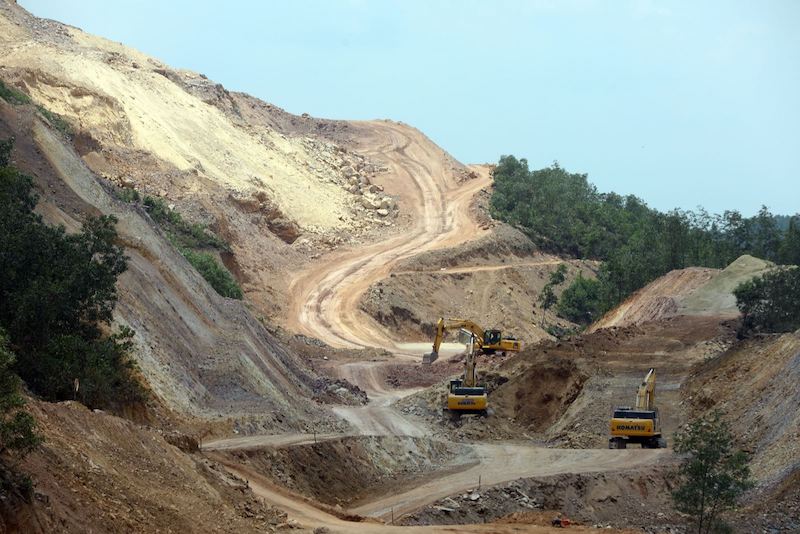 HCMC – The Project Management Board No.6 under the Ministry of Transport held a contract signing ceremony for three construction packages of the Vung Ang-Bung and Bung-Van Ninh sections on phase two of the North-South Expressway project.
They comprise a VND5.4-trillion package for the Vung Ang-Bung section and two packages for the Bung-Van Ninh section, with one worth over VND3.9 trillion and the other VND3.5 trillion.
The construction time for those bidding packages is 34 months.
The bidding package for the 23.5-kilometer Vung Ang-Bung section will be carried out by a consortium comprising Phuong Thanh Transport Construction and Investment JSC and Lizen JSC.
The consortium of Cienco4 Group JSC, 36 Corporation, Truong Son Investment Construction JSC, and 471 JSC will be in charge of the first bidding package for the 30-kilometer subsection of the Bung-Van Ninh section.
The second bidding package for the 19-kilometer subsection of the Bung-Van Ninh will be conducted by a consortium comprising Truong Son Construction Corporation, Trung Chinh Trading and Construction, and Truong Son Investment Construction JSC.
Those consortiums are all experienced in carrying out many large expressway projects across the country.
Minister of Transport Nguyen Van Thang has signed a decision on organizing the inauguration ceremony of the Cam Lo-La Son project and the groundbreaking ceremony of the 12th subproject for the North-South Expressway's second phase in the 2021-2025 period.
The 12 subprojects will get off the ground on January 1, 2023, in the nine provinces of Ha Tinh, Quang Binh, Quang Tri, Quang Ngai, Phu Yen, Binh Dinh, Khanh Hoa, Hau Giang and Ca Mau.
You might be interested in