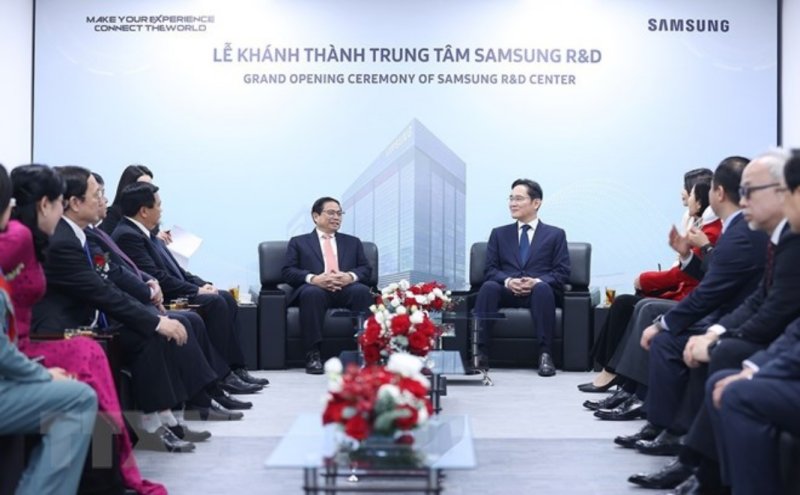 HCMC – Samsung Electronics held an official opening ceremony for its largest Southeast Asia research and development center in Hanoi this morning, December 23, reported the local media.
This new R&D Center in Hanoi spans around 11,603 square meters of land, requiring an investment of US$220 million. It is a 16-storey building with three basement floors and a total floor area of 79,511 square meters.
Samsung plans to develop this R&D facility into a leading center worldwide by strengthening partnerships with universities in key technology areas, improving the research capacity in the core technology of mobile devices, achieving autonomy in producing products of Artificial Intelligence, Big Data, the Internet of things, and reinforcing the quality of IT human resources.
Additionally, this R&D Center will contribute to the development of the hardware and software industries, as well as advanced information technology and the fourth industrial revolution in Vietnam.
The R&D Center's opening in Hanoi is a testament to Samsung's orientation and commitment to long-term operations in Vietnam, Prime Minister Pham Minh Chinh said at the event.
After establishing its first smartphone factory in the northern province of Bac Ninh in 2008, Samsung continued to invest in Vietnam through the second factory in Thai Nguyen Province and the Samsung Electronics CE Complex in HCMC.
Currently, around half of all Samsung smartphones are made in Vietnam. Moreover, Samsung has also been conducting software development and testing of mobile devices and networks in Vietnam.
Samsung's total accumulated investment in Vietnam was estimated at US$18.2 billion by the end of 2021 and is expected to exceed US$20 billion by the end of 2022.
You might be interested in