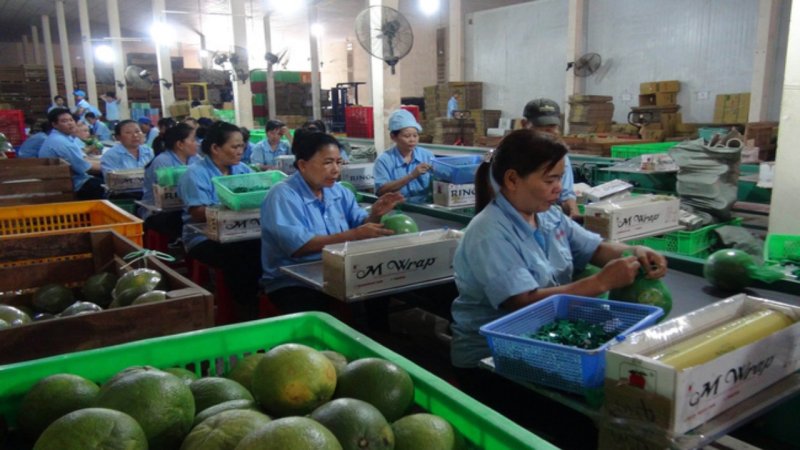 HCMC – Vietnam's vegetable and fruit exports have achieved steady growth in the fourth quarter of this year and are expected to reach US$4 billion next year, according to the Vietnam Fruit and Vegetable Association (VINAFRUIT).
Data from the General Department of Vietnam Customs showed vegetable and fruit exports in the year through November amounted to US$3.1 billion. The figures could rise to US$3.4 billion at the end of the year.
Vietnamese agricultural products are expected to prosper next year as they have received clearance to enter overseas markets. At the same time, the harvest season of key exportm items such as banana, dragon fruit, mango, pomelo and jackfruit is approaching in southern provinces.
This year, Vietnam's fresh fruits, namely banana, durian and passion fruit, have made their way to the Chinese market, while pomelo and lime have been shipped to New Zealand, and lychees to Japan.
Some exporting companies said things could go smoothly next year as logistics costs have halved compared to early 2022.
Fruits and vegetables have averagely brought in around US$250-260 million during the year's last quarter, VINAFRUIT reported, saying that the industry should expect booming growth next year.
It added that many economies had loosened their Covid-19 restrictions, coupled with efforts to reduce freight charges, thereby facilitating import and export growth.
"In 2023, vegetable and fruit exports should expect growth of 20% over this year, hitting US$4 billion, thanks to Vietnam's signing of 15 free trade agreements," the association said.
You might be interested in