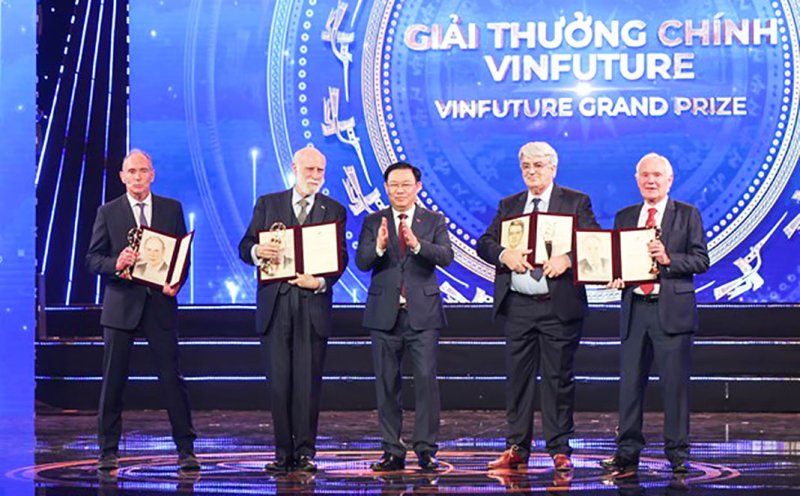 HCMC – Five international scientists who invented the Internet won the US$3-million VinFuture Grand Prize as announced at an award ceremony held in Hanoi City today, December 20.
What the scientists – Timothy John Berners-Lee, Robert Elliot Kahn, Vinton Gray Cerf, David Neil Payne and Emmanuel Desurvire – created has forever changed the way people around the world live, interact and work.
Just four of the five were present at the VinFuture award ceremony at the Hanoi Opera House, which was attended by National Assembly Chairman Vuong Dinh Hue, several government ministers, world-known scientists, and VinFuture founders Pham Nhat Vuong and his wife Pham Thu Huong.
Robert Elliot Kahn could not show up due to health reasons, according to the organizer.
The US$500,000 special prize for scientists from developing countries went to Thalappil Pradeep for his creation of low-cost water filtering systems which can help get rid of arsenic in underground water and which have benefited millions of people in South Asia.
The special prize for scientists who have ventured into new fields of study was awarded to Demis Hassabis and John Jumper for their development of AlphaFold 2. The prize is also worth half a million U.S. dollars.
AlphaFold 2 solved the 3-D structures of about 200 million proteins and these structures could help lead to new pharmaceutical drugs and more sustainable crops.
Pamela C. Ronald took the US$500,000 special prize for female scientists for her breakthrough research into genetically engineered rice for resistance to diseases and tolerance to flooding.
You might be interested in