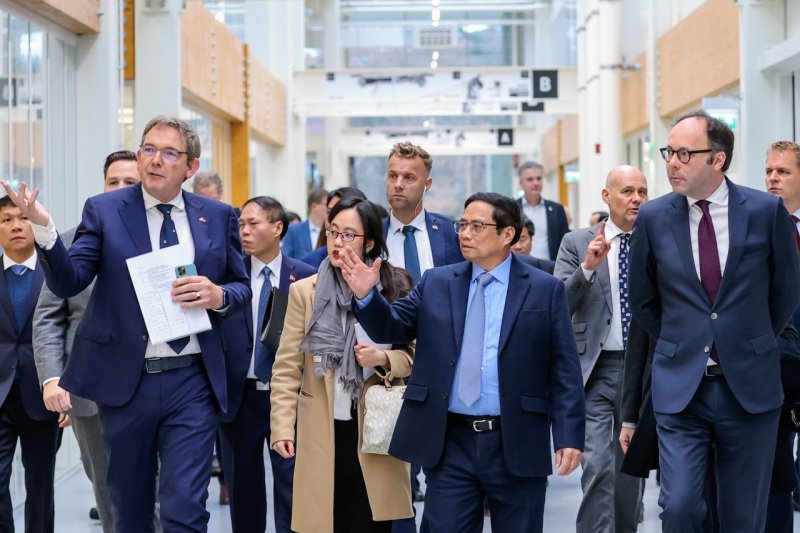 HCMC – Prime Minister Pham Minh Chinh has proposed the Netherlands help Vietnam develop a Brainport hi-tech center in Hanoi City.
He was speaking during his visit to the Brainport Industries Campus in Eindhoven City in North Brabant on December 11, as part of his official visit to the Netherlands at the invitation of his Dutch counterpart, Mark Ruttle, the local media reported.
The prime minister said he was impressed with the Netherlands' three development models — airport, seaport and brainport. The models are so effective and productive that Vietnam could learn to set up similar models, he noted.
The prime minister expected Brainport Hanoi to play a mixed role of the state, a researcher and an enterprise, mobilize capital and human resources, and bring together major European firms.
Besides, the prime minister said Brainport Hanoi might focus on driving innovation, startups, digital transformation, climate change adaptation and circular economy.
The key factor is manpower, the prime minister said, adding that as such, the cooperation between the two countries should encompass workforce training for the Brainport center in Hanoi City.
Speaking at a meeting with the Vietnamese prime minister on the day, North Brabant Vice Governor Martijn van Gruijthuijsen said that Vietnam is one of the nations drawing the most attention from the Netherlands as the country is one of Southeast Asia's fastest-growing economies. He said the cooperation between Vietnam and the Netherlands in some sectors could bring about positive results.
The prime minister's Netherlands visit aims to strengthen bilateral ties and the partnership between Brainport Industries Campus and Vietnam's provinces.
You might be interested in