Not only processed for entertainment but this fruit is also transformed into many delicious dishes such as fish stock, meat stock cooked with sticky rice or soaked in garlic and chili to eat with rice.
Seeing on the apartment market someone selling palm for $4/kg, Ms. Thuy, residing in Thanh Xuan (Hanoi) immediately ordered 2kg to eat. However, because of the delay of 30 minutes, Ms. Thuy could not buy a brush.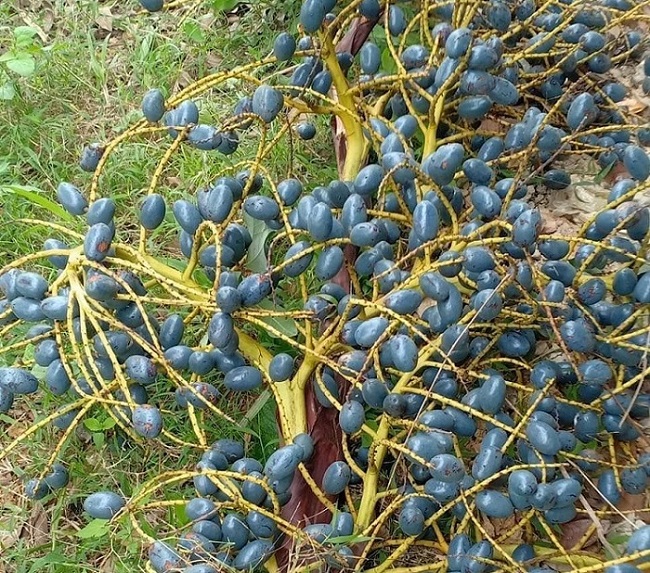 The palm fruit has a dark green skin, inside there is a yellow rice layer.
Ms. Thuy is from Phu Tho, when she was a child, the palm tree was familiar to most people in her hometown because it is a commonly grown tree. Palm leaves are used to build houses, and brooms for sweeping yards, fans, or raincoats; Palm branches are used to make fences and screens.
Palm fruit is once a year at the end of winter, when it is ripe, it turns black and is picked by people to eat or bring sour salt to eat with rice instead of daily food.
"I remember when I was a kid, my house always had a jar of pickled palm. In addition to green vegetables, a bowl of salt palm is eaten with rice to reduce the taste. For a bit more, take the braised brush with fish and meat. The ripe palm fruit is full of the forest, whoever picks it picks it, but no one sells it," said Thuy.
However, at present, most of the palm trees are cut down to build houses or grow other trees, so palm trees are very rare. Not to mention, it is very difficult to find a delicious, greasy, golden sticky palm tree, so the price of palm fruit for sale for several years is also very high.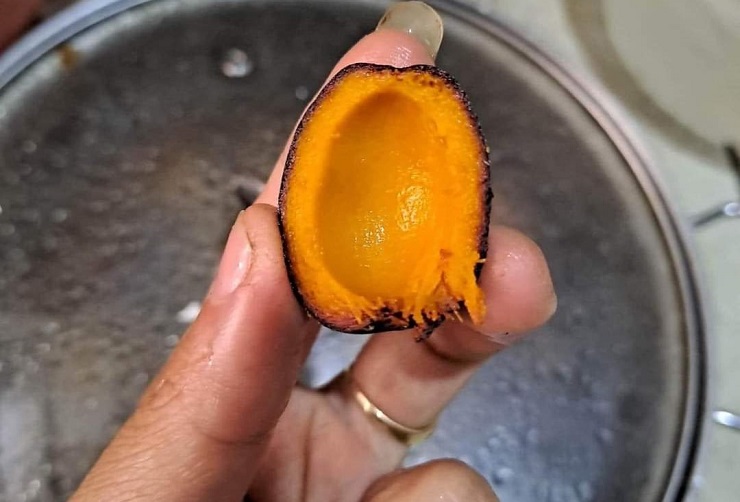 Glutinous palm fruit after ripening
"Good palm fruit must be picked from sticky palm trees that have not been pruned. Behind the black crust is a layer of golden, greasy rice. If you eat sticky rice, you will always remember being old," Thuy shared.
Selling sticky rice palm for $4/kg, Ms. Hai Yen, residing in Viet Tri (Phu Tho) said that this year the palm has failed in the crop, so every time there is not enough to share with customers.
"Yesterday, my family picked more than 10kg, brought it from Cam Khe to Viet Tri, prepared it and sold it for $4/kg but not enough goods for customers," Yen said.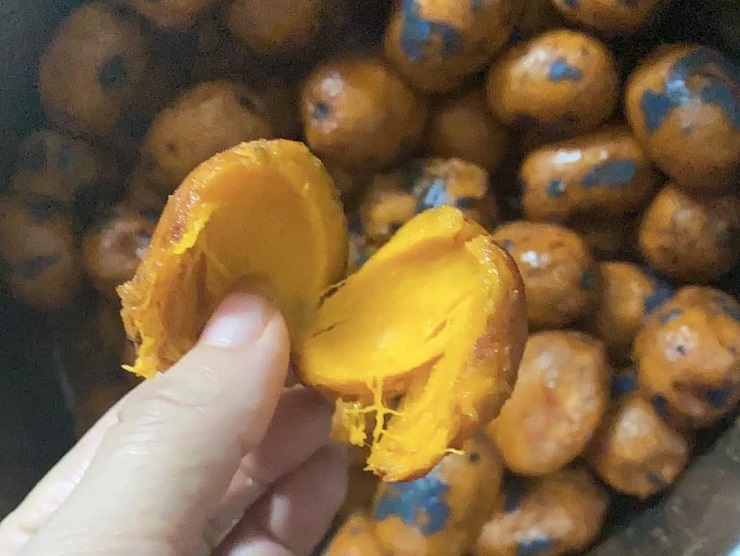 Glutinous palm fruit is sold in Yen for $4/kg.
According to Ms. Yen, palm fruit is very special. If you eat it raw, you can't swallow it. If the water is too hot, the palm rice will be hard and hard to eat, but if the water is not hot enough, it will be acrid.
Therefore, you must choose a good palm tree, the fruit on the tree is ripe, if it is too ripe, it will be mostly borer, then you have to climb to the top of the palm 10-15 meters high or take a long pole with a sickle to pick it down, prevent the brush from being crushed or crushed.
Next, pick them down and then spread the palm fruit to the ground or leave it open. Do not put the brush in a sealed bag, avoid being steamed, it will lose its taste.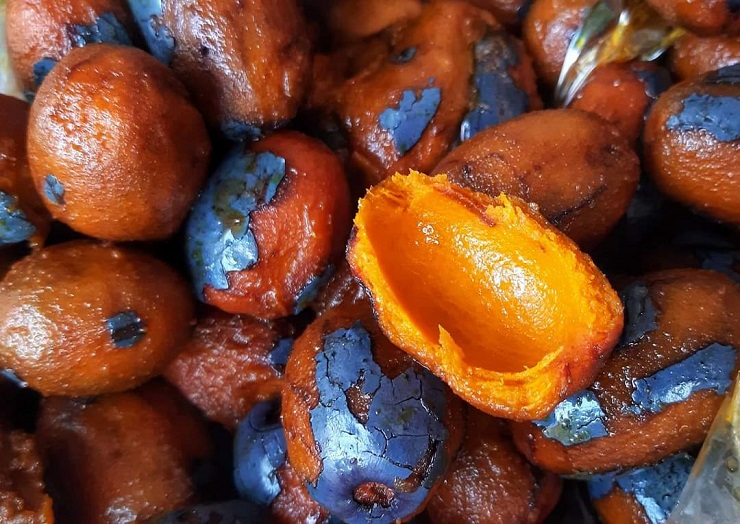 The palm fruit before ripening is shaken off the outer shell.
"Before cooking, you have to put the brush in the basket, shake it up and down to peel off the shell, then wash it, put it in the pot, fill it with water. Next, heat the water to about 70 degrees, then turn off the stove, cover the lid for about 15 minutes, then the palm is soft and greasy, "said Yen.
In order to properly process palm fruit so that it is delicious, it is necessary to have the right technique, so many people choose to buy ready-made palm at a high price. Palm fruit is not a dish that "paints the sea" but it is a fruit that helps many people remember the taste of childhood that few fruits have, so many people still buy it.
Photo internet
You might be interested in