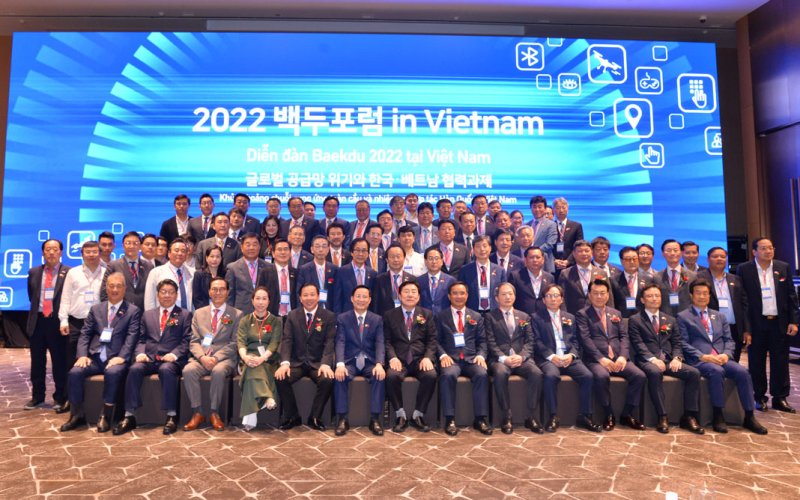 HCMC – The Baekdu Forum 2022 was held in Quang Nam Province yesterday, December 8, discussing measures to support South Korean small and medium enterprises (SMEs) to expand investment in Vietnam.
The event was co-organized by the Vietnam Chamber of Commerce and Industry and the Korea Federation of Small and Medium Business in coordination with the Saigon Telecommunication and Technologies Corporation (SaigonTel).
Speaking at the event, Nguyen Cam Phuong, CEO of SaigonTel, said that Vietnam is expected to be a suitable investment destination for South Korean firms now and in the long run, given the country's reasonable labor costs and great opportunities from bilateral free trade agreements.
Vietnam has become a safe and attractive destination for investors from 141 countries and territories, with over 34,000 projects valued at more than US$400 billion. Among them, South Korea remains the largest foreign investor in Vietnam and ranks second in trade, with the turnover reaching an estimated US$90 billion this year.
Besides, South Korea was Vietnam's largest source of tourists in 2022, the SaigonTel CEO said.
The two countries have also cooperated in various fields such as finance-banking, infrastructure, transportation, information technology, agro-forestry-fishery, education and training and people-to-people exchanges.
Phuong added that SaigonTel would continue to make joint efforts to bring more South Korean investors to Vietnam in the years to come.
You might be interested in