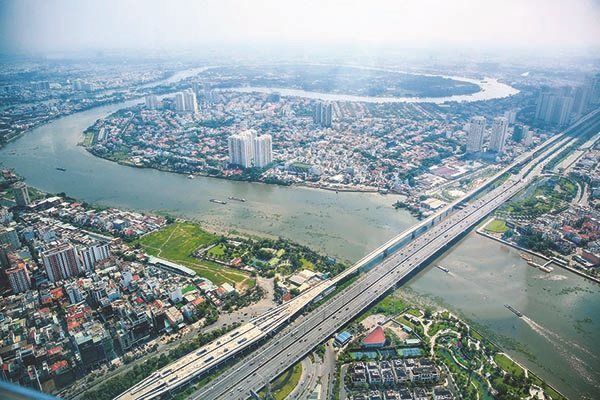 HCMC – Despite its huge development potential, Thu Duc City still faces numerous outstanding issues and obstacles; therefore, the city needs to be granted a special mechanism for development, according to the Institute for Policy Research and Media Development (IPS).
Asynchronous infrastructure and narrow roads are major reasons for frequent traffic congestion in Thu Duc City. Many infrastructure projects cannot be implemented due to the city's lack of capital. Meanwhile, the projects that have secured funding have been executed at a snail's pace.
The city was allocated VND3,460 billion for 36 state-funded projects this year but only 1% of the capital had been disbursed by October.
The above situation resulted in severe flooding in Thu Duc City after heavy rains and during flood tides.
An expert of IPS said that Thu Duc has an area of over 21,000 hectares and a population of 1.2 million people, equal to that of Danang City. However, it is treated as a district-level jurisdiction.
Thu Duc City now incurs annual damage totaling over VND1,200 billion, mainly resulting from failure to properly cope with traffic congestion and flooding. However, the indirect losses on the economy and impacts on residents' lives are estimated at 3-4 times higher than that figure.
According to experts from IPS, to tap its strengths and potential, Thu Duc should be piloted as a new modern urban administration model.
The city could also take the initiative in designing an apparatus and organizational structure to make the functions of the municipal administration effective.
HCMC has proposed the Government and the National Assembly issue a resolution granting higher authority to Thu Duc City as this will be a stimulus for Thu Duc City to become more creative and dynamic in management, giving better support to HCMC in implementing the trial model and boosting HCMC's socio-economic development.
You might be interested in