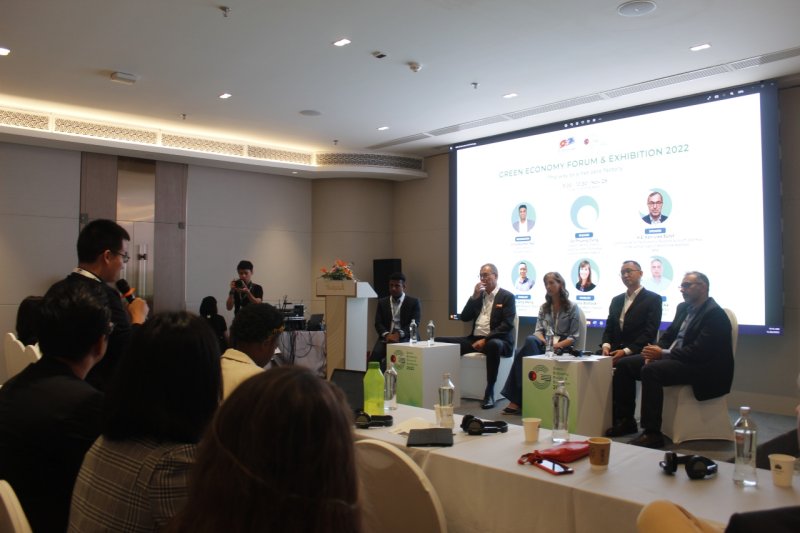 HCMC – The step-by-step attempt and systematic approaches with a focus on reusing, recycling and replacing will work well to help manufacturers head towards a net zero factory, heard a seminar themed "The way to a net zero factory," within the framework of the Green Economy Forum and Exhibition 2022.
Vinodkumar Nair, plant director at Schneider Electric, said that to build a green economy and a net zero factory, it is vital to implement all production processes step by step and maintain circular economy and decarbonization initiatives that pay much attention to carbon offset, zero fossil fuel usage, and priority for renewable energy, efficiency of lighting and roofing usage, among others.
All of production steps from design, manufacturing and logistics to marketing and sales, product use and services and product end to life should be made sustainable to form a value chain.
Walid Hbaika, technical director at Nestle Vietnam, said that Nestle Vietnam is recycling items and machines which are at the end of their lifecycle for a better environmental value. Besides, the firm is closely working with farmers by instructing them how to produce clean products and create high productivity. Specially, the firm's farmer partners are required to move towards sustainability and environmental protection.
At Heineken, circularity is of the firm's strategic approach on the path to a zero impact business model, said Holly Bostock, corporate affairs director at Heineken.
Sharing the best practices on how to achieve zero waste in production, Holly said that Heineken has leveraged cost optimization by using biomass thermal energy at all of its six breweries in Vietnam and reusing crates for 5-10 years and bottles in 30 times, which helps save a huge amount of money.
In addition to selling spent grain for animal feed to earn a regular income, Heineken is consuming water and energy effectively and reducing costs to offer more competitive product prices.
"The environment is an integral pillar of our Brew A Better Vietnam sustainability strategy, aiming to a zero impact business model across our value chain – not only on emissions, but also on water use and circularity," said Holly.
The firm aims to be net-zero in production by 2025 and carbon neutral in value chain by 2040; circularize 100% of its by-products and production waste by 2025; and upcycle the waste and close material loops throughout the value chain by 2040.
To fulfill the targets, Heineken is adopting a strategic approach – 4Rs, including Reducing consumption of energy and water through innovations and efficiencies; Replacing fossil fuels with cleaner, lower carbon and renewable energy, Removing the residual carbon footprint with verified projects; and Reporting the progress and measure impact regularly.
Customer demand should put at the core of manufacturers' production and business plans as many consumers tend to use products that minimize the impact on the environment, said the panelists.
For a circular green and a net zero factory, it is necessary to have a close cooperation and in-depth participation of all stakeholders, including governments, companies, universities and trade unions.
Furthermore, Ng Ging Meng, Head of Corporate Research at Bosch ASEAN – BOSCH, said that innovation programs and technologies also help boost the net-zero strategy.
The Green Economy Forum and Exhibition 2022 was launched in HCMC on November 28, featuring various seminars and comprehensive dialogues and a three-day exhibition showcasing cutting-edge green technologies and sustainable initiatives from Europe, Vietnam, and other countries.
You might be interested in