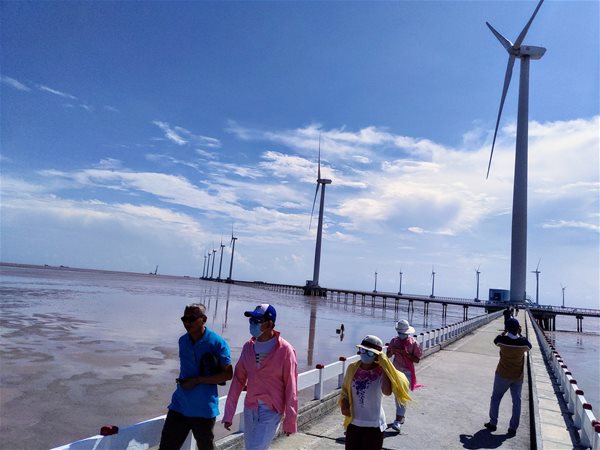 HCMC – Bac Lieu Province has opted for a green growth and sustainable model to restructure its economy in recent years, aiming to become a renewable-energy center in the Mekong Delta region and the country.
According to the local orientation, renewable energy, including wind and solar energy and liquefied natural gas, is the priority investment sector and one of the five socioeconomic development pillars of the province.
In late 2016, Bac Lieu proposed the Government withdraw the Cai Cung thermal power plant project from the comprehensive power planning VII due to its potential risks to the province's environment. Since then, Bac Lieu has focused on clean energy development to move toward a long-term environmental protection strategy.
Since 2021, many renewable energy projects in the province have been put into service.
According to the Bac Lieu Province's Department of Industry and Trade, the province now has eight operating wind energy farms onshore and offshore with a total capacity of 469,2 MW, ranking third in the country's total wind energy output at 2.0 billion kWh.
These wind energy farms are estimated to help reduce over 1,691 million tons of CO2 emissions. Moreover, they have contributed around VND450 billion to the annual provincial budget.
Several wind power projects are being executed in the province, including the Bac Lieu wind power project – phase 3 with a capacity of 141 MW, the Japan – Bac Lieu wind power project – phase 1 with a capacity of 50 MW and the Bac Lieu liquefied natural gas with a total capacity of 3,200 MW.
Besides supplying clean energy for production, the wind power farms have contributed to the province's tourism development, said Phan Van Sau, director of the Bac Lieu Province's DOIT.
Since Bac Lieu Province has focused on renewable energy, the province has seen remarkable socioeconomic development, especially in infrastructure, supporting services and local residents' income.
You might be interested in