Try to spend a day, invite your friends to go around Ho Chi Minh City to eat all the famous dishes from the North – Central – South.
It is not wrong to say that Ho Chi Minh City is a culinary "paradise". Not only updating new dishes very quickly, but this place also gathers all kinds of specialties from the North – Central – South. If one day suddenly "has" craving for Hanoi bun cha, Cao Bang roll cake, or Quy Nhon jumping shrimp pancake but have not had the opportunity to go to the place of origin, please refer to the following guidelines and then take the car to the food tour. !
BREAKFAST SPECIAL FOOD OF SOUTH
Broken rice with pork ribs
For a long time, broken rice with pork ribs has become a specialty dish in Ho Chi Minh City, chosen by many people for breakfast because one portion is full and the price is only a few tens of thousand. The difference between broken rice is that it is cooked with broken rice, and served with marinated ribs, fragrant grilled edges, chewy pork skin, golden egg rolls, and greasy onion fat. When eating, just add chili garlic fish sauce to get the full flavor.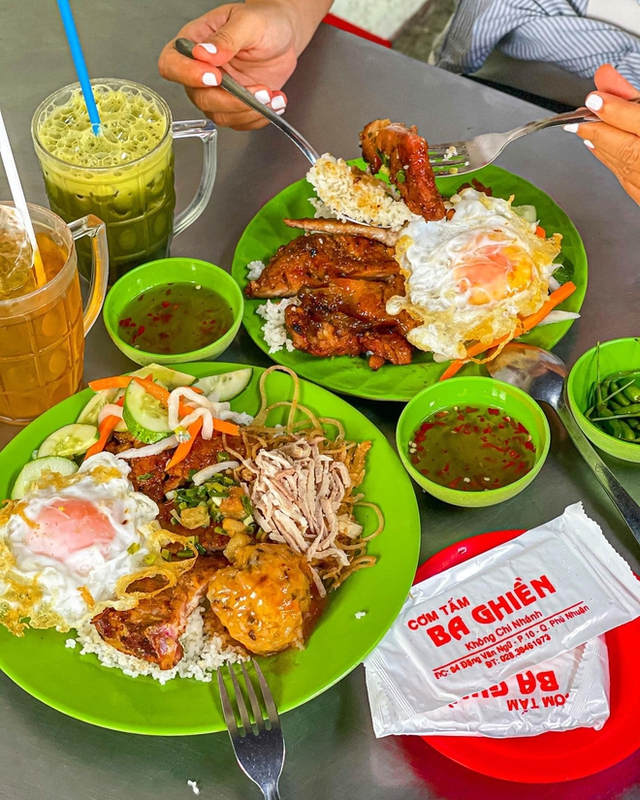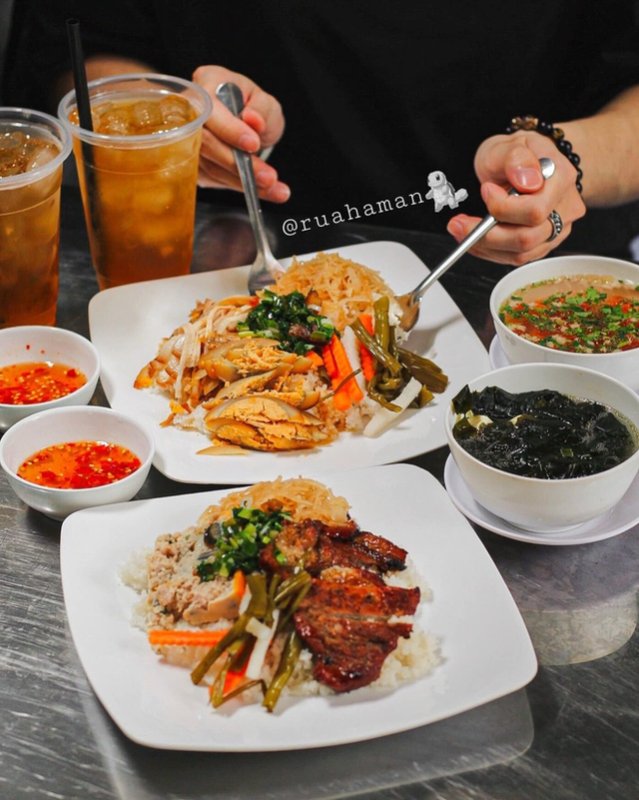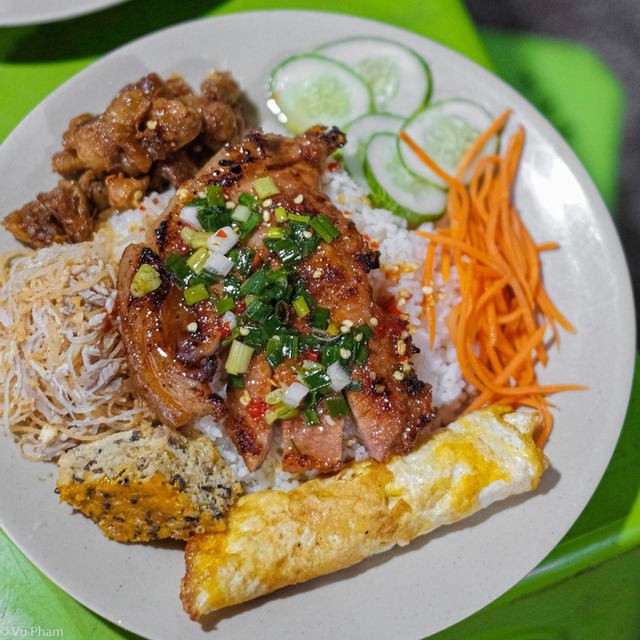 Photo: Tien Dung, Vu Pham, Tran Minh Truong
Suggested address:
Ba Ghien broken rice – 84 Dang Van Ngu, Ward 10, Phu Nhuan District (7h30 – 20h30)
Hung broken rice – 194/2 Vo Van Tan, Ward 5, District 3 (6am – 12:30pm)
Thanh Binh broken rice – March 28, Ly Chinh Thang, Ward 14, District 3 (7am – 10pm)
Pan bread
Not only is it a favorite breakfast dish of Vietnamese people, but pan bread is also very attractive to foreign guests. The flavor of this dish is a combination of ingredients such as omelet, pate, spring rolls, shumai, cheese, … encapsulated in a small pan. Accompanied by cucumber, tomato, lettuce and coriander to balance out all the flavors. In addition to dipping the bread directly into the sauce, you can arrange the ingredients on top of the bread to feel the full flavor.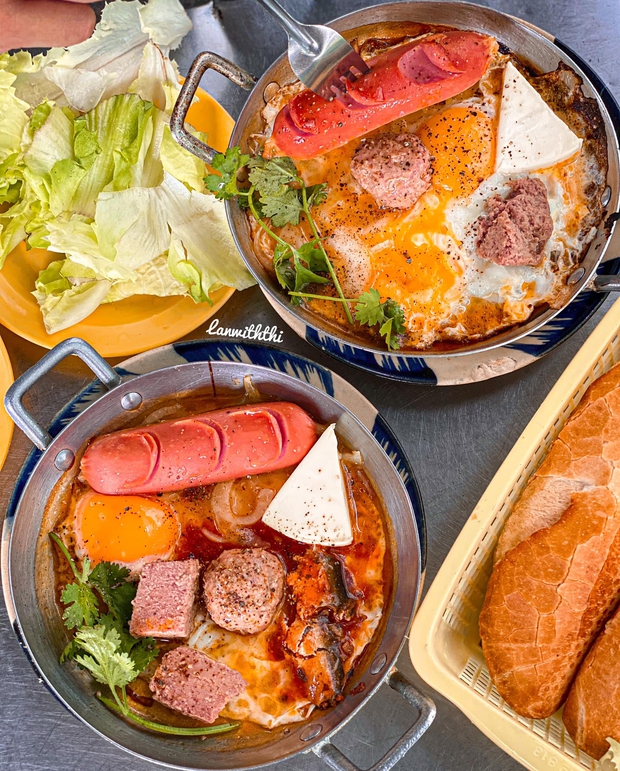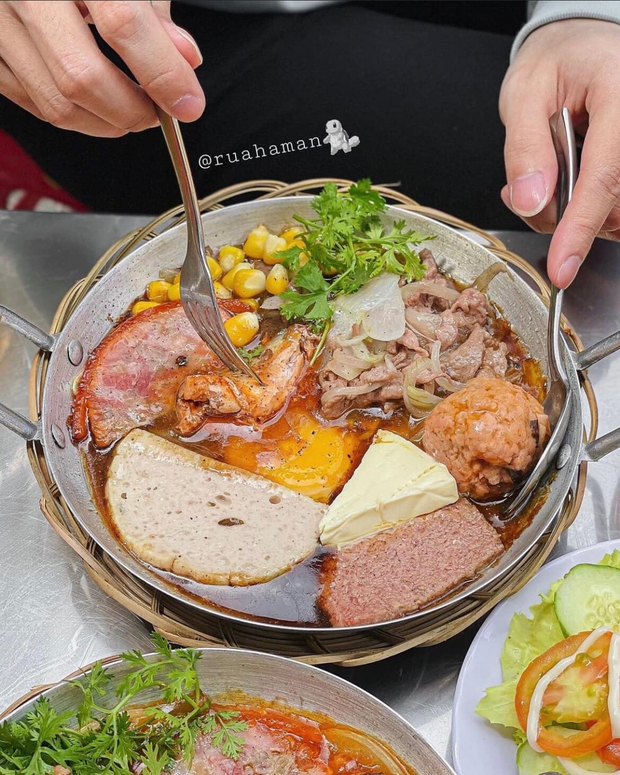 Photo: Tran Minh Truong, Anh Thi
Suggested address:
Hoa Ma Pan bread – 53 Cao Thang, Ward 3, District 3 (6am – 11am)
Dang Tran Con – 8 Dang Tran Con, Ben Thanh Ward, District 1 (6am – 13h30)
Salty – sweet sticky rice
Because it meets the criteria of delicious – cheap – fast, there are also countless versions from familiar to strange, so sticky rice is loved by many people. Currently, the two most popular types of sticky rice are salty sticky rice and sweet sticky rice. If sweet sticky rice is both flexible and fatty, served with grated coconut and has an eye-catching color from gac fruit, camellia leaves, pandan leaves, etc., salty sticky rice is equally attractive with the original layer of glutinous rice underneath and toppings like meat. chicken, char siu, cotton balls, pickles… above. If you want to have a delicious and nutritious breakfast, sticky rice is a reasonable choice.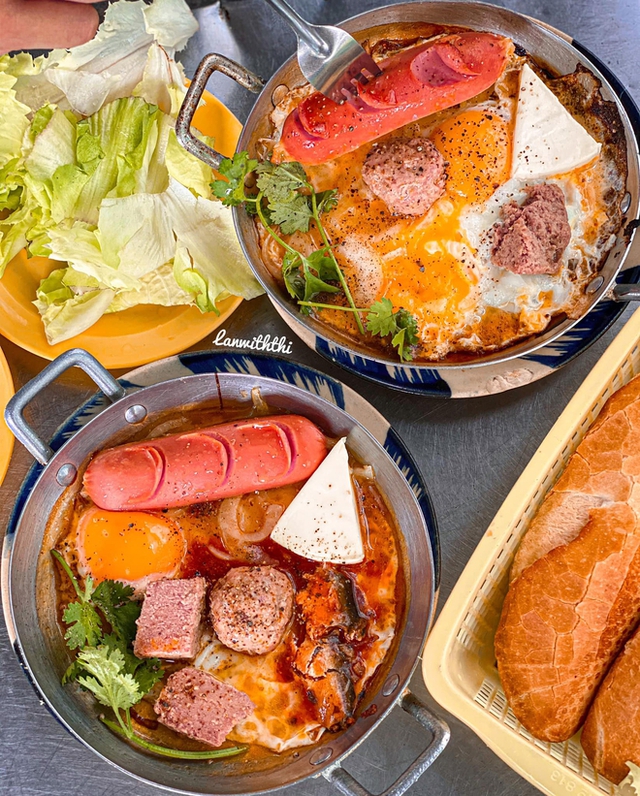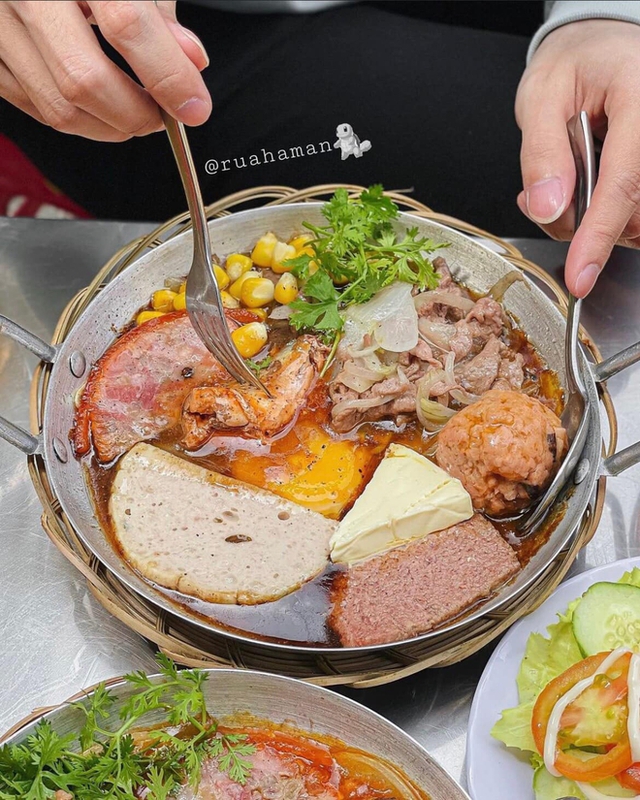 Photo: Tran Minh Truong, Anh Thi
Suggested address:
Thong Nhat sweet sticky rice – 360 Thong Nhat, Ward 16, Go Vap District (6am – 10am)
Co Lan chicken sticky rice – 14B Ky Dong, Ward 9, District 3 (5am – 8pm)
Minh Tam Chicken Corn Sticky Rice – 35 Phan Boi Chau, Ward 14, Binh Thanh District (6:30 – 22:30)
Salty sticky rice with lotus leaves – 35 Ngo Thi Thu Minh, Ward 3, Tan Binh District (6am – 9am)
AT NOON, ENJOY THE FUNDS OF THE CENTRAL
Quang Noodles
Quang noodle is a typical dish of the land of Quang Nam. Quang noodles are usually yellow in color, made from finely ground rice flour mixed with tapioca flour, so they have a certain toughness. A bowl of Quang noodles includes noodles and ingredients such as pork, shrimp, chicken, quail eggs, rice paper, etc. The top is sprinkled with crushed peanuts, green onions, herbs, and red peppers. Normally, the broth is quite small in the bowl of noodles, but this part is very rich, eating with the ingredients will bring up a typical delicious taste.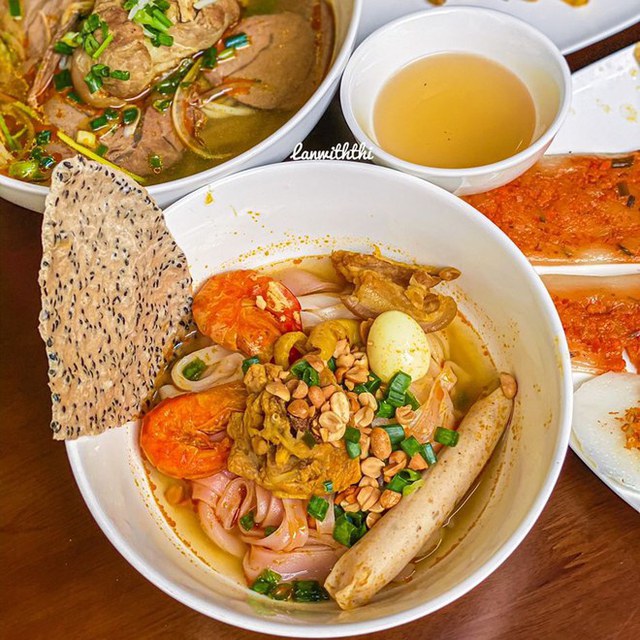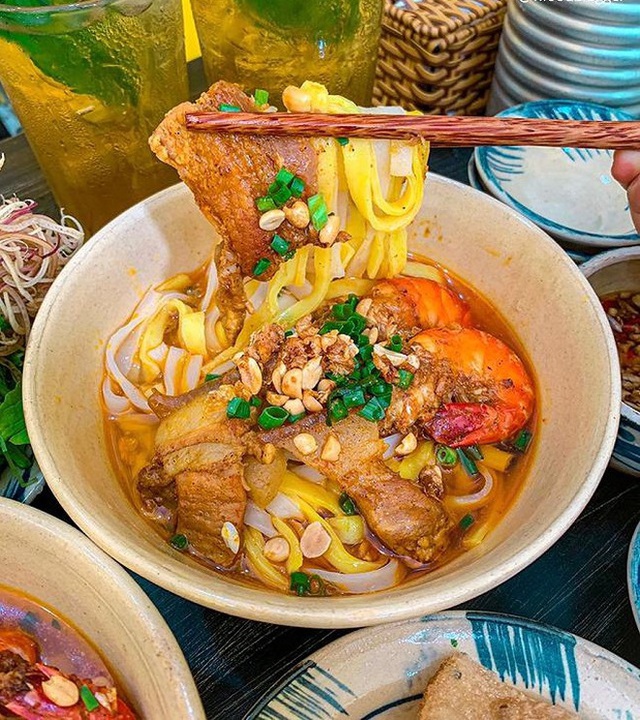 Photo: Anh Thi, Le Thao Vi
Suggested address:
Quang My Son Noodles – 262 Phan Xich Long, Ward 7, Phu Nhuan District (6am – 10pm)
Quang Sam Noodles – 8 Ca Van Thinh, Ward 11, Tan Binh District (6am – 10pm)
Moc Vi Quan – 732 Su Van Hanh, Ward 12, District 10 (7:30 – 22:30)
Quy Nhon dancing shrimp pancakes
The reason this dish has a curious name is because the ingredients to make the pancake are fresh, freshly caught crayfish that dance around. Quy Nhon jumping shrimp pancake is made from rice flour mixed and poured in a round cast iron mold. Topped with ground shrimp, tender beef, bean sprouts, chopped onions and scallions. Shrimp pancakes are best when rolled with rice paper, raw vegetables, green mango, cucumber, … and dipped with spicy fish sauce. Just take a bite, the greasy taste and crispy heat of the pancakes will awaken the taste buds of the eaters.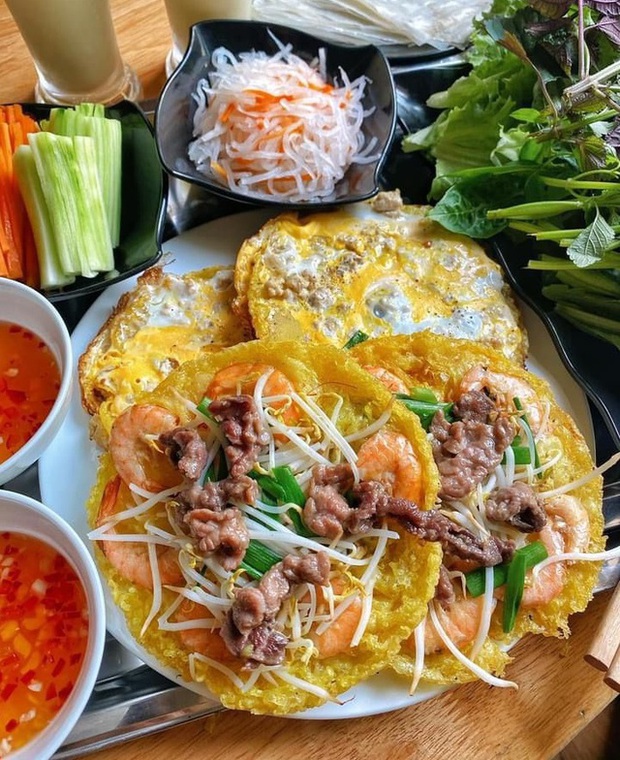 Photo: My Linh
Suggested address:
Thanh Dieu shop – 80 Ung Van Khiem, Ward 25, Binh Thanh District (10am – 22h30)
Banh Xeo Central – 104 Phan Xich Long, Ward 3, Binh Thanh District (10am – 10pm)
Ninh Hoa grilled spring rolls
As a specialty of Nha Trang's sea, the elongated spring rolls made from pureed pork, seasoned to taste and grilled over hot coals are very popular with diners. Enjoying Ninh Hoa's grilled spring rolls in the right way is to use a thin piece of rice paper, cleverly wrapped with raw vegetables, skewers of spring rolls and crispy rice paper and then dipped in a thick peanut sauce. Guaranteed you will have to stir with the overall taste of salty, sweet, sour, fatty spreading in your mouth.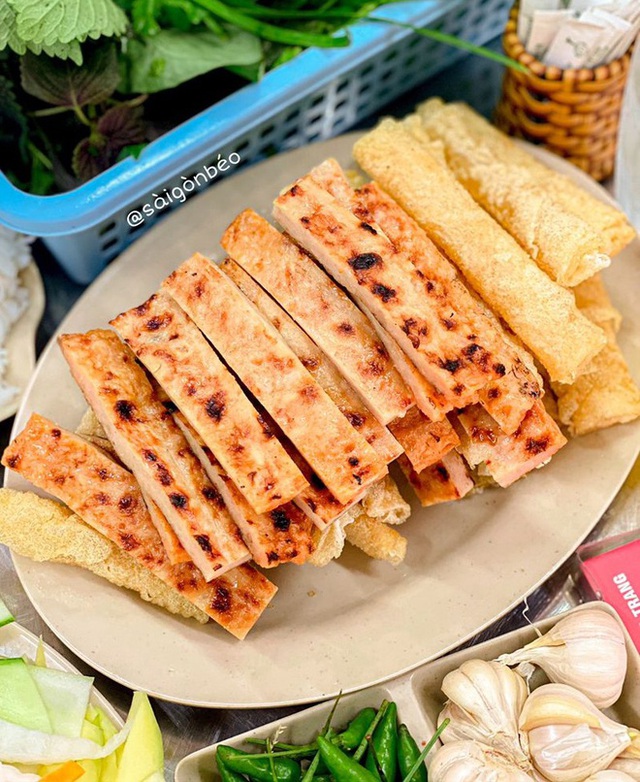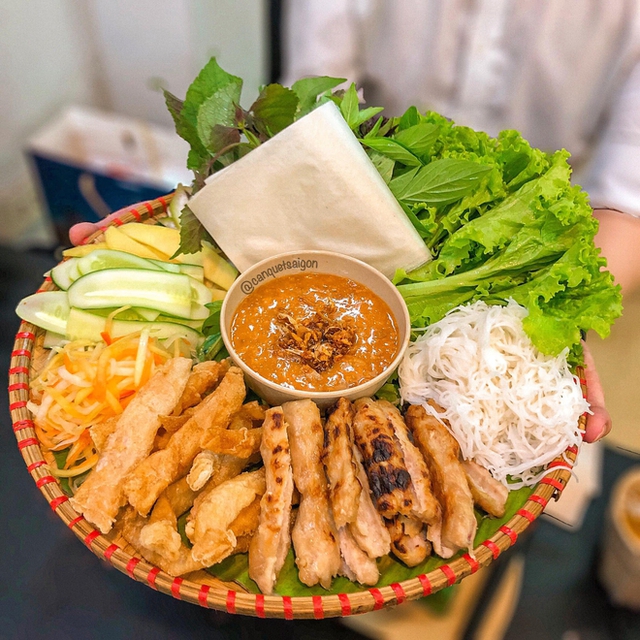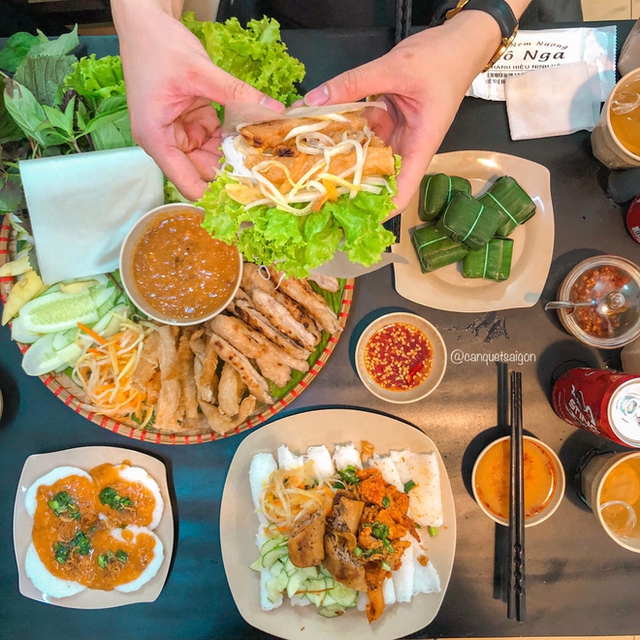 Photo: Bao Bao, Fat Saigon
Suggested address:
Nga's grilled spring rolls – 389 Nguyen Thai Binh, Ward 12, Tan Binh District (9:30 – 21:00)
Thao baby spring rolls – 1237/31 Hoang Sa, Ward 5, Tan Binh District (10:30 – 21:30)
Grilled spring rolls Ms. Lien – 117 Pham Van Dong, Ward 3, Go Vap District (8am – 10pm)
NORTH DELICIOUS
Bun cha Hanoi
Probably need not introduce much because bun cha is so famous both at home and abroad. A full bun cha includes vermicelli, grilled pork rolls and a sweet and savory dipping sauce with green papaya and carrots added. The part of raw vegetables often served with perilla, lettuce, fish lettuce,… When eating, just pick up a chopstick of vermicelli and dip it into a bowl of dipping sauce filled with grilled meat, sandwiched with raw vegetables, the flavor will spread. exciting.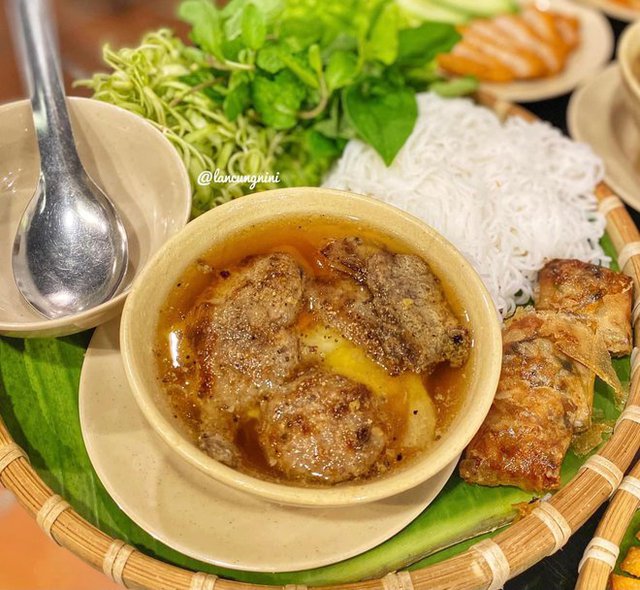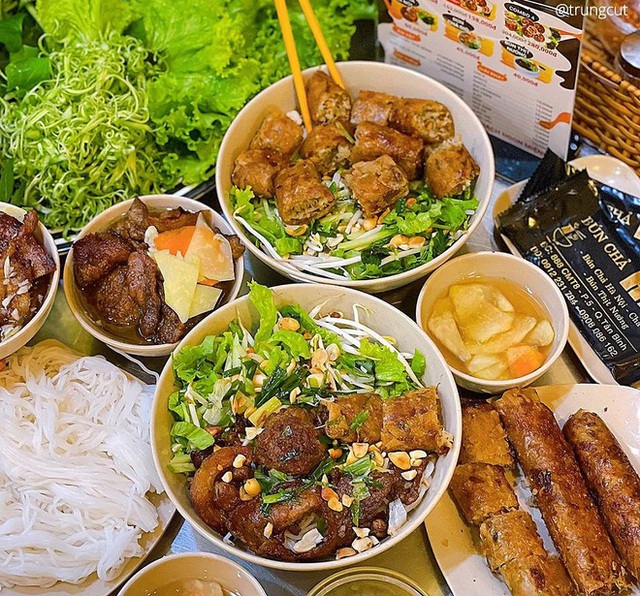 Photo: Nghiem Ngoc Vy, Quail Eggs
Suggested address:
Bun Cha Hanoi – 134 Suong Nguyet Anh, Pham Ngu Lao Ward, District 1 (7am – 10pm)
Golden Lotus Bun Cha – 6 Hong Ha, Ward 2, Tan Binh District (7am – 9pm)
Bun Cha Anh Hong – 140 Ly Chinh Thang, Ward 14, District 3 (6:30 – 20:30)
Lang Son Sour Pho
Unlike ordinary pho, Lang Son sour pho is not filled with broth from stewed bones but is mixed with a special sauce made from sugar vinegar to create a characteristic sour taste. This specialty dish will be stored in a large plate, the bottom is noodle soup, followed by cucumber, char siu meat, and some places will give chicken intestines, shredded chicken. Grease, roasted peanuts and fried onions will be placed on the top layer. When eating, you just need to mix well so that the ingredients absorb the sauce.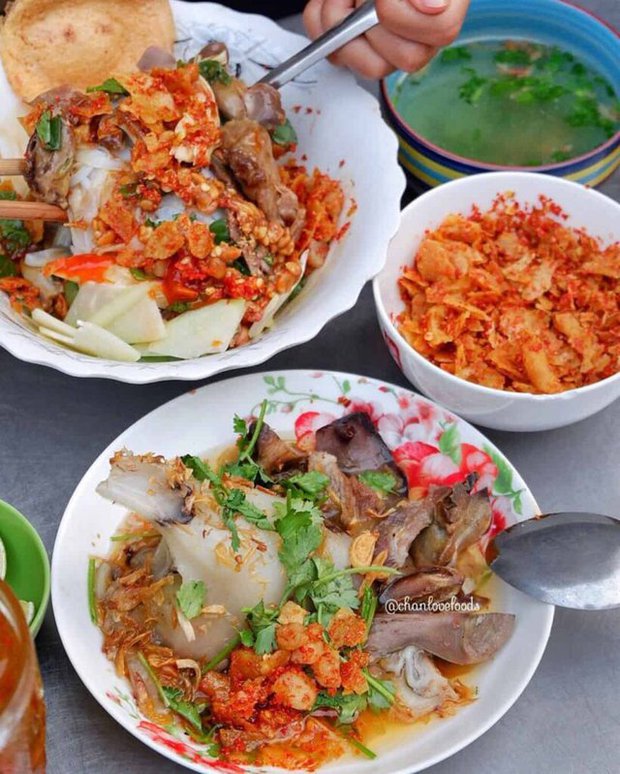 Photo: @chanlovefoods
Suggested address:
Quan Thanh – 242/101 Nguyen Thien Thuat, Ward 3, District 3 (11am – 9pm)
Lang Sour Pho – Hoang Anh Gia Lai Apartment, District 7 (6am – 13h | 4pm – 9pm)
Cao Bang rolls
If Ho Chi Minh City rolls are dipped in chili garlic fish sauce, Cao Bang rolls are served with hot broth from stewed bones. Not only that, but inside the bowl of broth, there are also poached eggs, spring rolls and pork feet. The shell of Cao Bang roll cake is made from rice flour and must be coated very thin, inside is minced pork. According to the way of eating of Cao Bang people, Banh Cuon will be soaked in broth and picked up with chopsticks, accompanied by a little chili and bamboo shoots soaked in honey. The blend of flavorful rolls, greasy eggs and sweet bone broth makes many foodies fall in love at the first try.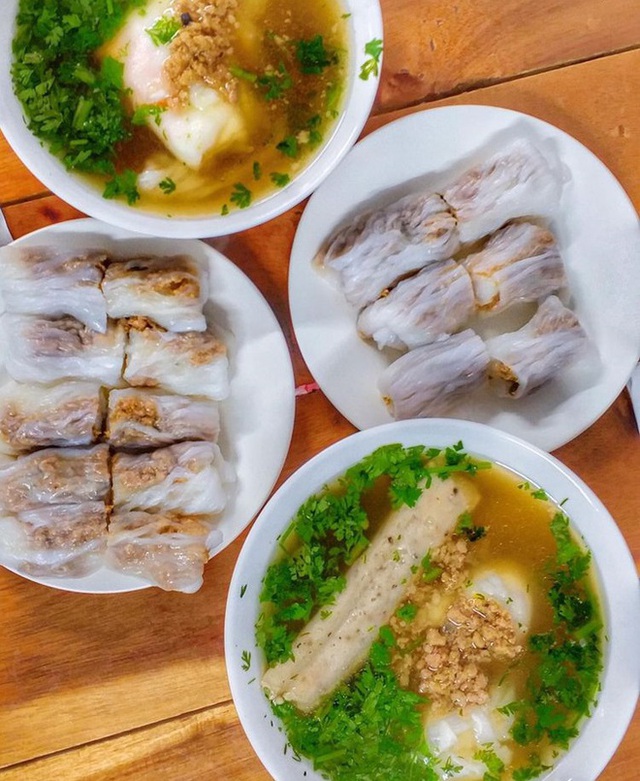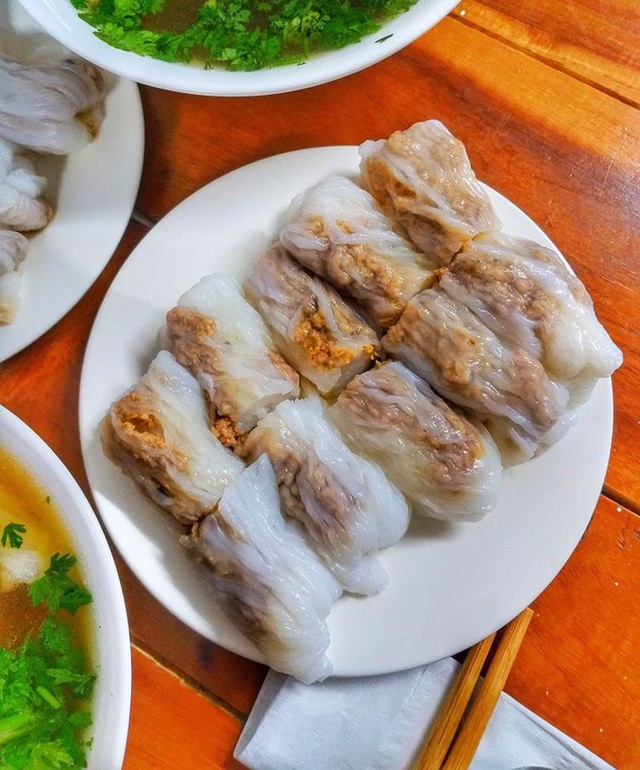 Photo: MeoRiviu
Suggested address:
Mother Le's roll cake – 120A Hoang Hoa Tham, Ward 7, Binh Thanh District (6am – 9pm)
Binh Chieu roll cake – 1033 Provincial Road 43, Binh Chieu Ward, City. Thu Duc (8am – 10pm)
You might be interested in