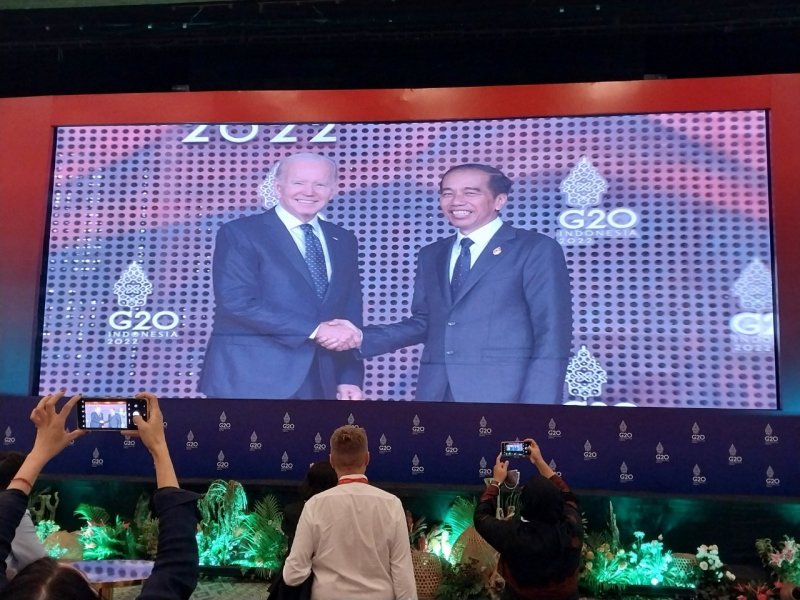 BALI – In his opening remarks at the Group of 20 (G20) major economies summit on Tuesday morning, November 15, on the tourist island of Bali, Indonesia, Indonesian President Joko Widodo said people are responsible for collaborating to save the world and mend the global economy.
"We have no option. We have no choice. If the war does not end, the world cannot move forward," he said, adding that this is why the G20 Summit this year is entitled "Recover together, recover stronger".
After his opening remarks, leaders of G20 major economies began talks on various topics such as food and energy security and digital transformation in harmony, apart from bilateral talks and press conferences.
In a positive sign, a three-hour bilateral meeting was held between U.S. President Joe Biden and Chinese President Xi Jinping, where the two leaders pledged more frequent communication despite their differences.
Apart from the efforts of China and the U.S., the Indonesian president, widely known as Jokowi, also asked the European Commission and the G7 bloc to lend "support and flexibility" so that the summit can produce concrete results, according to Reuters.
On the sidelines of the summit, many leaders will hold bilateral talks, including several who will meet Xi, who is making his second visit overseas since the start of the pandemic. He is scheduled to hold talks with Australian Prime Minister Anthony Albanese, South Korean President Yoon Suk-yeol and later with Japanese Prime Minister Fumio Kishida.
The delegates at the summit hoped that amidst the challenges and difficulties faced, the event would provide a forum for dialogue, cooperation and coordination of policy responses between countries to support recovery and maintain robust and balanced economic growth.
Countries are currently faced with high inflation, tighter financial conditions, Russia's conflict with Ukraine, the protracted Covid-19 pandemic and a supply-demand imbalance that further slows the global economic outlook.
The cost of living has been growing in many nations due to rising concerns about food and energy prices, which has increased inflationary pressures.
In addition, extreme weather brought on by climate change also puts the world economy at risk, and growing energy costs are hampering the shift to a greener economy.
The G20, which includes countries ranging from Brazil to India, Saudi Arabia and Germany, accounts for more than 80% of the world's gross domestic product, 75% of international trade and 60% of its population.
You might be interested in