Hoi cake is not a strange dish, but have you tried the famous porridge cake in Quy Nhon?
As one of the dishes that often appear in platters as well as in popular restaurants across the country, Banh Hoi has long become familiar to food-loving souls.
The way to enjoy Hoi cake is as diverse as the popularity of this dish. Each region has different variations, where it is served with roasted meat, where is eaten with fried spring rolls…, in which, it is impossible not to mention the combination of Hoi cake and a bowl of hot porridge with a heart plate. Fatty pork – is a famous delicacy in the Central region in general and in Quy Nhon in particular.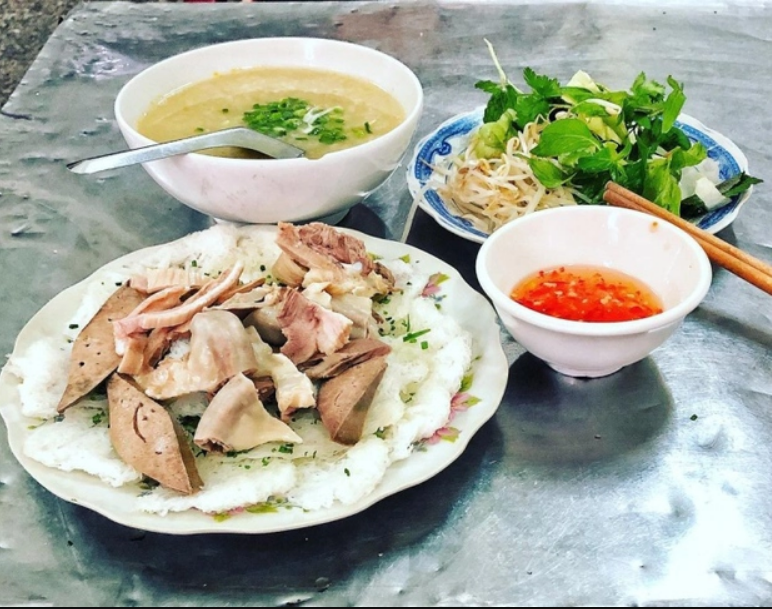 Although it is rustic, it is easy to "addiction" because of its delicious taste.(Photo: dalattieudao)
Pancakes are sold in many places, but when it comes to this unique combination dish, the most nostalgic flavor is still in Quy Nhon. The dish is rustic but over time has become a famous specialty in Binh Dinh.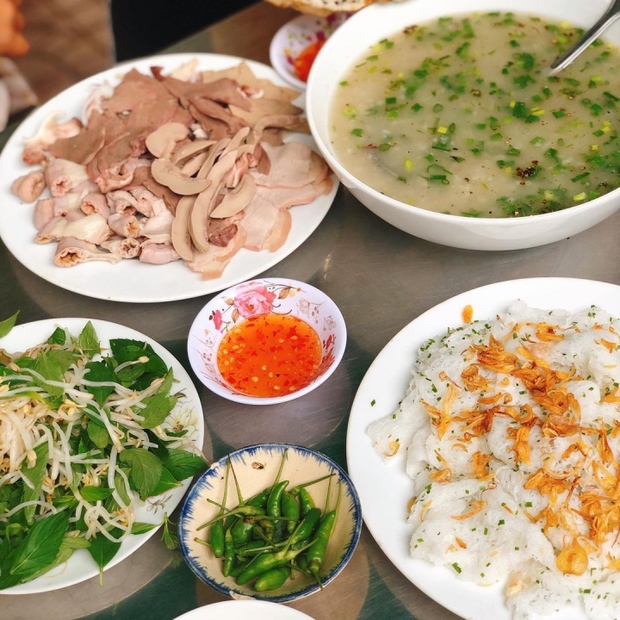 Banh asked in Quy Nhon is modified by serving with a bowl of hot porridge and pieces of delicious and greasy boiled pork intestines.(Photo: anngo.cungtui)
Besides Banh cuon which is an indispensable important ingredient, pork belly is the second main factor contributing to the attractiveness of the dish. Delicious pork intestines must be fresh, after being carefully prepared to remove the fishy smell, the intestines will be boiled with a little ginger, roasted purple onions, when cooked, will be put in an ice-cold bowl to increase their toughness and crispness. .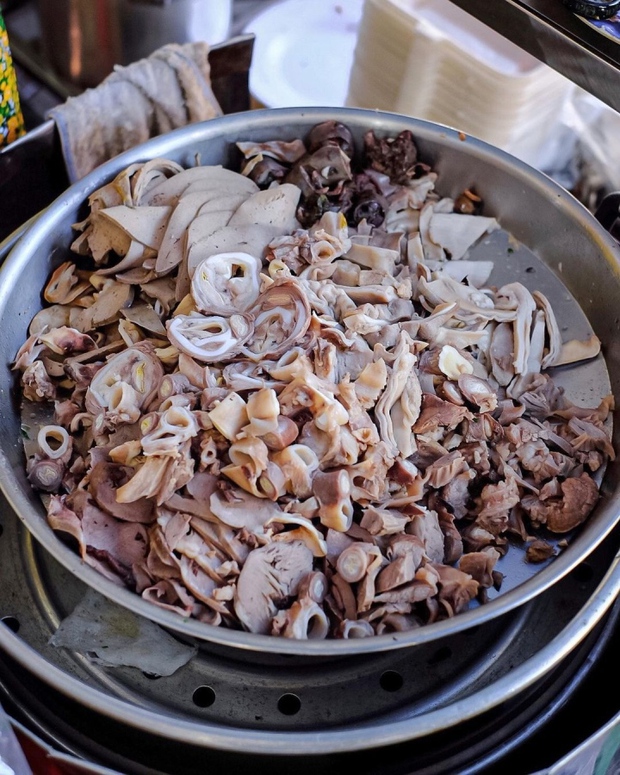 The set of fresh intestines with heart, liver, kidney… (Photo: ryanfoodaholic)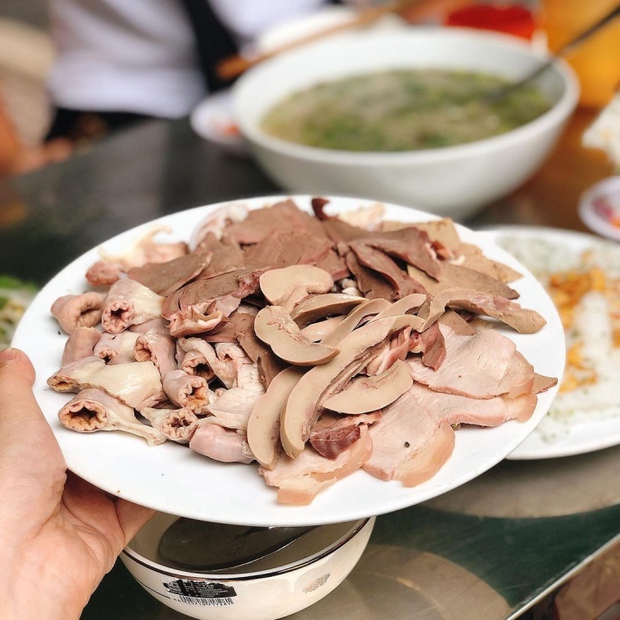 Attractive plate of heart is ready to serve diners.(Photo: anngo.cungtui)
Meanwhile, the boiled water will be used to cook porridge. Porridge in Binh Dinh has the characteristic that it is quite liquid, not thick. With only the layer of fat secreted from the intestines, the porridge pot is enough to create an attraction by glittering golden light, after adding a few finely chopped onions or a few fragrant chives and onions, it will make diners start salivating. nonstop.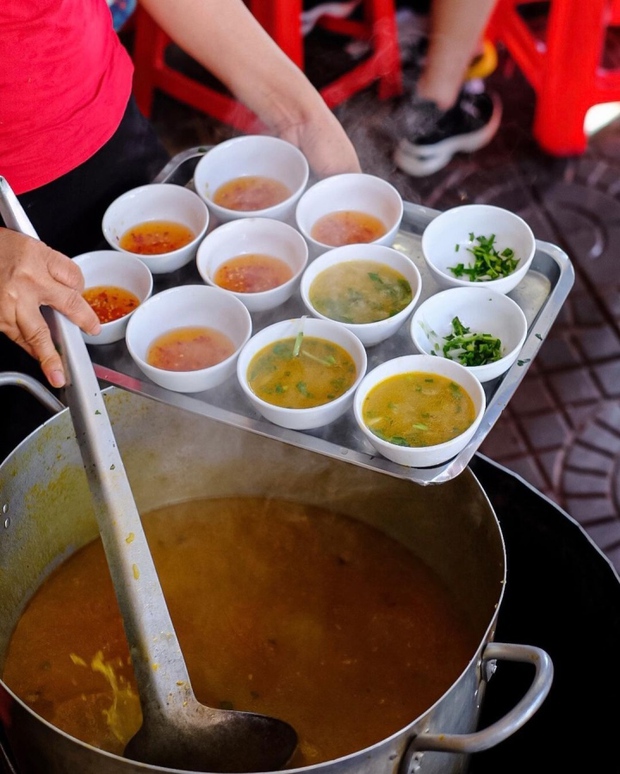 Each serving will come with a cup of warm porridge.(Photo: ryanfoodaholic)
When presented, the cake is usually divided into thin layers to taste, and spread with a few fried shallots with oil. The dish is presented quite spectacularly with a plate of Banh que, a separate heart, a bowl of fragrant porridge next to it, and of course, spicy fish sauce, a plate of fresh raw vegetables to enhance the flavor and taste. less bored.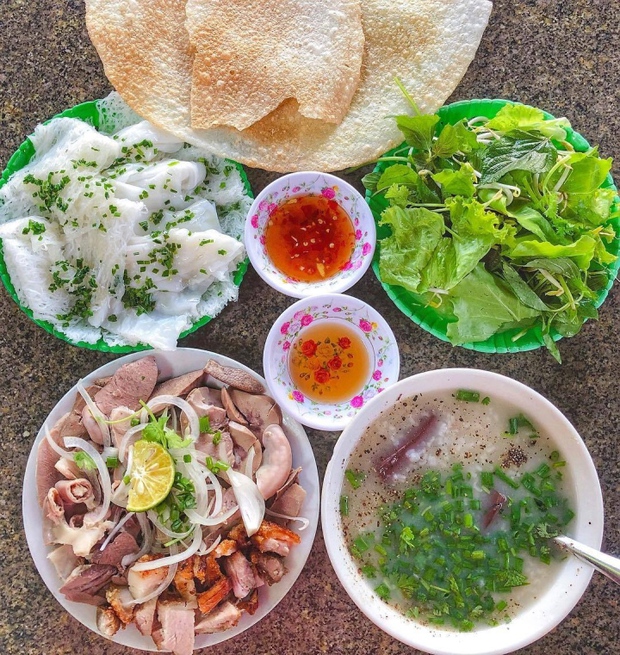 A portion of rice porridge filled with vegetables and dipping sauce.(Photo: trangpinkyy)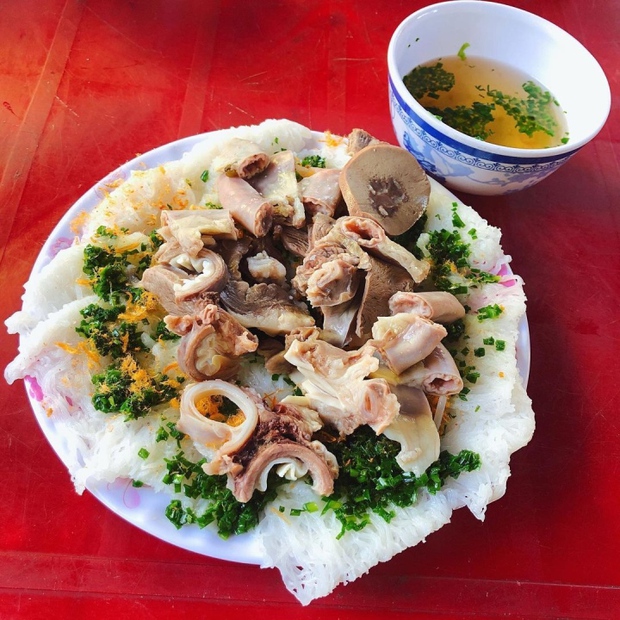 The unique flavor of the combination of banh cuon and pork belly makes it hard for diners to stop chopsticks.(Photo: surrephoto)
Pick up a slice of cake, add a piece of pork belly and some herbs, then dip it into a bowl of fish sauce to enjoy and finish with a few spoons of warm porridge. A variety of flavors from the sweet, greasy and the tough, chewy horns of all the above ingredients, blend on the tip of the tongue and then slowly drift down the throat, making diners all have to praise the deliciousness.
You might be interested in