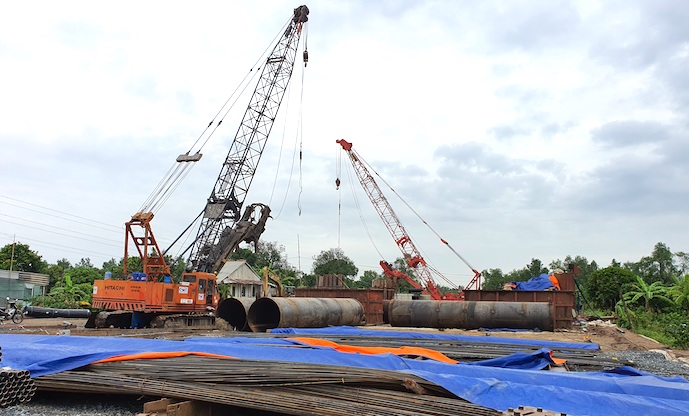 HCMC – Several State agencies, ministries, cities and provinces have proposed returning thousands of billions of Vietnamese dong of the allocated 2022 public capital due to slower-than-planned disbursements.
The Finance and Budget Committee of the National Assembly said that public capital disbursements between January and September remained low, leading to some ministries and localities seeking approval to return the public capital in September.
The Ministry of Labor, Invalids and Social Affairs proposed allowing it to give back VND173.2 billion, equivalent to 26% of the target. Meanwhile, the Committee for Ethnic Minority Affairs sought to return VND52.7 billion, or 97.6% of the total.
The Ministry of Health proposed lowering its 2021 foreign investment target by VND536 billion, while the Ministry of Education and Training proposed cutting the target by VND589.5 billion.
In addition, the slow disbursement pace forced the Ministry of Construction and the Ministry of Science and Technology to propose reducing their foreign capital target by VND167.4 billion and VND141.7 billion, respectively.
Many localities found it hard to disburse all the allocated foreign capital, thereby proposing to return part or reduce their targets.
Hanoi City sought to lower the capital for some ODA-funded projects by over VND2.2 trillion, while Bac Ninh proposed cutting its capital disbursement target by VND1.83 trillion, including VND27 billion sourced from official development assistance (ODA) loans and VND1.8 trillion from the land use fee revenue.
Dong Nai, Khanh Hoa and Can Tho proposed lowering the ODA capital allocation by VND98 billion, VND171 billion and VND1.45 trillion, respectively.
The Vietnam Academy of Science and Technology also proposed cutting the allocation by over VND2.2 trillion.
As of late September, 39 of 51 ministries and State agencies and 22 of all 63 provinces and cities had seen their domestic capital disbursement move at a snail's pace, with the rates lower than the country's average at 46.7%. Among them, 14 ministries and agencies posted low disbursement rates of below 20% against the target set by the prime minister.
Foreign investment disbursement during the nine-month period reached a mere 19.03% of the target.
The Finance and Budget Committee told the Government to quickly assess the disbursement process and pinpoint hindrances to eliminate them.
The committee also asked the Government to evaluate the ministries' and agencies' proposal to return capital and lower public investment targets, then make a list and send it to the National Assembly for consideration.
You might be interested in