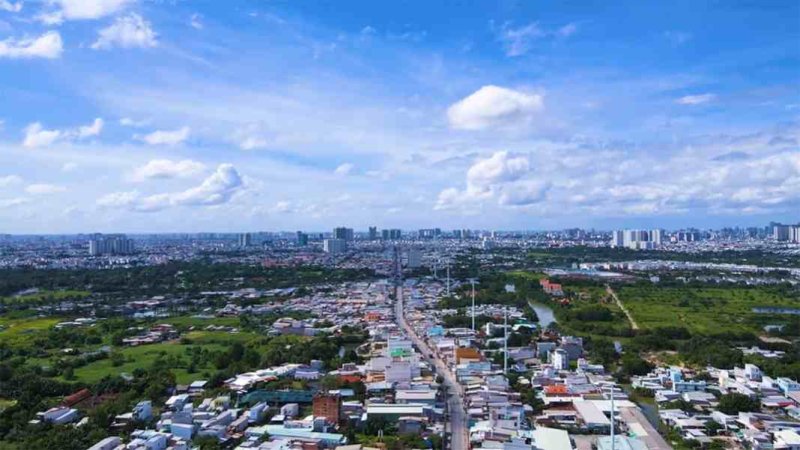 HCMC – HCMC will begin construction on three major traffic infrastructure projects by the end of this year with an investment of over VND10,000 billion.
Luong Minh Phuc, director of the HCMC Management Board of Transportation Works Construction and Investment Projects (TCIP), said the three projects comprised a road connecting Tran Quoc Hoan Street and Cong Hoa Street, An Phu Intersection and National Highway 50.
The road connecting Tran Quoc Hoan Street and Cong Hoa Street in Tan Binh District, with an investment of over VND4,800 billion, is the largest construction to connect terminal T3 of the Tan Son Nhat International Airport.
The six-lane road is set to have two four-lane branch lines as well as two underpasses and a nearly one-kilometer-long overpass.
As per the project, the road is 25 to 48 meters wide, beginning at the junction of Tran Quoc Hoan-Phan Thuc Duyen and ending at the intersection of C2, Cong Hoa and Truong Chinh streets.
Phuc said that 90% of the construction was military land and the underpass at the Phan Thuc Duyen-Tran Quoc Hoan intersection would break ground first, followed by the remaining works next year after site clearance was 100% complete.
The project is expected to be completed by August 2024 to ease traffic congestion in the airport area.
The An Phu Intersection Project saw an investment of roughly VND4,000 billion. The construction is considered one of the largest intersections in the eastern gateway of HCMC, boosting the connectivity of the HCMC-Long Thanh-Dau Giay Expressway, Mai Chi Tho Street and Luong Dinh Cua Street.
The project is mapped out to have three layers, comprising a two-way underground tunnel connecting HCMC-Long Thanh-Dau Giay Expressway with Mai Chi Tho Street, two overpasses and a miniature landscape on the ground below.
The completion time is scheduled for 2025 to tackle traffic congestion in accordance with the plan to expand the Long Thanh-Dau Giay Expressway.
In the west gateway, the project to expand and upgrade the National Highway 50 in Binh Chanh District saw an investment of almost VND1,500 billion and was set to be completed in 2024.
The new road is designed to stretch seven kilometers and be widened to 34 from 7.5 meters, of which 4 kilometers is used to build a parallel road and the remaining to expand the current highway.
At the moment, the project is facing challenges as the Transport Department urged the investors and relevant agencies to address the bottlenecks spotted at the end of the expanded section of the road.
You might be interested in