HA GIANG – Many local farmers increase their income and stabilize their lives by boldly changing crops and livestock with high economic value.
Mai Thuy Dua, Tai Vai village, Ngoc Duong commune, and Ha Giang city are one of the farmers who successfully developed an integrated economic model, bringing high efficiency.
In the past, her family mainly raised breeding pigs, and meat pigs and raised commodity cows, earning about 200 million VND per year. In 2020, due to the complicated development of the disease in cattle, she switched to raising swans, chickens, pigeons, and raising fish. Currently, she maintains 150 breeding pigeons, 250 swans and chickens and develops carp, carp, and tilapia farming with an area of ​​​​nearly 2,000 m2. Recently, she continued to upgrade and renovate nearly 1,000 m2 of ponds to raise crabs and stuffed snails. This is the first local model of field crab and stuffed snail; expected to be harvested in early 2023.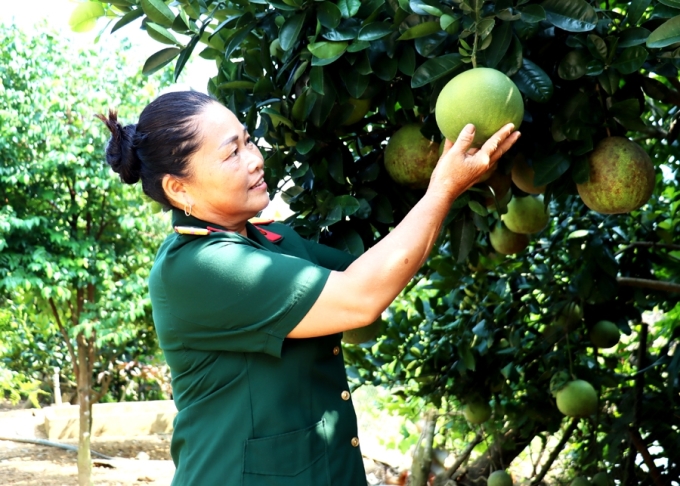 Mai Thuy Dua checks in her family's green-skinned pomelo garden. Photo: Tran Ke
To proactively source feed for livestock, she uses 2,000 m2 to grow corn. In order to increase the crop, she planted many other crops such as guava, green-skinned pomelo, and even hundreds of peach trees to serve the needs of Tet.
"I regularly study and learn science and technology to apply practically to the family's economic development model," Ms. Dua shared.
In order to popularize the model to a large extent, she spends a lot of time consulting, exchanging experiences, helping veteran members in the village to develop household economy and improve living standards.
If Mai Thuy Dua changed her life with an integrated economic model, Ha Van Phuc (in Nghia Thuan border area, Quan Ba ​​district) escaped poverty by boldly renovating mixed gardens combined with cattle raising, becoming typical local economic model.
Mr. Phuc's lush green garden is scientifically subdivided, few think that a few years ago it was a wild hill. In order to have a change, the owner of the garden said it had to put in a lot of effort and thought. In 2019, when the Commune Farmers' Union launched the movement to renovate mixed gardens, plant fruit trees, and build model gardens, Mr. Phuc actively responded.
"After a few years of working, I returned home and determined to develop the family economy and start a business by growing vegetables, raising pigs and cows. Fortunately, I had the help of my family, relatives and friends. commune officials, so my model has developed effectively and for income", he shared.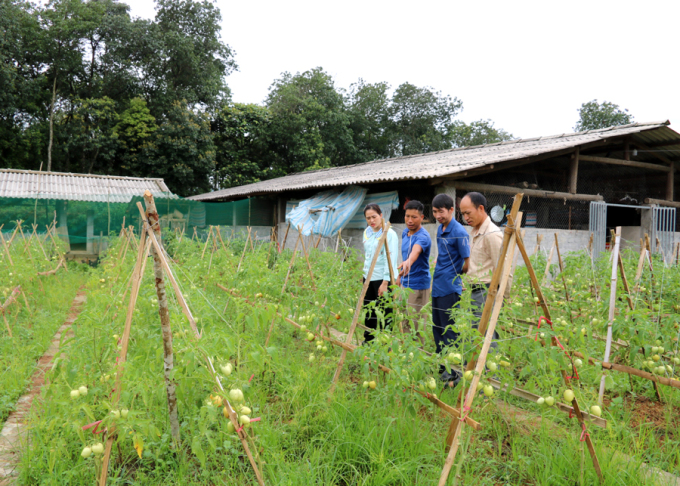 Ha Van Phuc's tomato garden, Pa Lang village. Photo: Viet Tu
Mr. Phuc has focused on renovating more than 4,000 m2 of land to invest in planting 200 seedless persimmons and guavas interspersed with seasonal vegetables and tubers. From the trained knowledge of mixed garden improvement, breeding techniques, and care, the family's garden has grown well and has harvested the first batches. The family's tomato area harvests about 4 tons of fruit a year, bringing in an income of 40-50 million VND. Thanks to that, Mr. Phuc has the capital to continue renovating 2,000 m2 of land to build barns and invest in raising cows and pigs.
His pig and cow rearing areas are separated, the waste treatment process applies additional microorganisms in the composting process to ensure environmental sanitation and help improve the porous soil, strengthen the soil. nutritional content…
Chairman of the Farmers Association of Nghia Thuan Commune, Ma Thai Pha said that Mr. Ha Van Phuc is a farmer member who is creative, eager to learn, dares to think, dares to do and is always at the forefront of applying science and technology. into agricultural production. "Knowing how to seize opportunities well, at the age of 36, Mr. Phuc had an effective general economic model, turning his dream of rising out of poverty into reality," said the Chairman of the Commune Farmers' Union.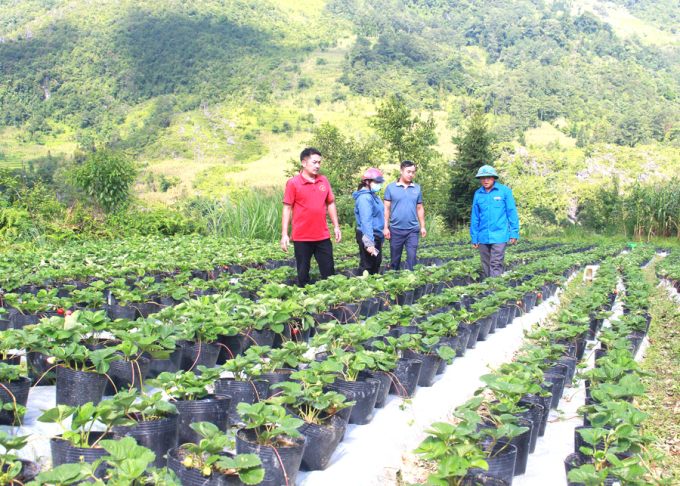 The strawberry garden of Mr. Vu Mi Nhia's family (far right) has been harvested. Photo: My Ly
In Pho Bang town, Dong Van district, in recent years, people have promoted the development of agricultural production models that apply technical and high-tech advances to production. Mr. Giang Mi Linh's family, Phien Ngai village, is a leading household in crop conversion. His family converted the entire area of ​​corn to grow about 4,000 strawberry plants, which have been harvested so far.
"Strawberries are a fruit for batch harvest, with the selling price of 150,000-200,000 VND per kilogram, each batch my family earns about 6-7 million VND. The income is much higher than growing corn. However, Taking care of strawberries will require more time and effort," Linh shared.
Mr. Vu Mi Nhia's family, from Xom Moi village, is also one of the households with a stable income from growing strawberries. Currently, his family has planted 6,000 trees and has harvested them for about 3 months. The main harvest season of strawberries is from April to September of the lunar calendar. According to Nhia, his family sells about 1.5-2 million VND per week. Thanks to the favorable climate and abundant water resources, the quality of his family's strawberries is appreciated both in terms of design and quality. His family also invested in an automatic watering system, applying science to the production process, so the economic efficiency was many times higher.
Ms. Lieu Thi Din, Chairwoman of Pho Bang Town People's Committee, said that in the past, people in the town mainly planted and expanded the area of ​​perennial fruit trees typical of the region such as peaches, pears and plums. There are some areas specializing in the cultivation of roses and vegetables. However, after surveying and learning about the soil and climate, finding that this place is suitable for growing strawberries, the town encouraged people to plant and showed much higher efficiency than other types of plants. other vegetables.
You might be interested in