Dubbed the land of melodies, Dak Nong Geopark is a great paradise for those who are passionate about exploring nature, a place to listen to the echoes of the earth, and the symphony of the new breeze. or the epic of fire and water, where the wonderful sounds of nature are discovered. 
Dak Nong is one of the fascinating places to discover and experience in the Central Highlands, with wonderful natural destinations and attractions, and Dak Nong Geological Park is an attractive paradise for tourists to fully explore. special things about geology, geomorphology, nature and the beauty of the identity of the indigenous people. This is one of the geoparks possessing many outstanding values ​​that make tourists fascinated in Vietnam. 

Dak Nong Geopark: an attractive destination with many heritage values 
Dak Nong Geopark is located in the districts of Cu Jut, Dak Mil, Dak Song, Dak G'long, Krong No, and Gia Nghia city, the park stretches over an area of ​​4,760 km2 and is a destination bringing very famous heritage values. In particular, the park was also officially recognized by UNESCO as a global geopark in July 2022.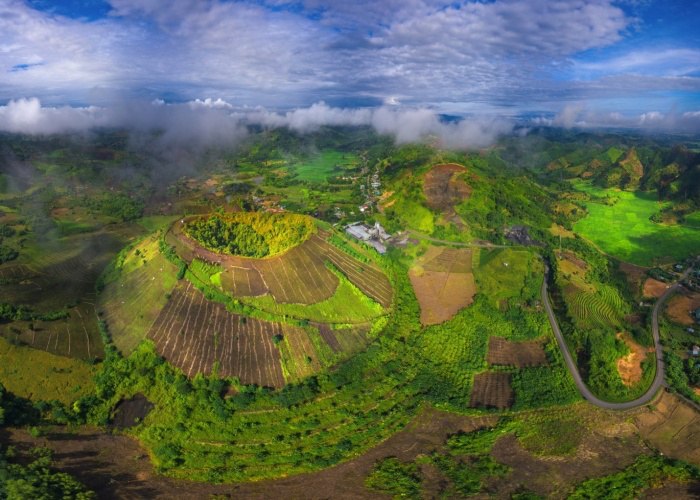 Dak Nong Geopark is an attractive destination for explorers. Photo: NLD

According to research from scientists, the history of this land dates back to more than 140 million years ago, at that time this place was part of the ocean with many traces of fossils, sedimentary rocks. … When the tectonic movements of the earth became strong, today's geopark area was raised and volcanoes appeared. Volcanic eruptions have covered more than half of the park's area with fertile basalt lava layers. In particular, 100,000 years ago, the volcano here was still active and is also the unique volcanic cave system in Southeast Asia.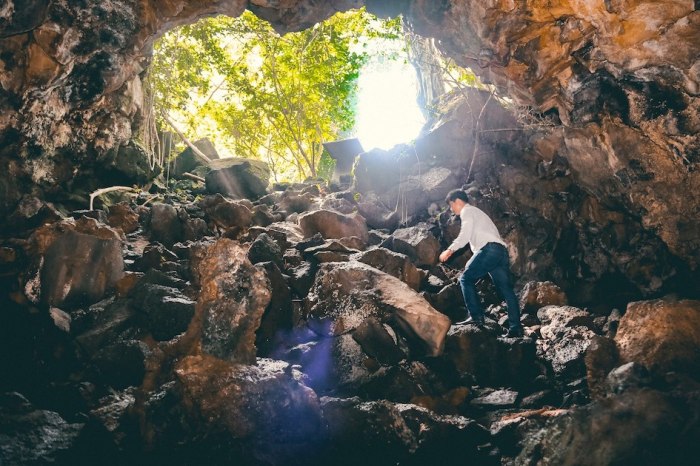 This place has very unique geomorphological features. Photo: International newspaper

The area of  ​​Dak Nong Geopark is also home to indigenous ethnic minorities with distinctive cultures such as the Ma, M'nong or Ede, in addition, in the 70s of the last century before the ethnic minorities. Many ethnic groups migrated from the North to Dak Nong, bringing with them their cultural identities, customs and traditions, creating cultural diversity and now there are more than 40 ethnic groups living together. The Dak Nong Geopark area is also part of the Central Highlands gong cultural space or the place to discover artifacts of great historical and cultural value.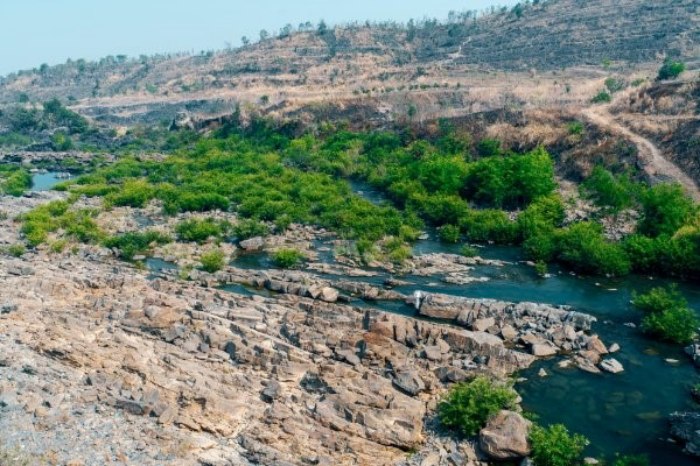 The park has many types of terrain and landscapes. Photo: Vo Anh Tu

Attractive sightseeing routes in Dak Nong Geopark 

Route 1: "Song of Fire and Water"
With this tour, visitors will discover unique destinations such as the pristine and impressive basalt volcanic cave system, Chu Bluk, which is the longest and most beautiful volcanic cave system in the Southeast. Asia with a length of 25km extending from the crater of Buon Choah to Dray Sap waterfall. On this journey of discovery, visitors will see the rice fields near the foot of the volcano in Nam N'dir commune, Krong No district like an enchanting picture.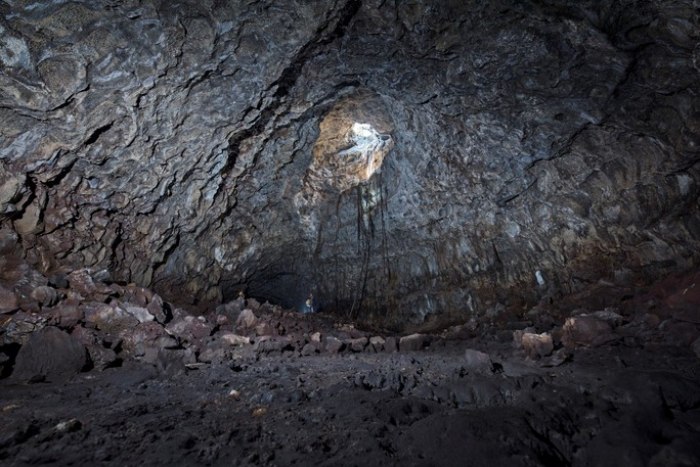 The system of volcanic caves in Dak Nong Geopark is the largest in Asia. Photo:@Takashi_Murase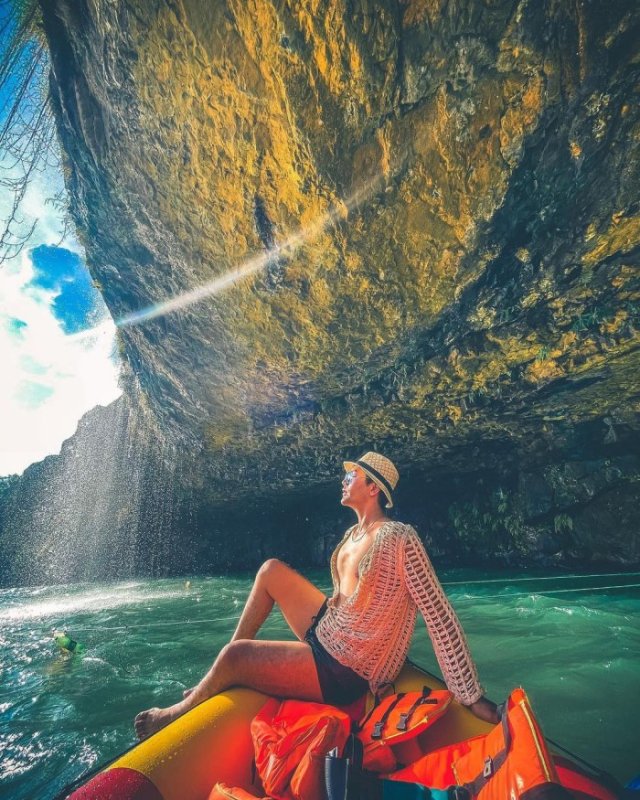 The majestic Draysap waterfall in Dak Nong Geopark. Photo: @sacnie95_
Another attractive destination is the sound garden at the Dak Nong Global Geopark information center, where visitors can feel the human impact on nature and a lot of interesting things waiting for them. visitors discover. Also in this tour, visitors will in turn discover a series of attractive destinations such as Dray Sap waterfall, Nam Kar volcano, Gia Long waterfall, Nam Nung base camp, M'Nong craft village…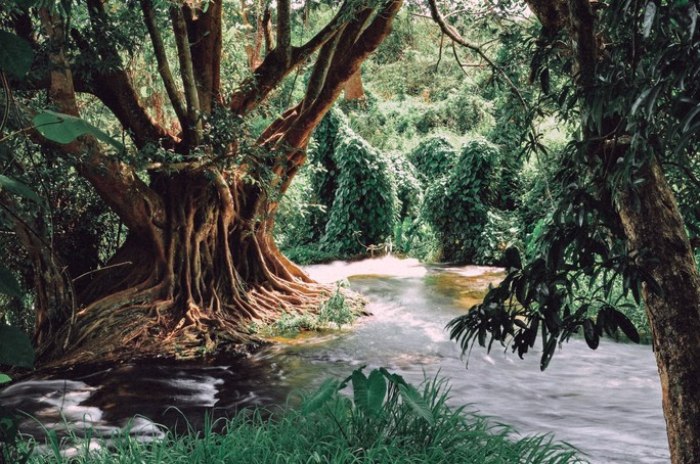 The scenery is beautiful and wild to enchanting. Photo: Vo Anh Tu

Route 2: "Symphony of a New Wind"
This journey will bring visitors back to the cradle of indigenous cultural values ​​where epics, gongs, and traditional cultural features are attractively described. Visitors will come to Bang Mo volcano, which is associated with polytheistic beliefs, Serepok bridge associated with the development history of the Central Highlands during the war and other attractive places such as Trinh Nu waterfall, relics history of Truong Son road, Thuan An volcano, Tay Dak Mil lake, Ede village…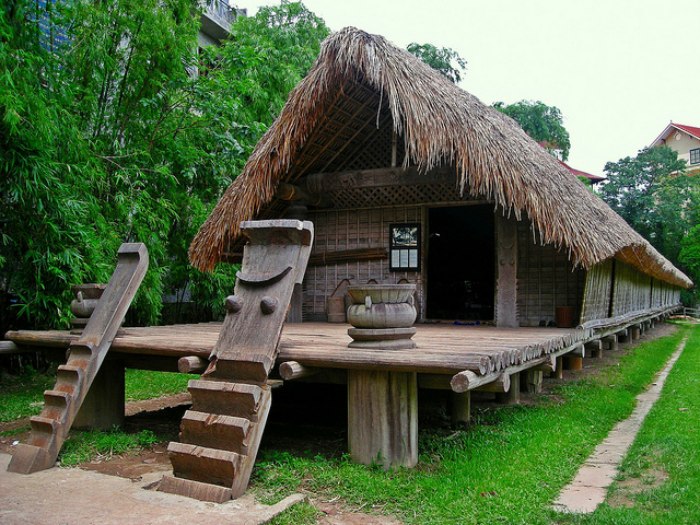 Ede village with very unique long houses. Photo: VOV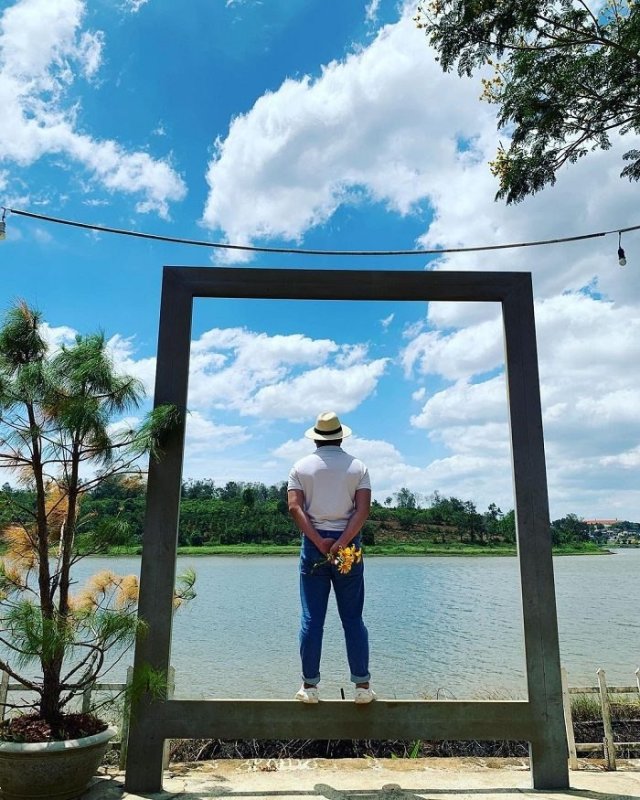 Dak Mil Lake "blue eyes" of Gia Lai. Photo: @tristen.official_

Route 3: "Earth Echoes"
The 3rd tourist route in Dak Nong Geopark takes visitors to interesting experiences with many stops such as Dak Nong Cultural Museum, Phap Hoa Pagoda, Lieng Nung Waterfall, Spirit Tree, and Ta Lake. Dungeon, stone god temple, petrified wood spot, house displaying stone lutes or gongs of Ma ethnic people, sound exhibition hall… Each stop is a color, a great experience for visitors to understand more deeply about the ancient wonders of the world. cultural layer, amazing natural beauty of this land.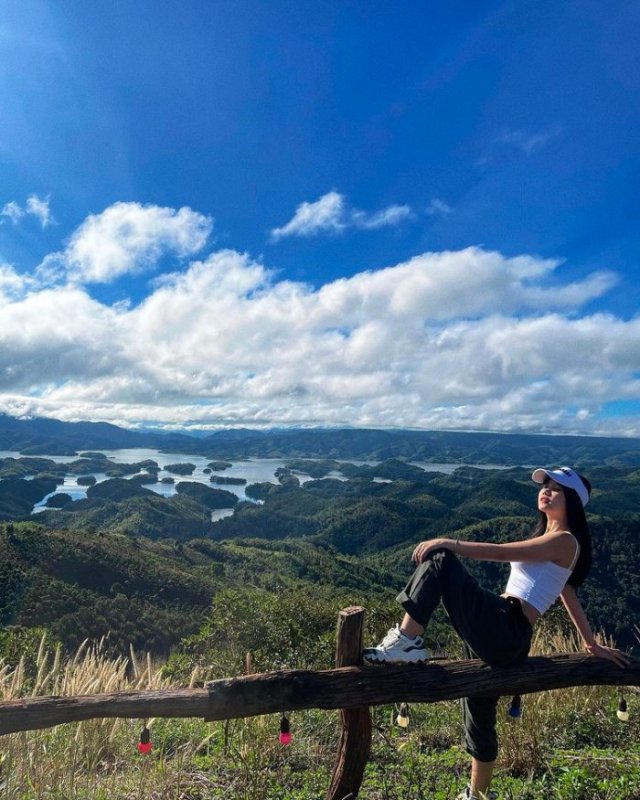 Ta Dung is the most famous destination in Dak Nong Geopark. Photo: @m.hoang279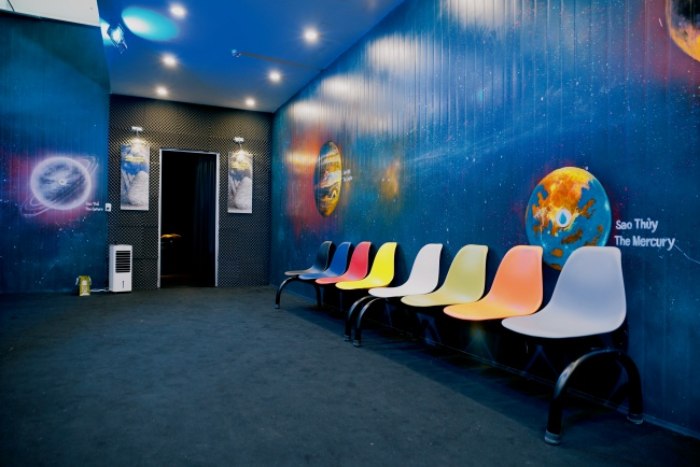 The House of Sound is an exciting destination on the Echoes from Earth journey." Photo: Vo Anh Tu

Discover local cuisine at Dak Nong Geopark 
In addition to the tourist routes with a series of attractive and unique destinations, another great experience when coming to Dak Nong Geological Park that will make visitors hard to forget is the local culinary experience. With the diversity of culture and customs of the ethnic minorities here, the culinary world in the regions of  Dak Nong Geopark is also very attractive. 

Ca Dang
 A bitter egg here is very different from the usual dish of the plains and locals often cook with dried fish or dried shrimp, the bitter taste penetrates to the root of the teeth combined with the salty taste of fish, the spicy taste from chili creates. A unique dish that is hard to forget.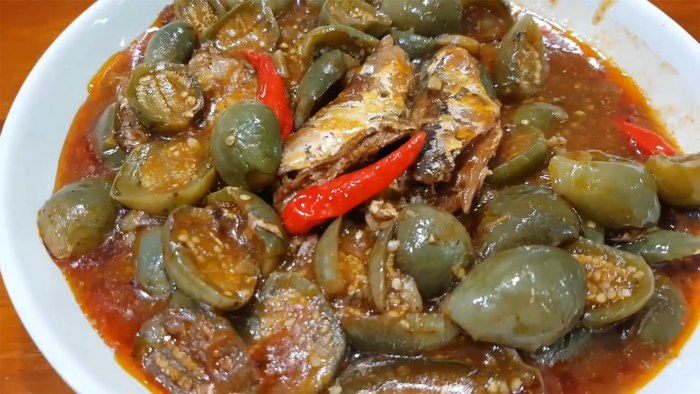 Bitter gourd has a very distinctive taste. Photo: Dien May Xanh

Cloud buds and beep leaves
This specialty in Dak Nong Geopark will make you remember it forever even if you enjoy it for the first time and almost every season. This dish is prepared very simply, combining the characteristic flavor of rattan buds and the sweetness of bep leaves. The dish is not only attractive but also has a lot of good energy for health.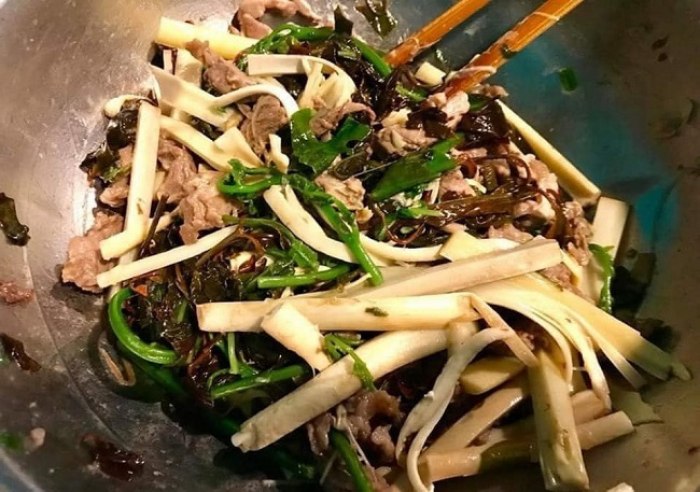 Cloud buds and bep leaves are a very special combination. Photo: Truyenhinhdaknong

Serepok river trout
 This dish is ranked as a specialty because the river fish is very strong, firm and has few bones. Fish is often processed into attractive dishes such as grilled, braised, or grilled. Because Serepok river trout has an attractive taste, it is a favorite dish of many tourists and locals who often say cheerfully to Dak Nong, but skipping the Srepok river trout, the trip is not really complete.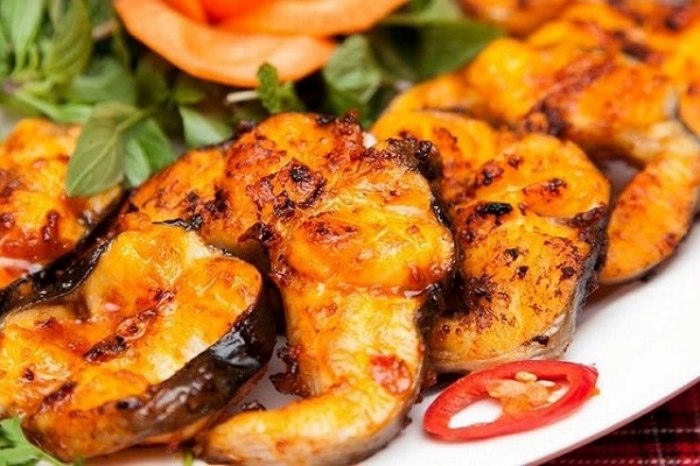 Serepok river trout has fragrant and firm meat. Photo: mynuong

Enthusiast soup
This is one of the very typical dishes of the M'nong people in the Dak Nong Geopark area . Soup cooked from rattan buds, fat, bitter eggplant, mondorum combined with many other species of ingredients such as dried fish, ribs or termite mushrooms. The special thing when processing is that people put all the ingredients into an umbrella tube and put it on the stove to rotate until it is cooked evenly, when it is ripe, take a tree and take it out, so it's called a soup.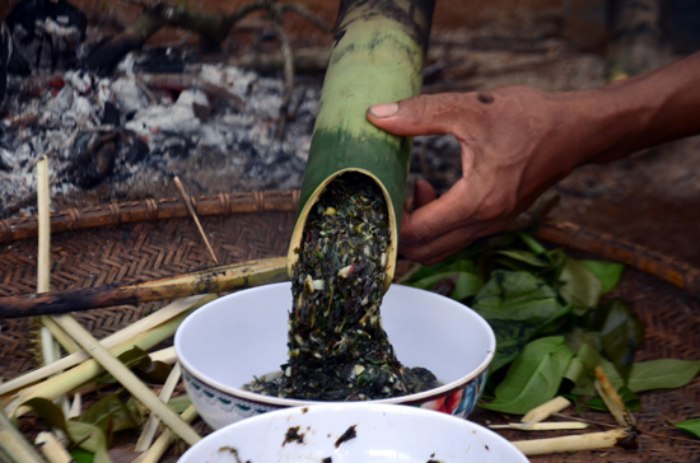 Soup has a very unique way of processing and flavor. Photo: baogialai

Traveling to Dak Nong Geopark, visitors will be able to see wonderful nature, mingle with the wonderful sounds of the great thousand, the sound of the wind, the waterfall, the trees, the flowers, the beautiful songs, etc. of melodies that create a wonderful land, where people's footsteps attract people's footsteps and make us not want to leave. Coming to Dak Nong, definitely do not miss this attractive destination. 
Photo: Internet
You might be interested in