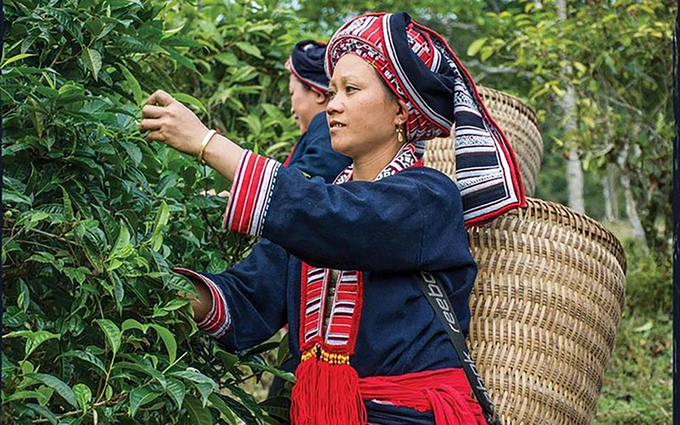 The project "Promoting supply and demand for Eco-Fair agricultural products in Vietnam" ("the Project") is funded by the Switch Asia program, funded by the European Union with EUR 1.5 million through the SWITCH Asia Program, in collaboration with the Department of Science, Technology, and Environment (MARD) and partners to organize from April 2020 to April 2023.
The Project's overall objective is to promote sustainable production and markets for the growing ecologically processed agricultural products in Vietnam, contributing to economic prosperity, poverty reduction, increase Sustainable livelihood promotion towards the circular economy and green growth in Vietnam.
Dr. Nguyen Bao Thoa, Director of the Vietnam Institute of Rural Industry Research and Development (VIRI), said that the Eco-Fair project was born with the mission of changing the behavior of organizations and individuals to offer positive measures to society and improve the environment.
According to Dr. Thoa, eco-fair products are a source of reputable, quality, and healthy. By choosing these products, consumers contribute to changing social perceptions and promoting sustainable development for generations to come.
The Eco-Fair project focuses on some specific goals, such as 1,000 businesses being trained through mobile applications, 200 businesses being quickly assessed on efficient use of resources and cleaner production, 200 fair ecological products commercialized, selected enterprises to assist in the areas of access to green finance, new product development, and clean technology, ecological certification - equity, 500,000 consumers raise awareness and advocate for sustainable consumption.
Enterprises participating in the Project will be trained to develop products for sustainable production and circular economy, efficient use of resources, an overview of sustainable production product innovation, effectively realize resource-saving and clean production, product innovation, and sustainability standards; Support enterprises to improve processing technology.
Dr. Thoa said the Project could help seafood entrepreneurs produce, use resources efficiently, and save environmental emissions.
Some typical models in the Eco-Fair project have used waste by-products effectively. For example, TOTA Science and Technology Co., Ltd (Krong No, Dak Nong), under the advice of technology from experts of the Center for Research, Consulting, Innovation and Sustainable Development (CCS)), has successfully built a solar drying house using natural thermal energy. 
TOTA also applies a medium-temperature composting method to help treat organic household waste, creating a good organic fertilizer for plants. The by-products from mushroom residues are composted from domestic organic waste.
Many countries worldwide have successfully utilized agricultural by-products as inputs for production or value-added products. Some of Vietnam's agricultural by-products are also present at the world's leading firms.
"The French fashion house Hermes has just launched a collection Made in Vietnam, using all horn jewelry with prices ranging from tens of millions to hundreds of millions per product. Hopefully, the agricultural industry will not only have good models but also replicate models of agricultural by-products that benefit the people and the economy, "said Dr. Thoa.
Jesus Lavina, Deputy Head of Development Cooperation, Delegation of the European Union to Vietnam, said that for decades, the European Union has been at the forefront of addressing global challenges such as climate change, environment, sustainable production, and consumption (SCP). While agriculture contributes to greenhouse gas emissions, it also offers a significant opportunity to combat climate change.
"The transformation of acyclic agroecosystems will greatly benefit from the interaction and collaboration between scientists and policymakers. Specific actions are needed. The project "Promoting supply and demand for eco-fair agricultural products processing in Vietnam" funded by the European Union will contribute to this effort," said Mr. Jesus Lavina.
With the support of the Eco-Fair Project, Dong Thuan cashew nut of Dong Thuan Agricultural Service Cooperative (Ninh Thuan province) has been converted from Vietnamese organic to international organic.
Dong Thuan cashews are grown in the RagLay ethnic minority area in the high mountains of Ninh Thuan with organic farming methods. Every year, the cooperative organizes the purchase of organic cashews from 505 farmers who have obtained USDA and EU organic certification with an area of over 1,700ha. In addition to organic cashews, Dong Thuan Cooperative supports people in Bac Ai district to carry out project models of growing noodles, green, black beans, green beans, red beans, black sesame, and other products ... following nature. , helping to improve income for people in mountainous areas.
Orientation of Dong Thuan Cooperative to 2025 will certify 3,000 hectares of organic cashew trees and supply to European and American markets each year from 2,000 - 5,000 tons of dry materials, 500 - 1,500 tons of organic cashew kernels and processing 15-50 tons of organic salted roasted cashews.
Authors: Nguyen Thuy - Minh Sang
Translated by Ha Phuc
You might be interested in