Duong Quang Ham High School, established 21 years ago, has 65 staff members, including three school administrators and 59 teachers (including one national-level and 21 provincial-level teachers).
In order to improve the school's teaching and learning, professional groups and teachers develop lesson plans according to guidance by the provincial department of education and training. The school also ensures teaching equipment and learning materials meet standards and combines offline and online teaching for the best teacher and student performance, said school principal, Ly Chi Huong.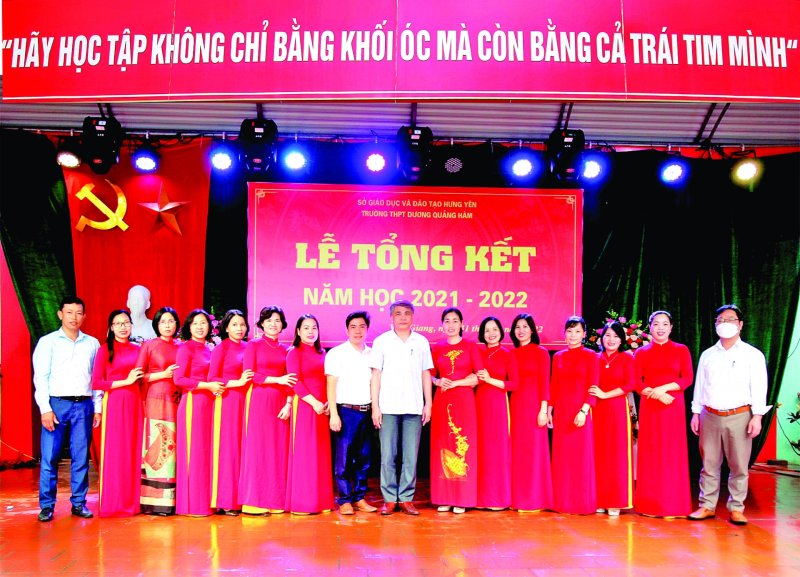 Closing ceremony of the 2021-2022 school year at Duong Quang Ham High School
Confronted with the COVID-19 pandemic, the school encouraged students' self-study in the 2021-2022 school year, while enabling them to learn theory online and practice experience offline.
The school's curriculum includes STEM education, a teaching approach that combines science, technology, engineering and math. The school provides STEM training for teachers and education administrators, gives lectures according to STEM education methods, and tests and evaluates student performance in order to ensure training quality and efficiency.
Duong Quang Ham High School has also been praised for developing diverse career guidance curricula and helping students make the right choice regarding future study and job opportunity searches.
In recent years, more than 84 percent of the school's grade 12 students passed annual high school graduation and college/university entrance exams, while its excellent student team has reached a high provincial ranking.
In the 2022-2023 school year, Duong Quang Ham will continue to creatively and effectively implement the "Study and work following President Ho Chi Minh's thought, morality and lifestyle" campaign, apply consistent solutions to improve training quality and efficiency, renovate teaching methods, and better the quality of teachers.
Hinh Nguyen
You might be interested in