Production expansion
Representatives of business and provincial and city departments of industry and trade say industry promotion has strongly energized rural industrial manufacturers in the central region including the Central Highlands, and helped them recover in the post-COVID-19 period. In the first seven months of 2022, VND20.7 billion of industry promotion funding was disbursed in the region, accounting for 28.44 percent of the 2022 target and 62.15 percent higher than during the same period last year.
Le Ngoc Cuong, Director of Cuong A.I.C Commercial Product Service Company Limited (CACI Co., Ltd.) in the southern central province of Ninh Thuan's Phan Rang-Thap Cham City, said an industry promotion program helped his business procure machinery, expand its market to many provinces and cities in the region and quadruple production output. Cuong hopes more businesses can benefit from industry promotion projects and programs.
Vo Mai Hung, Deputy Director of the Binh Dinh Province Department of Industry and Trade said the provincial industry and trade sector has helped rural industrial producers restore operations, procure machinery and equipment, and increase productivity, output and employment.
Director of the Gia Lai Province Department of Industry and Trade, Pham Van Binh assessed that industry promotion projects have been helping businesses improve technology, productivity and product quality, diversify products, develop branding and overcome difficulties caused by the COVID-19 pandemic.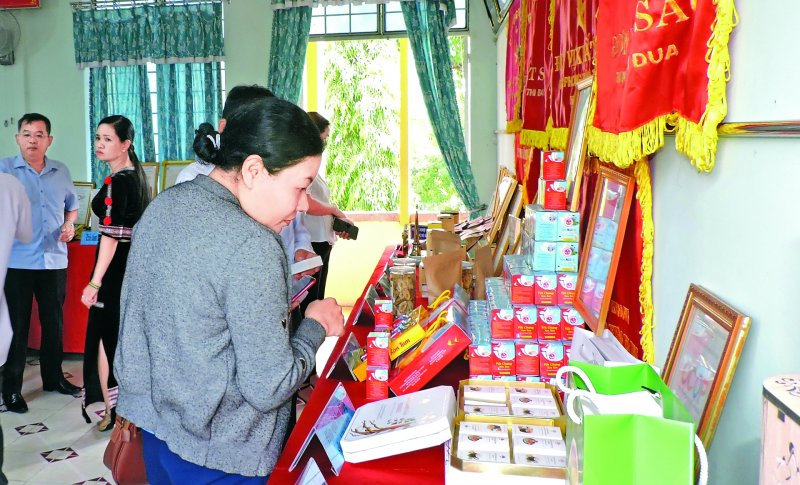 Kon Tum Province's products applying for outstanding rural industrial product recognition
Cooperation is key
According to Thai Thi Hong Minh, Deputy Director of Quang Tri Province Department of Industry and Trade, industry promotion must be combined effectively with trade stimulation, including trade fairs and exhibitions, supply-demand conferences and events, among others, in order to find markets for rural industrial products.
A representative of the Dak Nong Province Department of Industry and Trade said cooperation is necessary to create value chains in order to assist businesses in production and trade promotion.
Director of the Ministry of Industry and Trade's Agency for Regional Industry and Trade, Ngo Quang Trung said industry promotion activities in the central and Central Highlands region are becoming increasingly efficient, and localities in the region have been coordinating and cooperating to boost industry promotion. Industry promotion centers of central and Central Highlands provinces need to continue cooperation to help rural industrial enterprises procure production machinery and increase sales of outstanding rural industrial products, Trung said.
Vu Le & Ha Vi
You might be interested in