Tighten management of fishing vessels "in exile" in southern provinces
According to Director of Binh Dinh Department of Agriculture and Rural Development Tran Van Phuc, there are more than 1,000 fishing boats of this province coming to Vung Tau to fish in the Southeast sea, mainly fishermen from Phu Cat and Phu My districts and Quy Nhon city.
Excluding the real hardworking fishermen, many fishermen "borrow" Vung Tau as a temporary place to go fishing illegally. Tien Giang is also the place where Binh Dinh fishing boats "resided" to operate, but the number of ships is less, only 70-80 units, mostly coming from Hoai Nhon town. In order to stop these "exile" fishing boats, Binh Dinh has signed a regulation on coordination with functional agencies of Ba Ria - Vung Tau and Tien Giang on IUU prevention work.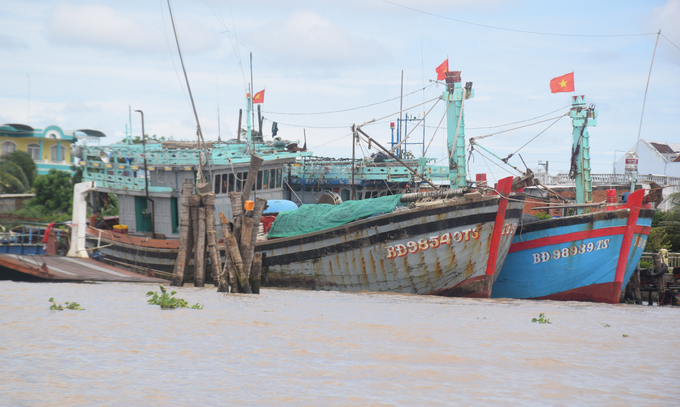 The most concerning thing is that in Ba Ria - Vung Tau there is a phenomenon of "hooking up" and sending fishing boats to go fishing illegally. Ba Ria - Vung Tau Department of Agriculture and Rural Development claimed that the provincial police were currently coordinating with functional forces to organize an investigation and verification of a number of individuals suspected of linking, brokering and organizing activities.
This group of individuals even contacted ship owners detained by foreign countries to guide, make connections, and bring them back by sea or by air, make papers and contracts for sending fishing vessels to foreign waters for illegal fishing, and fake papers and number plates to show that the ship has a contract to exploit. The ship captain would present this type of "ghost" document when checked by the functional departments to avoid revealing the vessel's illegal operation. In the coordination regulation, this issue is particularly emphasized.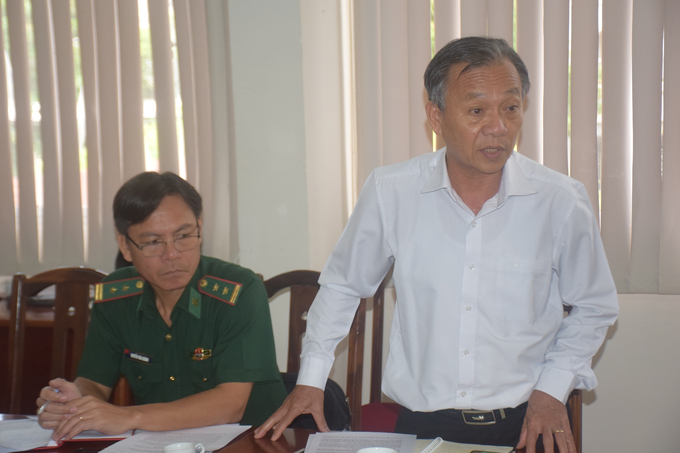 "The provinces need to set up a hotline through Sub-Departments of Fisheries so that when an incident occurs, the information is updated immediately instead of receiving it through a text that takes a lot of time. Heads of Sub-Departments of Fisheries can exchange information by using the hotline, discuss measures and promptly handle the situation according to their authority," said Director of Ba Ria-Vung Tau Department of Agriculture and Rural Development Tran Van Cuong.
Sharing the difficulties
Also according to Director Cuong, fishing vessels with Binh Dinh number plates operating in Vung Tau have been sold to fishermen in Ba Ria-Vung Tau and changed their names but have not changed their registration, especially many of which are many small vessels.
This situation causes the Ba Ria - Vung Tau functional sector a lot of headaches. There were times when the province executed control to put a stop to the increase in the number of fishing boats in the area, but many fishermen already bought the boats, so it happened that the owner's household registration was in Ba Ria - Vung Tau, but the fishing boat brought had Binh Dinh's license plate.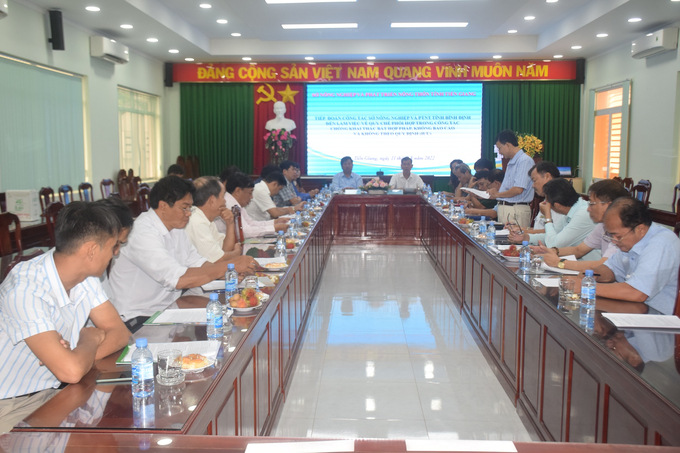 According to the Combat Assistant of Tien Giang Border Guard Command To Hong Phong, Binh Dinh fishing vessels entering and leaving the sea border usually pass through Cua Dai Border Guard Station (Tien Giang) or depart from the port at Binh Thang Border Guard Station (Ben Tre). This ambiguity causes trouble to the management activities.
After entering Tien Giang, Binh Dinh fishermen mainly anchor their boats on Tien River in Tan Long ward (My Tho city), not to mention there are more than 10 other fishing boats also of Binh Dinh fishermen which regularly anchor in Ward 2 (My Tho city). Meanwhile, Tan Long ward and Ward 2 are not under the management responsibility of the Border Guard.
The representative of Tien Giang Border Guard Command thus said, "In the coordination regulation between the two provinces of Binh Dinh and Tien Giang, if Tien Giang Border Guard is assigned to inspect and control fishing vessels import and export fish as well as the fishing wharves, it would not be suitable for the two anchoring points of Binh Dinh fishermen in Tan Long ward and Ward 2. The regulation needs to adjust this part for the cooperation to achieve high efficiency."
Authors: Vu Dinh Thung – Le Khanh
Translated by Samuel Pham
You might be interested in