Afraid of the last day of traffic jams, many people who went to the festival on September 2 soon returned to Ho Chi Minh City, the national highway 51 connecting Vung Tau City with Bien Hoa had many prolonged traffic jams.
On the afternoon of September 3, tens of thousands of people from Vung Tau City began to return to big cities such as Ho Chi Minh City, Dong Nai and Binh Duong to work after the National Day holiday, making this route often stuck in local traffic. intersection segment.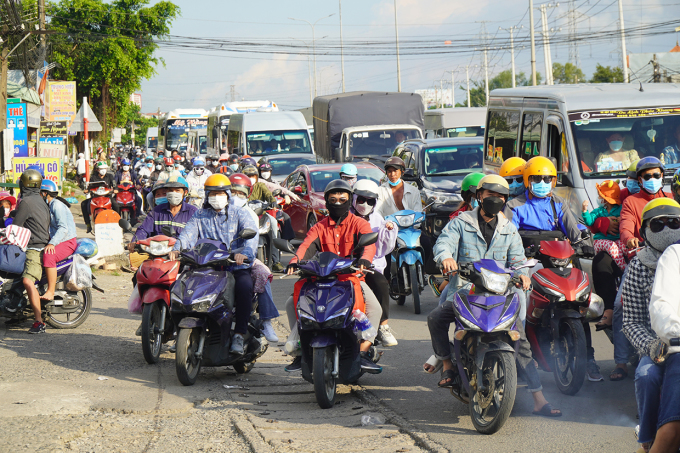 Busy motorbikes on Highway 51 to go in Long An commune, Long Thanh district, September 3 afternoon. Photo: Phuoc Tuan
In the area of ​​T2 toll station through Long Phuoc commune and Nhon Trach junction, the number of vehicles increased suddenly from 3pm, lasting until evening. Vehicles moved slowly, stuck locally for more than a kilometer on Highway 51. Many sections of the road were jammed, some people drove to the curb, causing traffic chaos.
Mr. Tran Hung (36 years old, a worker in Song Than Industrial Park, Binh Duong) took his wife and two young children to his maternal hometown in Chau Duc district (Ba Ria – Vung Tau) to celebrate and returned to Binh Duong soon. "Even though there was one more day off, the couple decided to leave early for fear of being crowded tomorrow, traffic jams, guilt for the two children," Hung said.
Meanwhile, National Highway 1 in the direction from Binh Thuan and Lam Dong also occurs traffic jams in many sections such as Dau Giay junction, Tri An junction, Ho Nai area (Bien Hoa city) … By evening, in Ho Chi Minh City It was raining heavily in Bien Hoa and Long Thanh district, and the roads were flooded, making it difficult for people to return to the city.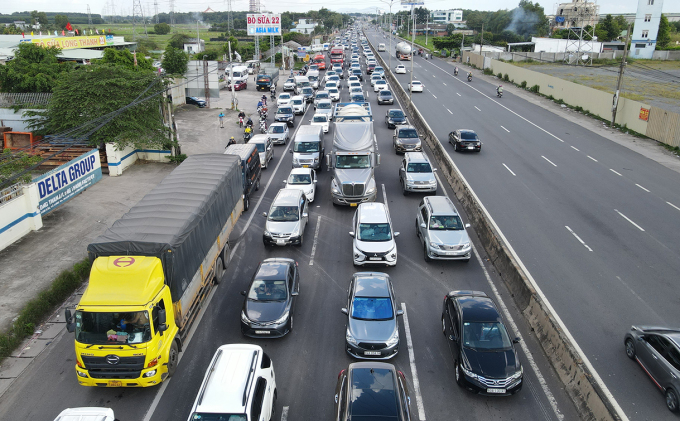 Cars follow the tail for nearly a kilometer on National Highway 51, the section through Long Thanh district towards Vung Tau City – Ho Chi Minh City, on the afternoon of September 3. Photo: Phuoc Tuan
In Ho Chi Minh City , the number of vehicles started to increase at the gateway in the afternoon when many people returned to the city. However, congestion only occurs locally in some areas with a large number of vehicles, such as An Phu intersection, Cat Lai ferry, Binh Khanh …
At An Phu intersection (Thu Duc city), in addition to cars from Vung Tau, Dong Nai, through the Ho Chi Minh City – Long Thanh – Dau Giay highway, this place connects major roads including Mai Chi Tho, Luong Dinh Cua. , Nguyen Thi Dinh, should be crowded when the number of vehicles increases in the afternoon.
At Cat Lai ferry connecting Nhon Trach district, Dong Nai province through Thu Duc city, today the number of vehicles passing through the wharf is estimated at about 55,000, an increase of 15-20% compared to weekdays, but is still considered a low day during the national holiday. Independence.
"Tomorrow, the number of vehicles passing through the wharf will be very crowded, expected to be more than 75,000," said Nguyen Thanh Tuan, deputy director of the Youth Volunteer Ferry Management Enterprise (Cat Lai ferry management unit). This unit will mobilize all 7 ferries, along with plans to regulate and divide traffic to limit congestion at the wharf.
At Binh Khanh ferry terminal connecting Nha Be district to Can Gio today, the number of people from the inner city still concentrated in Can Gio district for the holiday. Binh Khanh wharf is a "unique" route connecting to the city's only island district, so the number of vehicles suddenly increased, causing a prolonged congestion on Huynh Tan Phat Street (Nha Be district side) waiting for the ferry.
The representative of this ferry station said that not only on holidays but also on weekends, the wharf area is often congested because 6 ferries are operating not to meet travel demand, especially the number of tourists traveling in Can Gio has increased sharply recently. this. The Youth Volunteers side is proposing to close more ferries, increase flights, and reduce overload.
National Day this year falls on the weekend, so people have 4 days off . The holidays are long, the Covid-19 situation is under control, so many families go out. Da Lat, Phan Thiet, Vung Tau, Nha Trang … in the past few days have welcomed a large number of visitors.
The central road of Nha Trang City is congested for a long time
On the third day of the holiday, September 2, a large number of tourists flocked to the central area to have fun, making Tran Phu street running along the Nha Trang beach prolonged traffic jams.
On the evening of September 3, the weather in Nha Trang was dry and cool, many people and tourists flocked to April 2 Square (Tran Phu Street) to walk and participate in many events on the occasion of the National Day. Part of this route (from Tram Huong tower to Nguyen Thi Minh Khai street, 350 m long) has limited vehicles to organize music festivals, so there was a long traffic jam. In addition, a large number of people from the city center area poured into the sea, causing many motorbikes and cars to accumulate.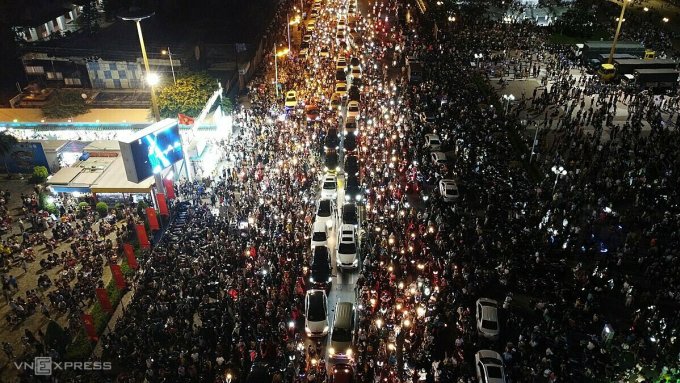 Tran Phu Street along the sea was jammed, on the evening of September 3. Photo: Bui Toan
The path is narrow, many people drive motorbikes on the sidewalk. However, the more you go, the more cars get stuck because many exits are blocked by traffic. "It's been a long time since I've seen Nha Trang this vibrant, but because I had to squeeze in the crowd for more than 30 minutes, I felt a little uncomfortable," said Mr. Phan Kieu Trung (28 years old, Phu Yen) and expressed his displeasure. expect the crowded scene in Nha Trang City tonight.
Nha Trang city government has mobilized traffic police forces to order and regulate traffic. By 9pm, the number of people from Le Thanh Ton and Nguyen Thi Minh Khai streets to Tran Phu Street to watch the music festival was still very crowded.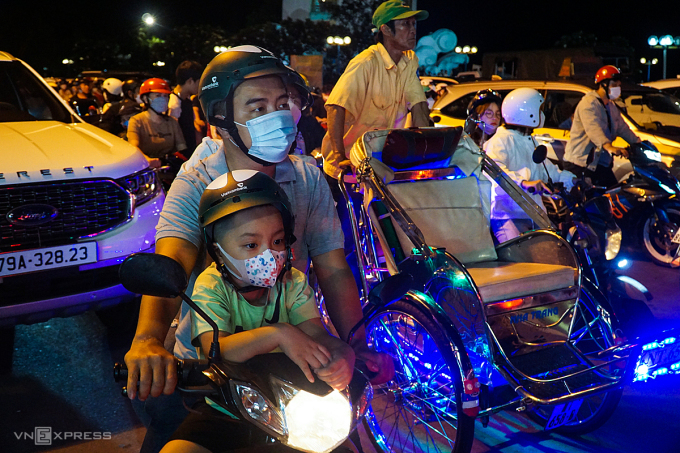 The road was congested, making many cars unable to move, on the evening of September 3. Photo: Bui Toan
According to the Department of Tourism of Khanh Hoa province, on National Day, the total number of tourists coming to the resort in the locality reached more than 350,000, an increase of 15-20 compared to the occasion of April 30 and May 1. The average occupancy of accommodation facilities is 65-70%. Guests mainly stay at 4-5 star hotels in coastal areas. Total revenue from tourists on this holiday in the province is estimated at 576 billion VND.
Photo: Internet
You might be interested in