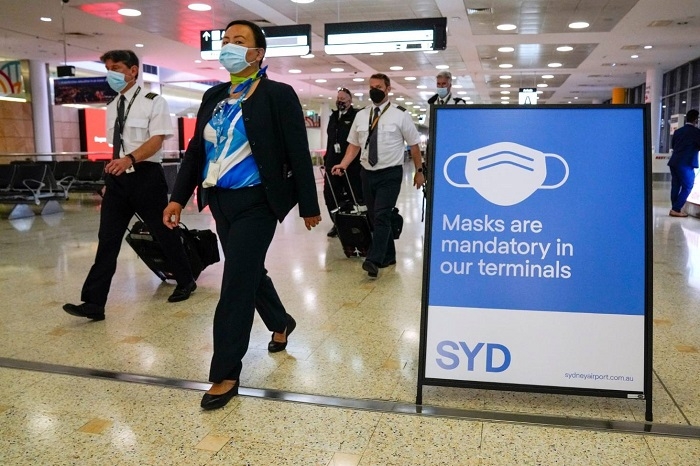 Australian tourism operators have revealed the international market still need time to rebound about half a year after the country's border reopened.   
The Lao government has instructed the agencies concerned to take stronger action to address issues ranging from macro-economic vulnerability, improvement of the investment climate, repayment of debts, to dealing with natural disasters.
* A Chinese defense spokesperson on Thursday urged the United States, Britain and Australia to fulfill their obligations concerning nuclear non-proliferation and revoke their decisions on nuclear submarine cooperation.
* India and Bangladesh held a joint ministerial-level meeting to discuss river water sharing between the two sides, officials said Friday.
* Officials from Turkey, Finland and Sweden were expected to meet at an undisclosed location in Finland on Friday to discuss security concerns which Turkey raised as a precondition for allowing the two Nordic countries to join the NATO military alliance.
* Japan is set to promise some 30 billion USD in aid for African development at a conference to be held in Tunisia this weekend, the Sankei Shimbun daily reported on Friday.
* The US State Department approved the potential sale of military helicopters and related equipment to Australia for an estimated cost of 1.95 billion USD, the Pentagon said, as Australia seeks to boost its military presence in the Indo-Pacific region.
* Polish Prime Minister Mateusz Morawiecki will propose freezing the price of the European Union's carbon emissions permits during his visit to France next week.
* The defense ministers of Finland, Norway, and Sweden met in Finland on Thursday to discuss ways of boosting cooperation when all five Nordic countries are NATO members.
* A Ukrainian official said on Thursday that the Zaporizhzhia region has been left without power supply, but the Russian side later said power supply to the region has been restored.
* UN Special Coordinator for the Middle East Peace Process Tor Wennesland on Thursday called for the revival of a real political process to address the underlying drivers of the Israeli-Palestinian conflict.
* Asian shares were cautiously higher on Friday, while the dollar firmed slightly as traders and investors anxiously awaited a speech from Federal Reserve Chair Jerome Powell that could offer clues on the US central bank's rate-hike path.
* The Singapore Economic Development Board (EDB) said on Friday that the country's manufacturing output increased 0.6 percent year on year in July, compared to the revised 2.6 percent increase in June and 10.2 percent increase in May.
* Thailand's official unemployment rate in the second quarter dropped to its lowest since the pandemic began and should improve further as the economy recovers following an easing of restrictions, the state planning agency said on Friday.
* The US economy shrank at an annual rate of 0.6 percent in the second quarter of this year, up from a 0.9 percent contraction estimated a month ago, according to data released Thursday by the US Commerce Department.
* The economy of Pakistan is going through high inflationary and external sector pressures due to higher commodity prices, the country's finance division said.
* Mexico's economic recovery faced an uncertain environment, coupled with weakening global productive activity in the second quarter, the central bank of Mexico (Banxico) warned on Thursday.
* Peru on Thursday cut the country's gross domestic product (GDP) growth projection from 3.6 percent to 3.3 percent in 2022, the Ministry of Economy and Finance said.
* Germany's gross domestic product (GDP) in the second quarter (Q2) of 2022 grew slightly by 0.1 percent compared with the previous quarter and reached pre-pandemic levels again, the Federal Statistical Office (Destatis) said on Thursday.
* British energy bills will rise 80% to anaverage of 3,549 pounds ($4,188) a year from October, regulator Ofgem said on Friday, calling it a "crisis" that needed to be tackled by urgent and decisive government action.
* Egypt's central bank on Thursday increased the maximum amount of cash customers are allowed to withdraw from their bank accounts and removed restrictions on how much they could deposit entirely.
* An energy-saving decree approved by Spain's Council of Ministers on August 1st has now been given the green light by the Congress (the lower house of the Spanish Parliament).
* Dutch railway workers have gone on strike on Friday in the western part of the country, the most populated one, as they seek pay increases to compensate for sky-rocketing inflation.
* The government of North Macedonia on Thursday declared a nationwide state of crisis in electricity supply, set to come into force on Sept. 1.
* The unemployment rate in Malta fell to 3 percent in June, the lowest level since records began, the country's Central Bank said on Thursday.
* Finland's government unveiled details of its nationwide energy-saving campaign at an event held in Turku in southwest Finland on Thursday.
* The Atomic Energy Organization of Iran (AEOI) on Thursday unveiled the country's first multi-purpose gamma radiation system in the northwestern city of Bonab.
* Ukraine faces its most difficult winter in modern history but should manage to reach a government goal of building 19 billion cubic meters (bcm) of natural gas reserves in time, Energy Minister German Galushchenko said on Thursday.
* At least 34 people were killed and 50 others injured in heavy monsoon rain-triggered flash floods and other rain-related accidents during the last 24 hours in Pakistan, the National Disaster Management Authority (NDMA) has said.
* Flooding in Afghanistan this month killed more than 180 people, the Taliban said on Thursday, appealing to the international community for help.
* Summer 2022 was not only the hottest on record in Spain but also the deadliest in 20 years, as thousands of people have died from heat-related causes on top of the high death toll associated with COVID-19.
* Around 30 nautical miles off the coast of Italy's Sicily, 99 migrants are awaiting an update on their future after nine days at sea as nearby nations discuss who should receive them.
* The World Health Organization (WHO) on Thursday launched a new project to prevent the community spread of COVID-19 across Somalia.
* Palestinian President Mahmoud Abbas on Thursday declared a 30-day state of emergency to combat the COVID-19 pandemic in the West Bank, official Palestinian news agency WAFA reported.
* The Americas have replaced Europe as the region with the highest caseload -- more than two-thirds -- of newly confirmed monkeypox infections globally in the past few weeks, the World Health Organization (WHO) said on Thursday.
* The New Zealand government has secured monkeypox medicine tecovirimat, which is expected to be available in New Zealand from late September for free.
Xinhua/Reuters/VNA
You might be interested in